No Eid in Deir ez-Zor .. Memories are Made of Fear and Nostalgia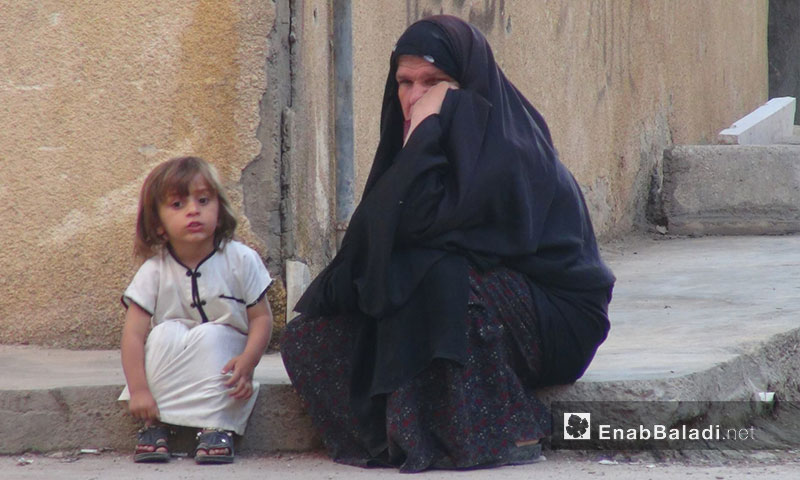 Despite the long distance separating Deir ez-Zor's villages from its towns of cities, the situation of the people living there is almost the same.

The people of Deir ez-Zor live in two zones, either within the "Islamic State" held regions, or in areas which are controlled by the Syrian regime, striving to achieve full control over the entire province.
"The Eid is no longer happy as it used to be, after its paraphernalia has started to vanish bit by bit leaving nothing but memories behind," says Arif, 34, a displaced man from Deir ez-Zor who lives in the eastern countryside of the province. He adds: "The Eid has come today with sadness and it will soon be over just like any other meaningless date."
The Eid according to the young man "normally stands for children's joy at the sight of new toys, family reunions as they exchange visits, and maybe even a date with a beloved or a walk along the banks of the Euphrates while watching the hanging bridge." These are images that the majority of the city inhabitants are familiar with and that were in the past part and parcel of their existence.
Arif fears that the whole world might forget Deir ez-Zor and its cities after so many of its people have been displaced. He adds: "Our existence today is at risk because of the continuous fighting, shelling and displacement that have been going on for months.

A Memory Ragged with Bullet Holes

"It's gathering, comfort, stability, security and joy tha make Eid," according to the young woman Alia , 27 years old, who lives in al-Koussour neighborhood in the city. She thinks that those who remained in Deir ez-Zor "have lost hope that the situation might change and conditions improve, and they are living as human ghosts. The joy of the Eid and the joy of life are really the last things they seem to worry about."
The situation is no less different in the other half of the city, according to the young woman, who is currently trying to carry on  with her university studies by trying to get a travel permission to another governorate. "Fear prevails everywhere, and although the city's two parts are not ruled by the same authority, both live under security and economic pressures."
According to Alia, the displaced people do not enjoy a better life compared to those who still live in the city, for "they are living in a state of nostalgia that isolates them from their new surroundings and chains them even more to a memory that is ragged with bullet holes, shrapnel of shells and the constant sound of war," as she puts it.
Eid Preparations
The Eid rituals have disappeared from Deir ez-Zor for the fourth year now, says Umm Mohammed, 46 years old, who still lives in the neighborhoods controlled by "ISIS" in Deir ez-Zor. She adds that the curfew is almost continuous with the dramatically diminishing number of inhabitants. The bombing left no stone unturned. "
There is nothing to indicate the celebration of Eid in this part of Deir ez-Zor. During the years of its control, "ISIS" has exterminated every possible sign of happiness in the region, according to the forty-year old woman, who lost two of her sons in the battles of Deir ez-Zor, one of whom was affiliated to "ISIS".
"Every Eid, I stay at home and bemoan their death, although I am dying to visit their graves," says Umm Mohammed with woe. "ISIS" prevented visits to the graves during Eid and eradicated their tombstones, making it difficult to distinguish them. It also banned any sign of celebration, assembly or takbeer (supplicating God as the greatest through minaret loudspeakers) in mosques, and fixed financial and physical penalties for anyone who violates its decisions.
Poverty, Hunger and Siege
Abu Abdullah, a 50-year-old displaced man from Deir ez-Zor, says that "ISIS" is besieging civilians in the neighborhoods it controls, through strict security and "humiliating" inspection measures at border checkpoints, forcing people to either get out of the city or stay at home. "Life there has become an unbearable hell," Abu Abdullah says, "and everyone thinks of leaving whenever he can afford it."
The 50-year-old man told Enab Baladi that he left his house more than a year ago after "ISIS" executed one of his neighbors. Now he lives in a village close to the city where "[he] does not have a taste for life itself, let alone for Eid." He adds: "they prevented me from visiting my house and looted all the furniture in it; they also threatened me with imprisonment in case I go back."
The years Abu Abdullah painstakingly spent to build his house have gone with the wind. Today, he cannot even afford a living, and he tries to survive with his family thanks to charity. Yet, he has never lost the hope to return back home soon.
Most of those whom Enab Baladi met expressed their nostalgia for their city and the Eid celebrations there despite their simplicity. They are trying to transmit the memories they have to their children by telling them stories and tales that narrate the rituals and traditions of the Eid.
if you think the article contain wrong information or you have additional details Send Correction