A True Melting Pot Community
Idlib… A City for All Syrians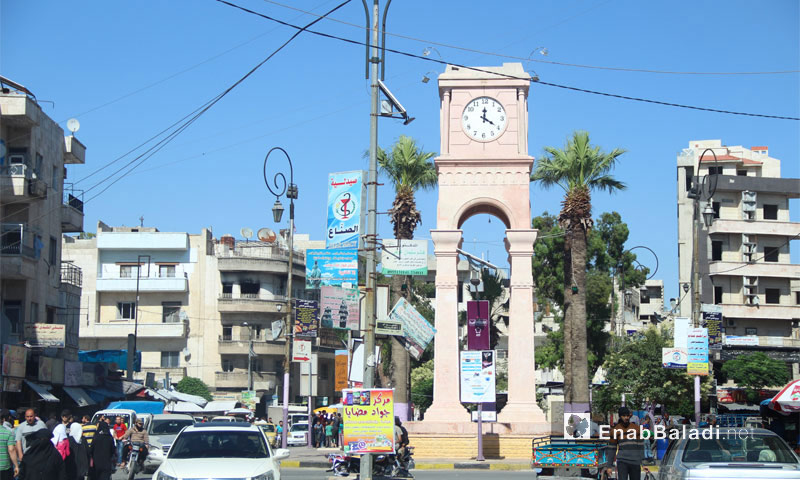 Despite being one of the smallest cities in Syria and stretching on an area of land which does not exceed the size of some towns in Rif-Dimashq, Idlib managed to gather up Syrians from different provinces. You can see a native citizen of Idlib neighboring others from Aleppo, Homs, Hama and Raqqa; all of them live in one community.
The 40 year-old Abd al-Hadi Al-Abd stated in his description of the state of affairs in the city that is hosting thousands of displaced people that "Idlib brings together comrades of the revolution and brothers from different provinces. What makes us endure until this day is the enduring and exceptional love we hold for each other."
Various Dialects in the City
Abd al-Hadi gets to meet new people whenever he participates in any social activity. He pointed out to Enab Baladi the variety of dialects within the city saying that "you know Homs people when you hear these words 'May God bless you with good health, bro', Aleppo people are well-known for their accent and Damascus people always repeat these words 'how are you boss?'."
According to Abd al-Hadi these dialects form a wonderful mosaic.  Ahmed Rayan, a citizen of Idlib agrees with him and believes that "the growing number of displaced people coming from different regions in the city contributed to the growth and development of Idlib at all levels, most notably at the level of its local trade. People from different cities brought their traditional handicrafts with them."
The citizens of Hama, who live in Idlib, are known for their skills in pastry. The people of Daryya, western Damascus, are known for their carpentry. The people of Madaya, however, are known for their skills in the maintenance of motorbikes.  Ryan stated that "everyone with a particular skill contributed to improving the city's industry and creating jobs for others."
"It is not Problem-free"
Despite the coexistence of residents, few cases of disagreement sometimes occur. According to an opinion poll Enab Baladi has conducted among the residents it interviewed.  Khalid Fahad, who is one of the displaced people from Homs's Al-Waar neighborhood, is just one of them.  He stated that "we cannot deny that regionalism does exist, for sometimes a dispute between two people can turn into an inter-regional conflict."
Khalid declared to Enab Baladi that what he considers as "unethical provocation" is when the reporter of the incident starts to say that "someone from Homs attacked another from Idlib or vice versa."  In that case, "the problem may develop to become a public opinion issue. However, most of these fights end up quickly" because "there are good and bad people in every society."
Destination Turkey: Idlib is just a Temporary Station
"In an operation described as a 'demographic change' carried by the Syrian regime and Iranian militias, Idlib has recently received thousands of displaced people from Rif-Dimashq and Homs"
According to 30 year-old Alaa Haddad, who was displaced from Qaboun neighborhood in Damascus, Idlib is a temporary station for most of the displaced people, who seek to travel to Turkey or migrate to European countries. He justified his statement to Enab Baladi saying that "we are alienated from the start so why choose to live in an insecure place? The best start for a new life is outside Syria."
Haddad's view is shared by just a few people. Many refuse to leave Syria, hoping to return to their homes. Some affirm that "everyone has his own country, city, his life that he will never abandon."
Samir Zakkar, a displaced man from Hama, said that Idlib helps him and others heal their wounds while waiting for his return to his city. He stressed that "the revolution will not stop and freedom is coming. Until that time we will remain guests here who keep dreaming of a final return."
The City Lost Its Identity
Mahmoud Zakarya, a citizen of the southern village of Idlib, confirmed that the city has lost its identity and that "native people have become a minority in the city, surrounded by a large number of displaced people. He pointed out that "he no longer knows who lives in this house or in the other. Even the city's working-class districts lost their essence."
Zakary confirmed to Enab Baladi that his speech "is not meant to generalize or to offend others. However, sabotaging the city and stirring sedition have become an easy task for some people in light of the current situation". He suggested conducting statistics to count the native citizens of the city and the displaced ones "considering that after all every one of them is affected by the sabotage".
Idlib countryside encounters the same situation, albeit "to a lesser degree", according to Zakarya, who believes that the countryside accommodates the largest number, declaring that "every house is distinguished by its inhabitants and in case a dispute or a problem emerges, it will be contained quickly."
Life is back on track in Idlib, with the activation of the "de-escalation" agreement on May 6 after years of continuous bombardment and "internal" battles or against al-Assad's forces which drained the city's energies.
Although happened was not without consequences and degenerated into chaos at the level of civil institutions and infrastructure in Idlib, many still describe the city as the "capital of the north", being the largest opposition-held area in Syria.
if you think the article contain wrong information or you have additional details Send Correction