He that Feeds Himself from Waiting Could Die of Hunger: The Dilemma of the Syrian Passport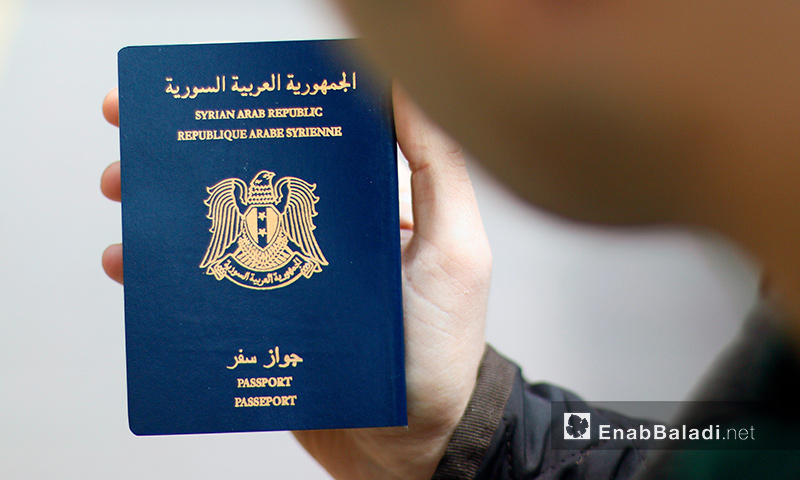 Issuing a passport has never been a top priority for the Syrians, for traveling and moving from one country to the other is none of their habits, neither it is something that the great majority can afford. Accordingly, if a Syrian citizen wanted to travel, he would go to the Immigration and Passports Department to issue a passport as an ordinary routine step prior to his date of travel.
Today, despite the complicated procedures needed to issue a passport – one of the world's costliest passports – and the fact that it offers its holder access to an even fewer number of countries, the need to migrate and move to another destination has made it highly cherished and desired by the Syrians, and has also made it one of their most serious problems in their host countries. It has thus become a precious and valuable document that a refugee would protect the same way he would protect his own kids, whereas it was in the past used to distinguish those who visited the Holy Land from those who did not.
Not that Lucky…
The obstacles one has to face to issue a passport or to renew it online, together with the problems of military service and of getting temporary passports, added to how costly all this is are some of the most serious problems that refugees have to face to get their passports. However, the case for Amr is quite different, for his problem is that he is, in his own words, "lucky."
Amr, a doctor from the city of Homs, applied for a passport at the end of 2012 because the city's chaotic conditions have made it unlivable for the majority of his friends and relatives who have migrated. "I went then with my family," he says, "to the Immigration and Passports Department in Homs and submitted the necessary papers. One week later, we went back to collect the passports, but there was a surprise waiting for us. Although I was a student and I had not gone through military service yet, the validity of my passport extended to a six-year term, that is to the end of 2018, a mistake the clerk committed with me only, as my brothers – being students like myself – were given only two years. Evidently, I did not alert the employee because his mistake was in my favor."
Two years later, Amr decided to travel to Turkey via Lebanon, and here is where his passport began to cause him problems. "On the Syrian side of the border", he states, "I was meticulously inspected. The officer interrogated me in a single room suspecting that my passport was fake because of its uncommon validity period. In fact, I was between the devil and the deep blue sea, either the officer would insist that the passport is fake and would have me arrested for that, or he would return it to the Immigration and Passports Department to correct the mistake. In that case, its two-year validity will be over and I would definitely need to renew it. This was not possible because it was too late for me to get adjournment for my military service. After I had spent hours waiting, and after the driver who had some connections intervened in my favor, the officer overlooked the strange case he had in front of him, and we were able to enter Lebanon. What I am afraid of is that the same thing might happen again next year in case I wanted to renew my passport at the Syrian embassy. "
 Waiting for Flour at a Broken Mill
"I was born of Palestinian parents in Syria, but my parents have a Jordanian nationality, which made it possible for me and my brothers to have the Jordanian nationality," says Ms. Mays, a 28-year-old Jordanian Palestinian, an ex-resident of Syria, who is currently in Germany.  Actually, this list of countries played a role in making her experience with passports and asylum even more complicated. She adds: "So, although I spent my life in Yarmouk Camp, I renewed my residency in Syria (as a Jordanian citizen) every year, but this was an ordinary routine task that involved nothing but paying for the fees and stamping the residency papers. Here in Germany, it is a totally different issue."
A year and a half ago, Mays moved to Germany as a refugee, and the intricacies related to her address, nationality and place of birth have made it even more complicated for her to issue any paper. She explains that "after one whole year I spent waiting in the camp to get legally accepted as refugee, what I got was only the right for provisional asylum. This was not the problem, the problem had to do with the impossibility to get a German passport, and the subsequent need to renew my Jordanian passport, and my experience with it looked more like waiting for flour at a broken Mill."
At the Jordanian embassy, ​​the woman was unable to renew her passport "some documents were lacking and some others lacked certification from the Jordanian embassy in Syria, and this was due to the fact that the Jordanian embassy in Syria had been closed during the last years of my stay there."
"I had to get my residence stamp on my passport before leaving Germany to be able to return to it. I could not get this stamp as long as I had an expired passport" said Mays, quoting an embassy official who told her to travel to Jordan to renew her passport, something that the German clerk warned her not to do. I have to renew my passport so that I can get a stamp of residence. I have to get a residence permit so that I can return to Germany after my passport is renewed in Jordan; meanwhile I spend my time moving between the corridors of the offices and the consulate."
Gone with the Wind
Mays's family's problems with passports did not stop with the fact that the mill was broken, for the hunger extended to affect her husband Mohammad and her son Hammam. " We had our first child here in Germany," she says, "and we went to the embassy to get a passport, but the office worker told us we needed a family register at the beginning, which requires a lot of papers, including my original birth certificate that was buried under the rubble of our house in Yarmouk Camp. We also needed a copy of my husband Mohammad's passport, which is just another chapter in our tragic passport tale."
When Mohammad and his wife reached Germany, they handed over all their papers to the Refugee Department, including our passports. He says: "Months later, the office worker in the Refugee Department told me that my passport was missing, so I no longer had a Syrian passport. I could not get a German passport because I was not granted the right for asylum, and therefore could not get a family register or a passport to our son here. "
"A passport means lawfulness of residence and freedom of movement for a refugee, albeit in a limited manner. So they simply told me that it was missing, and I am still looking for a way to find it or to issue a temporary one" added Mohammad.
Coalition Stamp
Mr. Ahmed (a nickname of an engineer from the city of Homs) has a tale with passports which is no less tragic. He visited Turkey through Bab al-Hawa border crossing four years ago, where he had his passport stamped by the Free Army. "Officers stamped my passport," he states, "at Bab al-Hawa crossing with the seal of the coalition. At that time, I did not realize the amount of the problems that I would encounter because of this seal. We were optimistic about the nearing collapse of the regime, and I was proud of this stamp on the passport, unlike today.
Ahmad hid his passport when he returned to Syria, and it expired one year later, which he thought would dispense him from responsibility. He added "Today I need to renew my passport so that I can leave the country, but this is possible only through handing over the old passport which may cause my arrest because of the seal of the coalition. A broker told me that he could renew it for $ 1,500, but that would not exempt me from visiting a security headquarter and signing a pledge, which cannot be trusted because people have become familiar with the brokers' lies. "
General Overview Of the Syrian Passport


In 2006, the Syrian passport ranked 80th globally.

In 2010, the Syrian passport ranked 87th worldwide.

In 2017, the Syrian passport ranked 93rd as the world's fourth worst passport.

The Syrian passport allows its holder to visit 30 countries without prior procedures.

The Syrian passport is the most expensive in the world at costs of up to $ 800 to be issued, and $ 400 to be renewed.

The German and Singapore passports are the best in the world and allow their holders to visit 159 countries without any prior procedures.

The Afghan passport is the world's worst passport, ranked 96th, and allows its holder to visit 22 countries without prior procedures.
if you think the article contain wrong information or you have additional details Send Correction