Darayya Carpenters Return to Idlib Furniture Workshops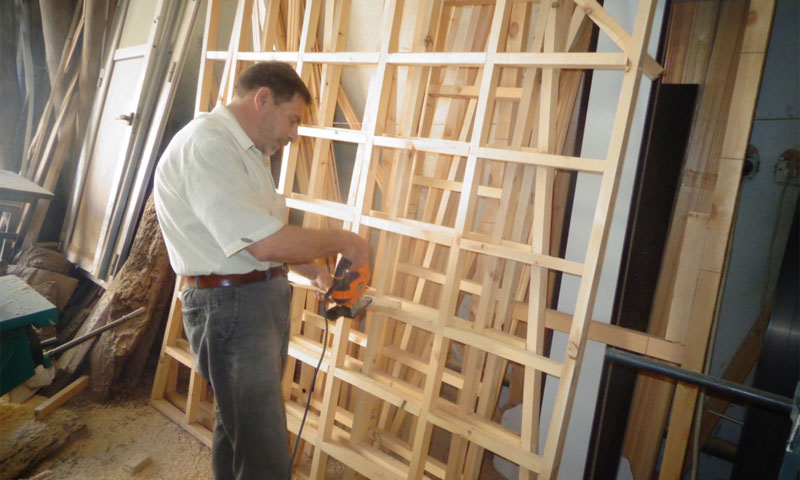 In the past few months, the city of Idlib, situated in north Syria, has witnessed the opening of a number of "carpentry workshops" belonging to Darayya carpenters who wanted to reanimate the profession they were known for before the revolution.
According to what Abu Suleiman Shehadeh, an owner of a carpentry workshop in Jarjnaz, Idlib countryside, said to Enab Baladi, the opening of the workshops came as a result of the arrival of thousands of people from Darayya to Idlib, in August, after the Syrian regime displaced them, besieged them for four years and bombarded them with different kinds of weapons.
What they have left behind them were just destroyed and burnt workshops and wood warehouses.
Losses Incurred  by Millions because of Fires
The small city near Damascus was the source of furniture and upholstery for the capital and its countryside providing it with a variety of wood products. People in Damascus always say "If you want to buy furniture and upholstery, go to Darayya."
A furniture market and 2500 workshops for the manufacture of furniture spread in "Southern Neighborhood" and "Revolution" Street in Darayya, which connects the northern and southern sections of the city and its branches. According to Darayya mayor, Mohammad Mazhar Sharabji, in an interview with "Al-Thawra" newspaper in 2005 this market is the largest and most popular furniture market in the city.
The number of workshops has increased in the pre-revolution years, especially in contravention areas on the outskirts of the city. Some dealers of carpentry supplies in Darayya estimate that the number of workers in carpentry in the city exceeded 10,000 workers.
Shehadeh said that the production in Darayya carpentry workshops was "huge" before the revolution and offered bedrooms, decoration, Arabian doors, kitchens and children's rooms. This made Darayya very famous and popular in Syria.
He added that some workshops were exporting their products to Syrian governorates and the Arabic Peninsula after Darayya carpenters have proven their proficiency.
However, according to Shehadeh, workshops, markets, showrooms and wood warehouses have been "completely» burnt as a result of city bombing by the Syrian regime during the years when the city was under siege.
A New Career in the Hosting Areas
Shehadeh confirmed that Darayya carpenters decided to take their profession to hosting cities. They opened new carpentry workshops in different parts of Idlib in order to adapt to life and keep pace with the increasing prices. A lot of Darayya people had opened workshops thanks to the support of humanitarian organizations.
He pointed out that carpentry work is no longer as it used to be in the past, as most of it is limited to repairing second-hand furniture such as doors and bedrooms, because the residents of the region want to make cheaper deals, while people in the past preferred to order new furniture, which has become expensive at the moment.
The carpenter expressed his surprise at how wood prices increased compared to what they used to be. He pointed out that certain timber categories prices have witnessed a ten times increase per plank, especially during the past months, when the barriers imposed by the regime introduced a tax on wood coming from Lattakia to Idlib; consequently, wood dealers started to raise prices in order to compensate for the fees they paid.
Taxation Raises Wood Price
The merchant Hassan Abd Al-Hay told Enab Baladi that the different types of wood in Idlib come from Lattakia and Tartous, which are under the control of the Syrian regime.
He also explained that most of the carpentry workshops in Idlib relied on wood coming from Syrian regime-controlled areas and not from Turkey.
This is because Turkish pine wood is considered as harsh and untreated properly and it is cut by saws and not by laser. Even if the wood reaches the carpenters, it is still expensive as the price per cubic meter is $ 220 ((every dollar equivalent to 550 Syrian Lira).
He said that the price of timber coming from Syrian regime areas had increased three months ago because of the imposition of a customs tax on each truck entering the opposition areas in Idlib.
He pointed out that the merchant was paying at the checkpoint between 250 and 400 thousand Liras for every wood truck under the pretext of "accompaniment".
The truck's journey to Idlib costs up to two million Liras because of the payment of 500 thousand Liras for truck fare, and one million and 550 thousand Liras as customs tax for the regime. Thus the price of one meter wood has tripled from $ 15 to $ 45 or $ 50.
The price of wood varies according to its type and thickness. The wood used in construction, known as "Moringa" costs $ 240 per meter, the "Swedish" price, depending on its thickness, is between $ 350 and $ 380, and "Beech wood" price is $ 200 while the price of Medium-density fiberboard (MDF) is between $ 3.25 and $ 25, according to its thickness between 2 mm to 18 mm.
A wood merchant in Idlib, who asked not to be named, stated that ready-made bedrooms prices vary from $ 1300 to $ 1,400 per room, while the price of the square meter per door is between $ 50 and $ 70.
Large areas of land in Syria have witnessed massive deforestation that turned them into deserted land because the villagers depended on firewood for heating after the lack of heating materials, especially diesel and electricity that some Syrian regime adherents sold for money.
Last March, the Syrian regime imposed a fine on every farmer who logged, uprooted or moved trees without prior permission.
The return of the people of Darayya and the opening of carpentry workshops in hosting cities might be an indication that the revival of furniture industry and the return to productivity and work are possible if appropriate conditions of security, stability, and material support exist.
if you think the article contain wrong information or you have additional details Send Correction