Ageing before their time
Large families in Syria "cut off from their roots"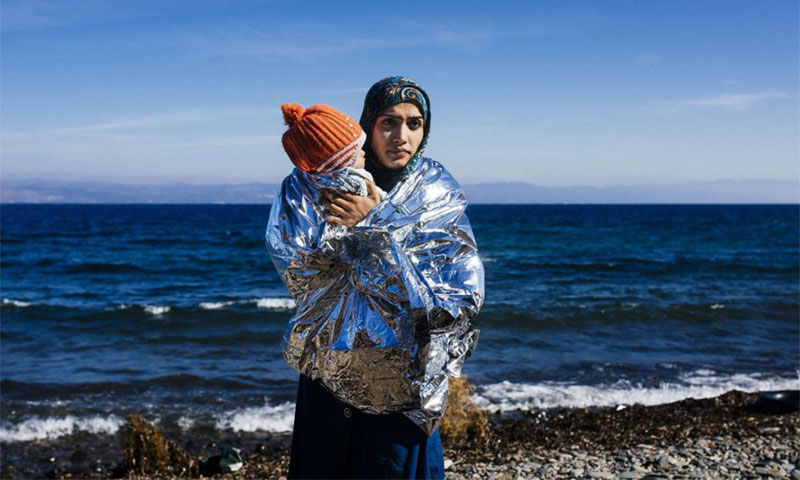 "I've aged fifty years in the last seven years". We all heard this phrase from most of the Syrians we encountered. Although those who say this are often unaware of psychologists' classifications of age according to time and social and psychological conditions, they experience it acutely. Through this phrase, they express their feelings about how they have aged socially and psychologically as a result of the war and its circumstances.
We have even observed symptoms usually associated with ageing among people in their 30s and 40s, including complex biological diseases and loneliness in an age when people are usually seen to be "in their prime".
"I am bored", Umm Abd said, followed by a small sigh. The 45 year-old housewife from Homs tried to express her loneliness in an understated manner, so as not to look like she is complaining. She adds, "I spend most of my day alone. My husband comes in the evening and we have dinner together. We barely talk, only about news of our children who are distributed between Australia and Turkey, and about waiting for their phone calls at different times because of the time difference".
 What else can I do?
"In the past, we had relatives who we visited and who visited us. Today, we have only my mother's aunt, who is old and also lives on her own. So even family visits are no longer part of our lives."
Umm Abd points out that the war plays a role in her feelings of boredom but this is not only due to the displacement of people. The living conditions and lack of infrastructure play a big role in this. She said, "I sit at home on my own all day long. In the past, I used to listen to the television while cooking. Today, there is no television due to the lack of electricity (almost). I cook once every three days because food is expensive. Added to that, the lack of electricity means that there is no internet connection to stay in touch with my displaced relatives. Only the landline work but it's useless since there is no one to call".
Umm Abd is trying to come up with solutions to alleviate her loneliness, such as taking care of home plants or keeping herself busy cleaning the house but she says, "Cleaning the house doesn't take more than two hours, no matter how hard I try to look for something else to do since there are no children who are making a mess or dirtying the place. In fact, I spend my time knitting wool and hand-made textiles for my children although they are far away from me, and then I send these textiles to them whenever it is possible. What else can I do?"
Loneliness … exile … and ageing
Just like millions of Syrians, Haji Abu Mohammed was forced to leave Syria in his mid-sixties. According to him, his trip to Turkey is a double-exile, "I used to feel a sense of estrangement if I spent a day or two outside my city or my neighborhood in eastern al-Ghouta. So imagine what it is like when you live alone among people who do not speak your language, when you are old and only wish to enjoy the last years of life?".
Although he left Syria with his wife and two of his sons, Abu Mohammed's children enrolled in Turkish universities in two different cities, which meant that he and his wife live alone again. He says, "When I go to the mosque, my wife stays alone. I'm concerned for her when she stays alone, loneliness is bad. So we decided to travel to the city where my son is studying, although there are no Syrians there, so that we could keep our family together."
A silent killer
However, while Haj Abu Mohammed considered moving to the new city as a way to overcome his loneliness, it in fact reinforced it, as he discovered a month later. He said, "We used to live in Iskenderun, where there were some Turkish people who know how to speak Arabic, there were also many Syrians. However, here in Trabzon, it is rare to hear Arabic spoken except by tourists from Gulf countries. Living here is more expensive because it is a tourist city, and my son spends most of his time at his university".
Haj Abu Mohammed and his wife spend most of their time at home. Memories are the main thing they want to talk about most of the time. "We escape to our past, which we did not realize was so sweet at the time. We remember the days when we used to gather with our nine children around one table. I spend most of my time thinking about death, siege and the exile that has dispersed us and deprived me of my children. I can't believe that I had nine children and now I'm spending my old age alone", says Hajj Abu Mohammed, who allows the lesson to evade his eyes. He says "The quiet is killing me here. I miss their noise. May God bring them all to me".
"Cut off from a tree"
"We used to call the lonely person who has no relatives as someone 'cut off from a tree', but in my case, I am the one who is cut off from the tree. I have a large family but I am cut off from it". This is how the 33-year-old Huwaida sums up her story. She says, "Thank God I have a husband and three sons, they are the only people I know here but we (me and them) are all equally cut off from our roots".
Huwaida's husband's family has been living in Saudi Arabia for over a decade, while her family traveled to Egypt after her father was arrested at the beginning of the revolution, which is an option she and her husband refused to take. She said, "We believed that the will of the people would prevail and we did not want to leave. So we chose to move to Damascus after shelling intensified and the situation in our city in the countryside of Damascus got worse, and wait for the fall of the regime. We are still waiting."
Few bad options
Today, Huwaida does not hide her grief and regret for not travelling. She says, "My husband's father and my mother died while we were far away from them. We couldn't say goodbye to them and be present for the funeral. I haven't seen any of my family members for five years. My youngest son doesn't know his grandfather or grandmother. I envy those who traveled from the beginning and saved themselves from the misery we are currently living through. Today, the options available to us are few and they are all bad. None of them will reunite me with my family or my husband's family".
We asked Huwaida about whether she had built new relationships in her new surroundings, which are no longer unfamiliar to her after five years of living there. She said, "I don't dare to build a deep relationship with anyone. Fear of regime persecution makes you prefer safety, even if it means not speaking, which is an additional and key factor behind loneliness. The same thing applies to others' fears too. In my case, they also fear me because I am originally from the countryside of Damascus and because my father was previously arrested for participating in the revolution, and so all relationships remain superficial and useless".
Huwaida compares her condition to that of her grandfather to show how she has aged even though she is only in her thirties. She said, "My grandfather died in his eighties, when his sons were around him and his brothers and sisters were surrounding his deathbed. Look at me. I am in my thirties but I am alone. If I get sick, there is no one to take care of me. Which one of us is more afflicted with the problems of old age?".
if you think the article contain wrong information or you have additional details Send Correction