Idlib… An Appropriate Playground for "counterfeit" International Brands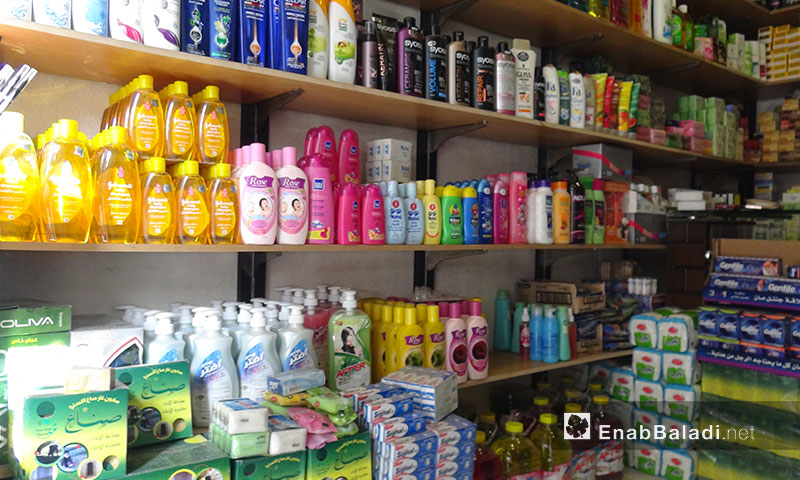 The Northern areas controlled by the Syrian opposition have turned into a large market for unknown products carrying well-known brand names. Despite their low prices, they are ineffective, with bad quality and may cause different diseases.
These products enter the northern areas (Idlib, Hama countryside and Aleppo) through two entrances; Turkey and the Syrian regime controlled provinces, especially Hama. Turkey is considered as an entrance due to the geographical proximity and the facilities that the Turkish authorities are providing to Syrian traders in the crossings.
Unlicensed Factories and Available Labels
The wide trading exchanges made with Turkey have turned the region into a large market where all kinds of products are available with different prices. However, due to the absence of supervision and accountability, many unknown products have taken place in the market, produced either in industrial institutions or factories established on the Turkish borders by "Mafias", as described by an import company's manager, who refused to reveal their name.
In a statement with Enab Baladi, the manager said that "many traders launched unlicensed factories on boarders to produce bad quality skin care items, shampoos and cosmetics, with packages imported from China and labels written in Turkish and printed in widely available printing presses, in order to distribute them in the Syrian markets as if they are originally "made in Turkey".
"These items are offered in low prices. This fact encouraged low-income citizens to buy these items, regardless of their quality and sources. Today, they are using them as an alternative to expensive national products coming from the Syrian regime's controlled areas", said Samer, a trader, to Enab Baladi.
He also stressed on the fact that "These factories are not all Turkish; some of them are owned by Syrians, selling their products in Syria", pointing out that "there are products with good quality and high prices, and products with bad quality and low prices. In Syria, some people prefer high quality, but other people prefer and buy low quality products. At the end, all these products are consumed."
Unreasonable prices for International Brands 
The importing company's manager confirmed that "Fake "made in Turkey" shampoos and soaps, which enter the market, are of bad quality and their low price, compared to pre-revolution prices, definitely affirms that. For instance, at that period, "HOBBY" shampoo (70ml) cost 250 SYP (50SYP/USD). But today, its price increased between 600 and 700 SYP (540SYP/USD). With a simple mathematical calculation, we find that the price should be between 2000 and 2500 SYP".
The Turkish made shampoo, "Clear", costs 1200 SYP for 350ml in Syria. However, the original product, imported by Egypt, the sole distributor in the Middle East, from Unilever Company, costs 2700 SYP.
Furthermore, the manager pointed out that Johnson, the baby shampoo, is sold for 375 SYP, but in the Syrian regime's controlled areas, the original brand costs 1000 SYP for 200ml, saying that "this big difference in prices makes it questionable".
It is worth noting that these products may cause diseases and leave skin effects, especially soap residues that are likely to cause cancer.
Doctor Muhammad Assaf, a medical activist, affirmed that many cleaning and skin care products have been distributed by local made factories and made with unrecognizable materials. He also stressed on the bad quality of the relief aids and Turkish items, in the absence of supervision.
Moreover, he highlighted the fact that these products contributed in the spread of certain diseases, particularly Eczema, which results in the use of some cleaning products and soaps without knowing their composition and quality, in addition to the bad quality of water in the region.
The Active Ingredient is not Compatible with the Label
The problem is not limited on cleaning items; traders are producing inefficient pesticides and fertilizers, according to the agricultural engineer, Yusuf al-Brick.
"Some traders imported pesticides and fertilizers from private non-governmental companies that directed their bad quality products towards the Syrian market in particular. Such products do not conform to specifications most of the time", said al-Brick, in his statement to Enab Baladi. "Some traders printed good quality products' labels in printing presses inside Syria and paste them on packages that contain ineffective materials. This process led to the presence of such products in the market", he added.
In addition, al-Brick confirmed that the Syrian local companies are importing products made in china through Turkey. Many farmers bought these products and accept using them, as they are considered cheaper, with relatively acceptable efficiency.
"Most of the time, the effective materials used in the Turkish made products that enter Syria do not conform to the label, in terms of proportion. In addition, they do not get tested or monitored by supervisory authorities. This gave producers the opportunity to cheat, unlike the trustworthy well known companies, which products are of a high quality, guaranteed and go through committees that control non-conforming drugs" said Anas Rahmoun, an agricultural engineer.
This encroachment is the result of an absence of an effective agricultural mechanism, which role consists of conducting studies and field experiments on newly introduced pesticides in order to test their efficiency, determine the methods and conditions of their use and prevent the entrance of some currently marketable pesticides that are forbidden, such as "Carbosulfan" and "D2.4", as they have negative impacts on health and the environment, according to Yusuf al-Brick, the engineer.
Rahmoun stressed on the trust that farmers are giving to pesticides coming from the Syrian regime's controlled areas and stated that "they trust these products, but that does not mean that supervision is achieved by the regime's institutions, it is rather by companies that have both good reputation and branches in Jordan, Iraq and Lebanon, such as "Dabana". In addition, not using medicines made in Turkey does not mean they are bad, but Syrian traders are entering low quality materials without being supervised or accounted", concluding that "not all Turkish medicines are bad and not all medicines sold by the Syrian regime are good".
Citizens are Losing Trust in Turkish products
These problems led citizens, the consumers of these materials, to buy original products, as they are guaranteed from the exporting company, with regular bills.
Furthermore, citizens become more knowledgeable of these materials, according To Dr. Muhammad Assaf, and this encouraged them to buy the national products coming from the Syrian regime's areas, despite their high prices, which increases after adding the cost of their entrance to the opposition areas.
Idlib's citizens see that "the region has become nothing but a consuming market to supply goods and achieve exorbitant wealth. It is now considered a playground for traders. For this purpose, they are asking the Syrian opposition's factions and the interim government to implement supervision and accountability for fraudsters.
if you think the article contain wrong information or you have additional details Send Correction