Large Numbers of Offices Hire "Resident" Syrian Girls in Damascus Homes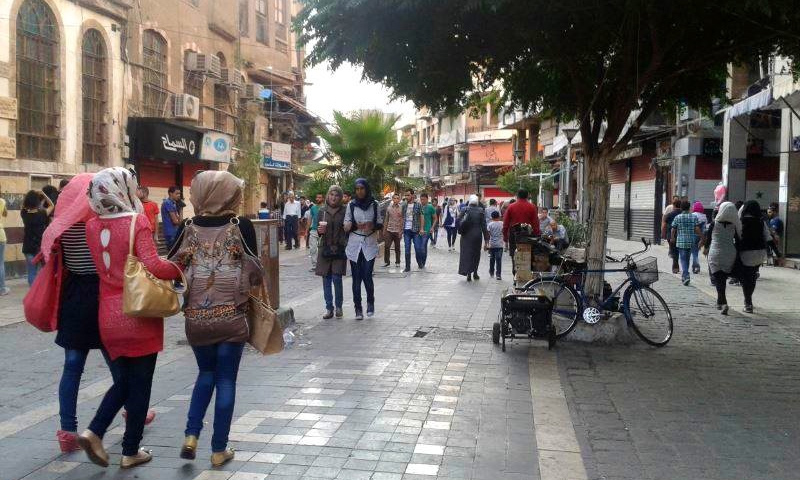 Umm Saleem, a lady from Damascus in her 60's, suffered a stroke to the right side of her brain after hearing the news of her son's death in one of the Syrian regime's detention centers.
She became paralyzed and bedridden. Her only daughter left the country for security reasons. Her relatives are taking it in turns to care for her and help her eat, drink and go to the bathroom.
"I look after her and I'm happy to do it because it's my duty", one of the old lady's relatives told Enab Baladi (who preferred for her name not to be mentioned). However, because of the tough living conditions in Damascus and her circumstances – which have "devastated young and old alike", Umm Saleem's relative is not able to dedicate all her time to caring for her, since she is responsible for a family of five while Umm Saleem needs a permanent carer with her, especially at night.
Agencies provide female domestic workers at sky-high wages
The handicapped woman's husband decided to bring in a maid to help his wife with her daily needs on condition that she lives in the house with her.
After a long search for "trustworthy" Syrian girls and after most of them declined to live in their house, one of Umm Saleem's sons read an announcement in "al-Daleel", an advertising newspaper, about an agency that provides resident female Syrian workers.
According to the old lady, they contacted the agency, which asked for "sky-high" wages for a contract they were told is "regulated" and ensures their rights before the rights of the "female worker".
Accordingly, the agency requested an insurance payment of 300,000 lira (about US $600) on condition that this amount of money be paid to the agency each year that the female worker stays with them.
As for the maid, the agency asked for a monthly salary of between 80,000 to 100,000 lira (about US $200).
This is a relatively large amount of money for a family with an average monthly income of 100,000 lira and which is already facing the burden of rising prices in the capital, Damascus, in which the priorities of Syrian families have changed.
The current average income of Syrian public employees in is 35,000 lira, but it is not sufficient given high inflation and the decreasing value of the lira.
Newspaper ads: What are the conditions?
Enab Baladi found adverts in al-Daleel newspaper about agencies that provide Syrian female workers such us the "al-Amen", "al-Wala" and "Furio" agencies for household services, among others.
Before the revolution in 2011, these agencies were specialized in hiring Asian female workers but their numbers began to drop due to the security situation in Syria and increasing reluctance to come to Syria.
We contacted one of these agencies, as a customer, to inquire about wages, and the agency requested an annual insurance of 450,000 lira.
The agency's owner offered us a deal – if we sign a two-year contract for 700,000 lira, the resident worker would get a monthly salary of 80,000 lira in the first year, and 90,000 in the second year.
The  owner also said, "These contracts are one hundred percent legal and include conditions we offer to customers before signing the contract."
Enab Baladi obtained a copy of these contracts, which include the option to terminate the contract in the month following its signing, as a trial period in case the family does not get on well with the maid.
The maid would be replaced with another, without the possibility to refund any money paid to the agency.
The contract also states that the maid must not be given tasks other than those agreed upon in advance with the agency. A maid who is specialized in taking care of the elderly cannot be asked to do household chores, and vice versa.
According to the terms of the contract, all forms of physical and verbal abuse against the maid is strictly forbidden, and such action will result in termination of the contract and financial losses for the employer.
The agency also disclaims any responsibility for theft and stresses the need for families to safeguard their belongings.
In relation to the duration of services, the agency is accountable for early termination by the employee and pays a part of the monthly salary of the maid as compensation to the family.
Women workers defy the crisis
When we asked about the nationalities of the resident maids, the director of the agency stated that the majority moved to the capital from different Syrian provinces after facing difficult conditions due to the Syrian conflict. Their ages vary between 20 and 50 years old, according to the needs of the family employing them.
Female workers aged forty years old and above are assigned to families requesting carers for the sick and elderly. However, for other types of chores such as cleaning and cooking, the agency sends women aged between 20 and 40 years old.
Some agencies provide their services for a fixed number of hours, sending maids to work for a maximum of seven hours per day on the days set by each family according to its needs. The salaries range between 9000 lira per month for one working day per week and 45,000 for six days of work per week.
Syrian women exposed to new professions
Many young Syrian men have emigrated to escape compulsory military service while others have been arrested or killed during the war. Young Syrian women become the sole providers for themselves, their parents and their siblings or children.
Syrian women have shattered the traditions imposed on them by society for centuries, taking up jobs that have exposed to them to widespread criticism. This despite the fact that these professions are considered acceptable in most countries around the world, and Syrian women have not violated general ethical standards by engaging in them.
Enab Baladi talked to Salam (30 years old) who lives in al-Maidan neighborhood in Damascus. She says that women are entering new areas of employment "we were not used to" seeing them in before.
Salam says that a bakery next to her house hired girls instead of men, who emigrated after they were told to complete their compulsory military service. She says, "After the intensive military conscription campaign in 2015 and the formation of the Fifth Division, we now have a shortage of men in the labor force."
Salam adds that most of the jobs occupied by young women nowadays are as waitresses in cafés and vendors in bakeries and supermarkets. This has shocked "conservative" Damascus society.
Last January, the most senior Sharia judge in Damascus, Mohammed Maarawi, stated that "Women working in coffee shops is an unacceptable phenomenon in Syrian society, and is not desirable in our society."
The statement provoked anger among many Syrians, and women especially, considering his view as a "direct" insult against working women who support their families given the high costs of basic food supplies and services.
Thus, the difficult living conditions in Syria have highlighted society's "rejection of women participating in the labor market", despite the fact that a not insignificant proportion of these women are college graduates and are highly qualified. Nevertheless, some did not work before due to opposition from their husbands or from their social milieu.
It has now become possible to invest in the female labor force as a result of the deteriorating living conditions in Syria, which have compelled families to put aside their opposition to women working due to these difficulties. This raises the question – is women's participation in the labor market a new feature of Syrian society or is it just an outcome of specific circumstances forcing women to take on new responsibilities and be employed in new areas against their will?
if you think the article contain wrong information or you have additional details Send Correction