Flammable Heat Bombs
Users of "Al-Anbari Fuel Oil" in Daraa Risk Death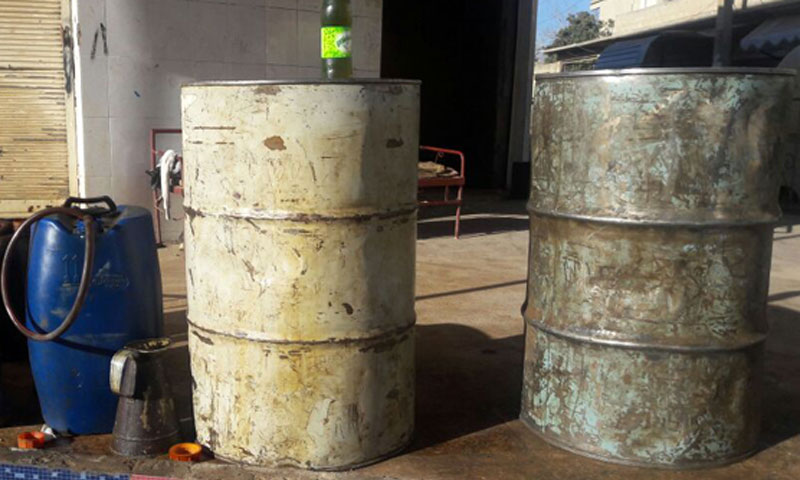 A new cause of death is menacing those avoiding the cold winter and resorting to primitive and unsafe heating methods in Daraa, the most prominent of which is "al-Anbari fuel oil".
Keeping warm by using firewood or olive pulp as well as other primitive heating methods have re-appeared in Syrian houses in recent years since is has become very difficult to obtain fuel, given its lack of availability and high price. The price of ten kilos of firewood has now reached 600 lira (more than 1 USD) in Daraa.
Al-Anbari fuel oil
Among the methods that have emerged in the heating market in Daraa over the past few weeks is al-Anbari fuel oil, named after the Iraqi province it comes from, al-Anbar, which is under the control of ISIS. This fuel oil is known to cause fires due to its high flammability, especially when used for heating.
Enab Baladi asked Adnan Abu Mohammad, a fuel trader in Daraa, about al-Anbari fuel oil. He explained that it reaches Daraa from oil wells in eastern Syria and western Iraq, adding that it is "smuggled across regime-held areas in al-Suwayda by some traders. It then reaches the eastern countryside of Daraa and from there to the various cities and towns of Daraa and al-Quneitra."
The quality of al-Anbari fuel oil is considered lower than that of the other varieties from regime-held areas, "because of the primitive refining operations it goes through compared to that coming from refineries in regime-held areas". Abu Mohammad explained that the "primitive refining operations result in a type of fuel with incomplete insulation and that contains flammable materials, such as gas and mineral oils, which is the main reason for its poor quality."
Abu Mohammad pointed out that the use of this type of fuel for heating causes quick and sudden ignition even explosions, as has happened in more than one case documented in Daraa's countryside last month. This has caused dozens of deaths and severe injuries of varying degrees, according to Enab Baladi's investigation. The fuel is being widely used in heating due to its low price compared with the regular fuel oil refined by the regime.
The price of al-Anbari fuel oil is 225 lira (less than half a US dollar) per liter compared to almost 350 lira per liter of fuel oil refined by the regime, known as "green fuel oil".
Preventive Measures
After many explosions and fires caused by al-Anbari fuel oil, civic and media organizations, as well as fuel sellers, have carried out intensive awareness campaigns on safe methods for using this type of fuel. Abu Mohammad explained its different varieties, "The bright white one is the most dangerous because it contains a greater amount of flammable gas".
He also advised people to take safety precautions, "You should always bear in mind the presence of flammable gas, as if you are in a room with a gas leak". This type of fuel oil should be exposed to air for a long time to ensure that you get rid of the gas it contains. "It is also better to ventilate the room often in order to get rid of the gas, since it is not possible to detect this gas as it has no particular smell, which could lead to a sudden fire or explosion".
According to Abu Mohammad, when the fuel oil turns into ice or gel, "You should be careful not to let any flammable object near it. It is enough to put it in lukewarm water so it returns to liquid form."
On 9 January, a heater exploded in a house in the city of Jassem due to the use of al-Anbari fuel oil. The explosion led to the death of all five family members in addition to considerable damage to the house, according to Enab Baladi's sources.
The warnings against using al-Anbari fuel oil have had little impact, as poor and low-income households have no other alternative source of heat in the cold weather, especially with the rise in the price of other types of fuel and sources of heating. Its presence has become an unavoidable reality since people have no choice but to resort to using it despite all its risks.
if you think the article contain wrong information or you have additional details Send Correction