No food for pregnant women in al-Waer neighborhood Newborns weigh less than one kilogram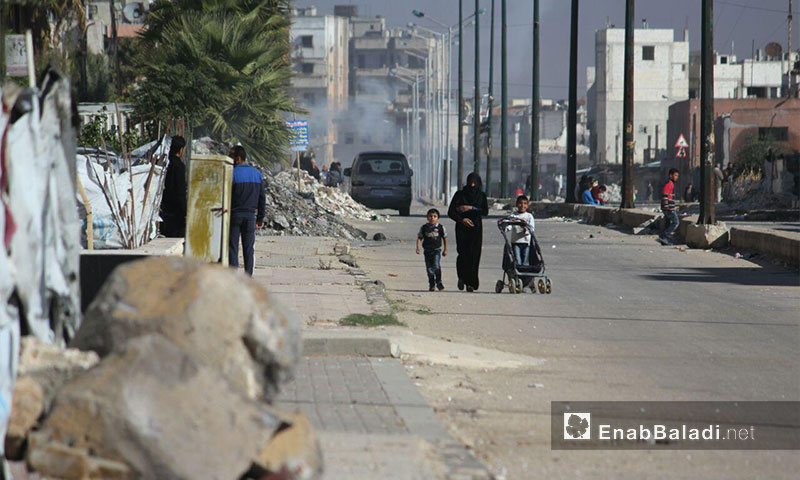 Enab Baladi – Al-Waer
The screams of newborn babies in the besieged neighborhood of al-Waer may be the clearest proof that their families are suffering. Pregnant women in the area are in need of the appropriate medicines and food for the survival and safety of their babies.
Among the approximately 70,000 inhabitants of al-Waer neighborhood, an average of eight children are born daily, according to Ali Joumoua, a doctor in the neighborhood's field hospital. As he told Enab Baladi, this number is considered to be "big".
According to the doctor, the number of babies born reaches 30 on some days, since the hospital staff try to bring together several births on the same day in order to economize on electricity and fuel.
Born in the tenth month 
According to Samya Fahd, a resident of the neighborhood who is familiar with the  situation, women in the area are facing many difficulties, particularly when it comes to deliveries by caesarean section.  She confirmed that some births are delayed till the tenth month of pregnancy since there is only one female obstetrician and one anesthetist.
Fahd, who has developed basic expertise in obstetrics, affirmed that these two doctors cannot enter the neighborhood during bombing raids by planes or missiles. This causes the delay of some births, which might endanger the life of the baby and cause it to suffer from several medical conditions as a result of ingesting water inside the womb.
The neighborhood has witnessed several cases of birth assisted only by women without any medical experience when obstetricians and midwives were not available.
Bombing causes risk of miscarriage
Fear and terror caused by the sound of bombing, as well as hunger and lack of food and milk for the mother endanger the life of the fetus during its first months, which can cause miscarriage. Premature births (in the seventh month) have also increased, obliging parents to place their babies in the nursery for several days.
Qamar Saeed, a woman who lives in al-Waer neighborhood, told Enab Baladi that pregnant women face the risk of miscarriage in their first months due to the lack of medicines that help them maintain the pregnancy.
Saeed also explained that she had been married for five years but hadn't wanted to get pregnant until last year because of her fear each time al-Assad's forces escalated their attacks.
Saeed's claims were confirmed by the medical activist Yasmine Umm Jihad, who said that one of the biggest difficulties pregnant women face are panic attacks and constant anxiety because of the bombings.
Umm Jihad also spoke about the deaths of several women after they gave birth because of the lack of blood in case of severe bleeding as well as many miscarriages due to the lack of medicines for pregnant women such as vitamins.
The medical activist pointed out that the high cost of birth operations (about 20,000 Syrian lira), made some pregnant women enlist the help of a midwife at home. This could cause health complications for the mother and baby that might require urgent medical intervention.
Babies who weigh less than one kilogram
Throughout her pregnancy, the mother needs specific types of food to nourish her baby. However, the situation is different in al-Waer, where there is a shortage of food and medical supplies and which are very expensive. Even when they are available, they are expired, according to Ahlam Mohammad, a woman who lives in the neighborhood.
Ahlam pointed out that there is a high percentage of babies who are born with a weight below the normal level. She says, "One of the babies was born weighing three quarters of a kilogram".
The latter was confirmed by Qamar Saeed, who gave birth to a baby five years after the revolution who weighed less than one kilogram. Doctors set the normal weight of a newborn baby at three kilograms (the conventional baby weight in obstetrics).
Ahlam also drew attention to the fact that, in several cases, the mother was not able to breastfeed her child because of the lack of food supplies that help to increase her milk supply, such as meat, vegetables and vitamins.
Moreover, it is difficult for families in al-Waer neighborhood to find formula milk. For this reason, the mother resorts to giving her baby boiled rice water, which can cause various stomach diseases.
Women who get pregnant in unstable conditions face a lot of criticism because of fears for the baby's future and their and their mothers' safety. However, in al-Waer, getting pregnant and giving birth is considered as "an act of resistance" manifested in the baby's first cries.
if you think the article contain wrong information or you have additional details Send Correction