Graduates and Activists of Al-Ghouta Go Back to School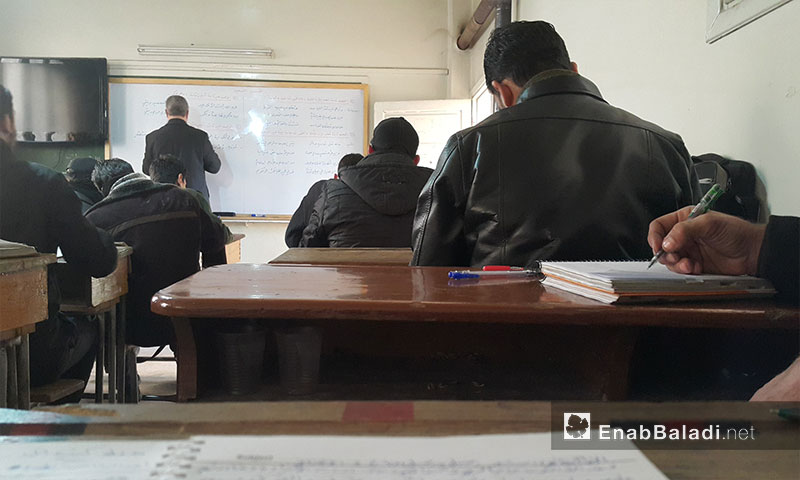 Enab Baladi – Eastern Al-Ghouta
After she lost all hope of returning to her studies at the Faculty of Arts at the University of Damascus, 25 year-old Neema al-Dimashqi registered to study French Literature at a vocational center in al-Ghouta. She tells Enab Baladi that she left school years ago but the need to find a job led her to enrol at the school, from which she graduated in 2015. She now works as a teacher at several schools in al-Ghouta.
Al-Dimashqi's is one of dozens of cases recently in which adults have gone back to school in al-Ghouta. Most graduates and activists go back to school in order to pursue their academic studies and to gain new knowledge from faculties and vocational centers there or virtual universities online.
According to those who answered Enab Baladi's survey, going back to studying helps them develop their work with organizations and institutions throughout the region even though they face "huge" difficulties, in their words, in dividing their time between school and work.
Women leaders are gaining knowledge
Before the beginning of the Syrian revolution, Bayan Rayhan, Director of the Office of Women's Affairs and Human Resources at the local council of the city of Douma, had begun her fourth year at the Faculty of Geography of the University of Damascus but she could not complete her studies. She says that she was inspired and motivated by the outbreak of protests and, like hundreds of others, drifted away from her studies.
According to Rayhan academic and intellectual achievement was part of her attempts to cope with the war in al-Ghouta. She began to learn English alongside registering for the preparatory stage to start studying Local Administration online with the "Arab Reform Initiative", run by a Swedish University.
The Director of the Office of Women's Affairs at the local council thinks that every platform available to Syrians is a resource to gain expertise and knowledge, clarifying, "There are many opportunities for activists. A large number of us study while working and we compete in the acquisition of knowledge."
According to Rayhan, if activists finish their studies, it "equips them with knowledge that they can use to play a role once the reconstruction phase of Syria begins."
Graduates study to enhance their practical experience
Umar Zaraa (32 years old), a graduate from the Faculty of Media and Journalism of Damascus University in 2008, began his fourth year at the private Islamic Da'wa and Arabic Studies faculty but did not graduate before the revolution. However, he returned to school in al-Ghouta in 2014 with the opening of vocational centers under the University of Aleppo in al-Ghouta.
Zaraa sought to study Arabic Literature in order to enhance his work in journalism, as he told Enab Baladi. However, the university had not opened the department when he registered so he registered in the department of Business Management.
Zaraa, who is currently in his second year and works as a media manager with more than one institution in al-Ghouta, added, "I used to aspire to improve my language skills. However, through management, I found a new way of living. It helps me in my work, in organizing my time and my family and maybe I can contribute to organizing society with my peers in the future."
Vocational centers and faculties under the section of the University of Aleppo in Al-Ghouta require that the student holds a high school diploma dated 2009 and up, to apply for a preferential treatment, while the diplomas obtained during previous years are not accepted.

The current academic year, which began last October, witnessed an acceptance of diplomas up to 2005 and up for direct registration in the branches of the centers. Then diplomas dated 2000 were accepted for females only.

Even though the centers and faculties require that the student's age should be less than 35 years, yet, the current year witnessed an exception. The university accepted those who were older than the specified age in Al-Ghouta after several attempts of the Minister of Education in the Interim Government.

Every student who desire to register in faculties and centers is asked to bring his original high school diploma or a certified copy, 4 personal photos, a photocopy of the Identity Card and a registration fee of 20 dollars (about ten thousand Syrian pounds now.)

The division of the University includes vocational centers of eight majors (English, Arabic and French languages, Mathematics, General Science, Physics, besides the Center of Forensic Science, Business Management, Accounting, Anesthesia and Laboratories at the Medical Center.)

In addition to the centers, eastern Ghouta includes the faculties of Human Medicine, Economics and Dentistry under the University of Aleppo.

Although the diplomas of the faculties and centers are not recognized until today, yet, their officials assert their constant contact with the universities and international bodies to grain credence.
Double the effort to obtain knowledge
What upsets Muhammad al-Saaour, a 30 year-old student who is trying to obtain his papers from the University of Damascus in order to continue his studies in the Department of Accounting of the Faculty of Economics at the University of Aleppo, is that he does not have a degree in spite of his work experience, as he explained.
Saarour told Enab Baladi that he had suspended his registration at the university in 2012 and completely abandoned his studies. However, he worked with many organizations in al-Ghouta in his area of expertise. He said, " I finished studying Business Management thanks to a scholarship granted by Rushd Virtual University. For the past three months, I have been trying to obtain the papers requested by the University of Aleppo to be able to complete my studies."
As for Abdallah al-Shami, a 35 year-old student at the Department of Arabic Literature within a vocational center, he takes the view that "when a person is uneducated, this is inherited and leads to an uneducated generation." This is why he chose to go back to school after dropping out during the preparatory cycle for personal reasons.
Al-Shami was able to obtain a Basic Education Certificate (9th grade) then earned a high school diploma before registering at the Department of Arabic Literature. He considers academia to be the best choice as "it is based on foundations and principles". He added, "I have been through a lot of pressure over the past three years to get to where I am now."
In order to identify the efforts and services by the University of Aleppo in al-Ghouta to help those who seek to pursue knowledge and the elderly to complete their studies, Enab Baladi spoke to a member of the Higher Management Committee of one of the University's divisions, Dr. Ziauddin al-Qalsh. He said that "it does not currently exist but we can work on it in the future."
In light of the lack of experts and competent people within al-Ghouta and the reliance of organizations on qualifications as a basic requirement to obtain a job, activists and those who quit school are looking for different ways to acquire knowledge. They think that acquiring knowledge is more important than having a certificate since it enables them to address the challenges their regions are facing under the siege.
if you think the article contain wrong information or you have additional details Send Correction