Who will water the trees if I leave?
Civilians Flee Raqqa While Others Dig Trenches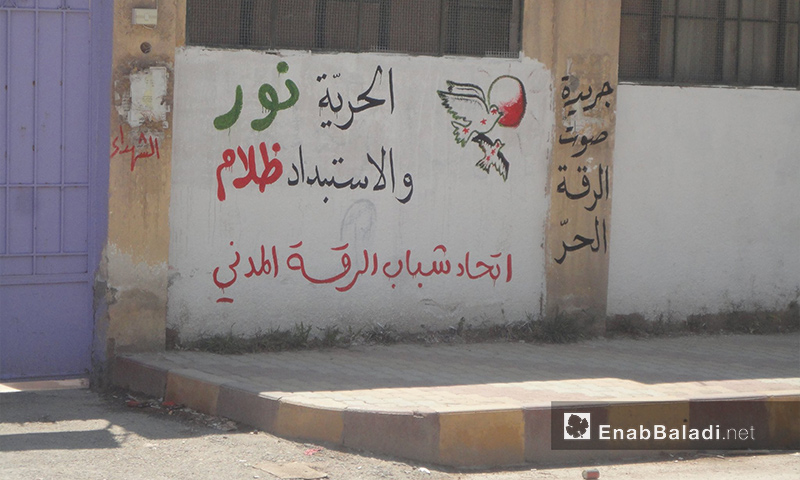 "There's not much chatter in Raqqa these days. The burden of daily concerns has become too heavy and fear has gone beyond anything that words can describe", said Omar, a young man who works as a taxi driver in Raqqa. He recently put his car and house up for sale and is seeking to leave the city, as the specter of the battles to eject ISIS from Raqqa approaches.
Omar is afraid of the destruction that will happen in his city. He says that the bombing does not distinguish between a civilian and a soldier and expects the bombing to increase in the coming days. He notes that many of Raqqa's residents have started preparing to leave, "despite their sadness and concerns for what will happen to their homes, as the air strikes are increasingly targeting civilians and are focusing on the city".
Residents also have other types of fears, as some told Enab Baladi, mentioning that ISIS has increased its security procedures inside the city, which signifies its intentions to start a long-term war. According to Omar, "ISIS has begun digging trenches and dozens of tunnels inside the city. It has also been reinforcing the roads and raising natural barricades inside the city".
Militarizing the city
According to Omar, signs of the militarization of the city are at their most dangerous level, while they were fewer before. He believes that this gives an excuse for the warplanes, regardless of which side they belong to, to kill civilians. "The barricades were placed in front of civilian houses and the trenches were dug in the streets and equipped with open pipes. Some areas are covered by storehouses and ISIS forced some shop owners to put sand barricades in front of their shop fronts".
Some of those who were surveyed by Enab Baladi said that they were fed up with ISIS imposing taxes to contribute to the cost of building barricades in their areas, by demanding sums of money ranging from 20,000 to 30,000 lira. This is in addition to hiring civilians to help build barricades and dig trenches in return for payment of 5000 to 10,000 lira for every meter dug.
Omar said that all of this is the beginning of militarization of the neighborhoods and people of Raqqa, as part of a new policy adopted by ISIS to make Raqqa a military zone. "This is not our war and we will not benefit from it, but it will be against us. I'm afraid we will became the fuel for this war in the coming days", he added.
Underground "secret" storehouses
The measures taken by ISIS have become evident to the people of Raqqa. Some are talking of underground "secret" storehouses, which ISIS has equipped with electricity generators with the aim of storing grains and supplies. It has also dug wells to ensure access to water.
Abu Haytham, a 59 year-old former teacher in the city, says that Raqqa residents will definitely not benefit from the storehouses, which were prepared for ISIS' fighters while "all the people will get are more restrictions".
ISIS' "Hisbah" department announced a few days ago that residents are required to go to ISIS' customs offices before leaving the city in order to obtain a "travel permit" and official documents carrying the ISIS stamp. These documents allow its holder to travel and to leave the city, "but only for those who give ISIS members a convincing reason", according to Abu Haytham.
Although many people are trying to leave Raqqa, others still refuse to leave their homes. Among them is Abu Haytham, who, in the past, refused to go to Damascus to obtain his retirement documents for fear of being unable to return to Raqqa, as he explained to Enab Baladi.
The retired teacher asks, "Who will water my trees if I leave? Even if they destroy our houses, we will build tents on the ruins and we will stay here. Everyone wants to leave the city but when you ask them 'where to?', they stay silent and they don't answer."
Latifa, a woman in her 60s from al-Meshleb neighborhood in Raqqa, agrees with Abu Haytham. "Despite the cracks in the walls due to a nearby raid and with the frequent water and electricity cuts, I can't leave my home and go into the unknown. My children are scattered in different areas and they're always asking me to leave. I want to die here under the roof of my house." It is a desperate wish that hangs on developments on the ground in the city and its surroundings.
There are no statistics regarding the number of civilians killed in Raqqa. However, activists estimate that the death toll has reached 250,000. Some  residents liken the current situation to the battle of Mosul, saying that it will be more difficult given ISIS' preparations. Others, however, recall what happened in Ayn al-Arab (Kobani), which witnessed widespread destruction after the end of the battles against ISIS in early 2015.
if you think the article contain wrong information or you have additional details Send Correction