Citizens Build Houses in Remote Areas to Escape BombingEscape Bombing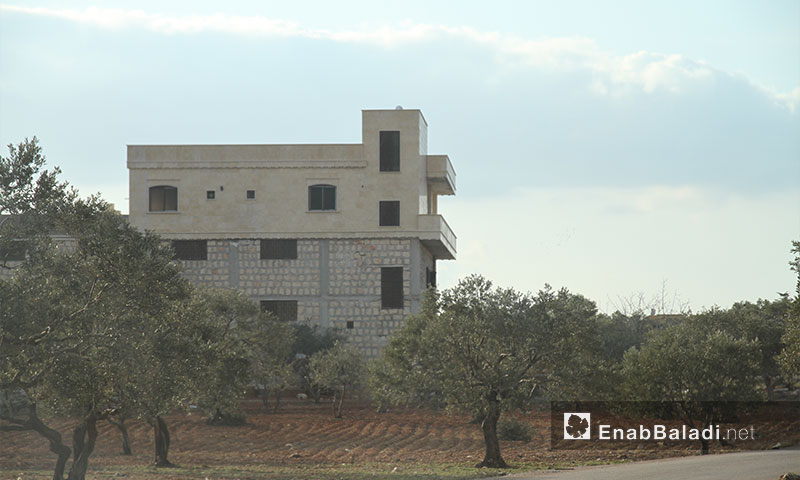 "What is most important is that I feel comfortable. We are not the targets of air strikes here and the probability that this area will be targeted is very small. We really suffered inside the city". This is how Munir al-Asouad described his current comfortable situation after moving out of Idlib to a remote location far from residential areas.
The practice of building houses outside populated areas, on agricultural lands and between side roads has been spreading recently for various reasons, the most important being that residential areas are constantly targeted by air strikes.
How much does it cost to build a house?
Tamer al-Enabi owns a real estate office in Idlib and works in construction deals. He spoke to Enab Baladi about real estate developments in the province. He said, "Our main focus has shifted to building houses on agricultural lands and in remote places, as there is no construction inside the city because it is targeted."
There are several factors to take into account in calculating the approximate cost of building a house. First, there is the land. Some people own land on which they want to build while others have to buy the land first.
The price per square meter ranges from 2000 to 10,000 Syrian lira, depending on the area and nature of the land. However, most of those who want to buy land intended for construction do not care about the type of soil or whether the land is suitable for agriculture or not.
"On average, you need 400 meters to build a house while leaving space for a courtyard", al-Enabi explained. He explained that the price of a housing unit is determined by several factors such as the area, the construction method, the number of floors and the quality of the materials used for the facade, among others.
Usually, the house is composed of four rooms (together with its accessories) on an area of 150 meters. Al-Enabi estimates that the cost ranges from 5,000 to 15,000 dollars.
Difficulties for those who do not have a means of transport
The residents of remote houses face several difficulties since their areas have no public services. Enab Baladi spoke to Basil Khair Beik, who owns a house on agricultural land in Idlib's eastern countryside near his village. He refused to mention the name of his village for fear of bombing. He explained that one of the main difficulties he faces is the distance between his house and areas where there are markets and all kinds of services. This means he has to go more than once a day to the nearby town to buy the things he needs.
He added that key services such as water and electricity do not exist in homes in remote areas. They use water tanks that they fill from an underground tank that can contain a large enough quantity of water to supply a home for almost a month. As for electricity, it is generated through "fuel oil" generators, noting that this costs more than the electricity supply in cities.
According to Khair Beik, many of those living in remote houses use solar panels that provide them with an alternative semi-free source of electricity. "But of course, the problem of electricity remains much bigger than what it is in cities and villages", he noted.
Munir al-Asouad, who currently lives near the city of Idlib, takes the view that whoever wants to live in a remote area must own a means of transport before building or buying a house.
"The remote areas do not have a lot of cars. You would need to travel on a daily basis to the nearest town center, not to mention emergency situations that can occur, such as needing a doctor or needing to go to hospital at night. If you don't have a means of transport, you would really suffer", he explained.
A house or military premises?
Samir al-Hassan, a resident of Idlib city, has a different point of view. He thinks that there are now too many remote houses. You find one for every kilometer between cities and villages. This might make them a target for airstrikes at times, for fear that they might be military premises, especially when more than one car is located in the same place. He added, "That is why I believe that it is safer to live amongst others and where people are gathered. That way, everyone shares the same fate."
The idea of building homes in remote areas has both its supporters and detractors but the phenomenon is spreading and has become popular, especially in cities that face more frequent bombing than others. In the past, houses in remote areas used to be just small rooms for storing agriculture tools or fancy buildings (villas) visited by the rich for recreation and leisure.
if you think the article contain wrong information or you have additional details Send Correction