"Our Success Sends a Message to the World"
Sixty Candidates and One Thousand Voters Participate in Establishing Civic Council in Idlib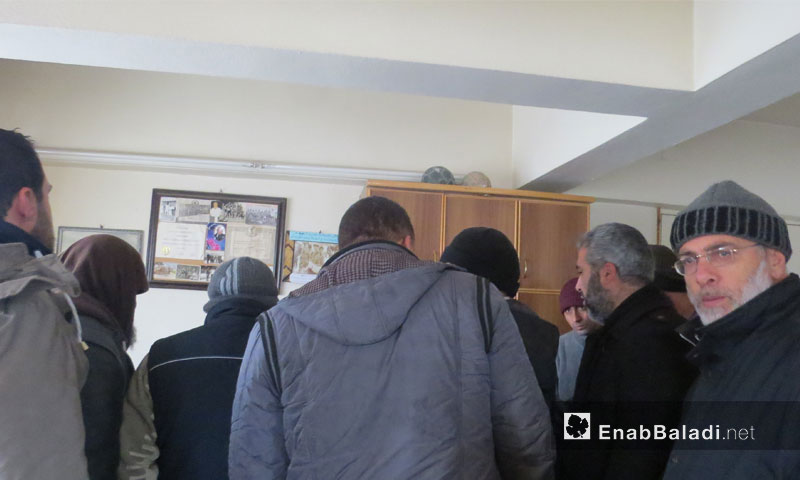 Idlib –Enab Baladi
Preparations for handing over management of Idlib City to a wholly civilian administration have begun. The process to form a civic council started in early January with an election campaign for council members.
The elections are being organized by civil society organizations in the city, such as al-Idlibi House and the Council of Leaders.
Abdul Latif al-Rahabi, Chairman of al-Idlibi House, told Enab Baladi that the founding committee was supposed to finish its work on 10 January (i.e. 10 days after starting) but that the high turnout in recent days led them to extend the deadline for another three days.
Sixty Candidates and One Thousand Voters
The residents of Idlib, under the supervision of these institutions, will elect candidates and an electoral body. By day ten, the number of voters had reached one thousand, who will be choosing from among sixty candidates, most of whom are university-educated.
Al-Rahabi added, "The elected civic council will draw up action plans based on the meetings that will be held once it is established. The council will also be in charge of the management of Idlib City and the departments will be entirely composed of civilians."
Ayman Assouad, a 45 year-old council candidate from Idlib City, holds a degree in law and has worked as a lawyer for 14 years. He told Enab Baladi that the city "is witnessing a new phase that is very different to that under regime rule. Establishing a civic council for the city is a unique experience, which we hope will lead to the city being managed by a competent administration."
Assouad added, "I didn't have any ambitions to reach a managerial position when the Baath regime was in power and I have never run for a management position, local council position or executive office because I know the pace of work. I have always been convinced that things are managed in a politicized manner and that elected officials don't have a chance to contribute or make a difference. Besides, election rigging and fraud were widespread and well-known. But our experience now will be completely different".
Three committees are overseeing the management of the electoral process. The first is a preparatory or constituent committee made up of five members, which receives candidates' nominations and voter registration requests. The second is an appeals committee, which consists of a judge and two lawyers. The third is an oversight committee made up of five members, which is responsible for ensuring the electoral process is free and fair.
Sheikh Mamoun Nema, the head of the preparatory committee, told Enab Baladi, "The elections have been announced and two types of application processes were opened: for an electoral committee and for the civic council. We have placed conditions for both, based on the level of experience and competence. We have also set a minimum age requirement, as candidates should have sufficient experience and understanding of people's daily concerns. In addition, the candidate must be from Idlib and reside here. After that, we opened the application process and the turnout has been very good."
The Current Situation Calls for a Council
"Our country has deteriorated in terms of services and it is essential to rebuild our city. We have great hope that Idlib city council will work like other local councils in other areas", said Mustapha Dahnoun, one of the members of the electoral committee. "We have seen how local councils have revived the economic and security situation and improved standards of living. We are starting this experience with the hope that it will improve our situation and repair the damage suffered."
Dahnoun has full confidence in the candidates, stating, "Our confidence is not only the council as a whole – which is a new experience – but also in the people we will elect. We will choose the most competent – intellectually and practically – in the hope that they will introduce reforms in the city. We want a council that really works and not just there for show."
Candidate Says: "Our Success is a Message to the World"
Ayman Assouad, one of the candidates, told Enab Baladi, "The regime used to consider itself as a custodian over all the people, no one could do anything without its permission. But in the two years we lived in the city, we have discovered skills, ambition and love of our country. We have everything we need in our young people who are working hard."
He insisted, "Our success is a message to the world – that we are able to elect our representatives based on their competence and integrity, which was not possible in the past. We hope we will be among those who serve this country, that this will be the start of building Syria over again."
if you think the article contain wrong information or you have additional details Send Correction