Shami Goats … An Endangered and Rare Breed in Syria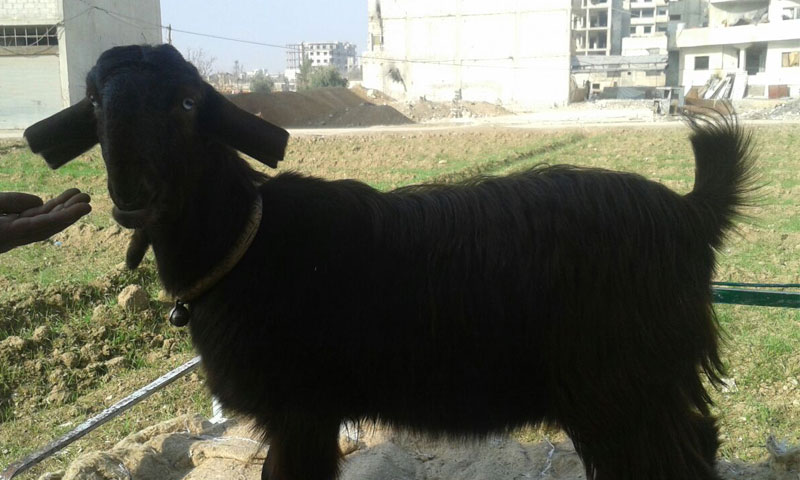 Hassan Mohammad plays with a Shami goat in Eastern al-Ghouta, which has been the target of continuous bombing throughout the last five years. He orders it to jump onto a sofa on his land while he feeds it and explains to Enab Baladi that it is domesticated. Although it is in a relatively "good" condition, it could be much better.
The war in Syria has led to the deterioration of livestock, which is known for its purebred races such as Shami goats, horses and sheep.
Like many other sectors, the livestock sector has experienced huge losses due to a rise in the costs of breeding and fodder and widespread smuggling to neighboring countries, in addition to the constant battles and bombing. This has resulted in the decline of the rich livestock that was characteristic of Syria for decades and that was a key source of income for many Syrians.
However, the biggest damage has been to pure and rare breeds, especially the Shami goat, which is particular to Syria. Breeders told Enab Baladi that this species is now threatened with extinction.
What distinguishes the Shami goat?
The Shami breed is considered one of the top five global breeds of goat that produce milk and give birth to twins. The breed used to be very widespread in Eastern al-Ghouta close to Damascus before the outbreak of the Syrian Revolution.
According to numerous studies, this breed has several distinguishing characteristics such as its wide white eyes, the size and symmetry of its limbs, and range of colors. The brown color (very dark brown close to black) is predominant, characteristic of 98% of the race.
There are different names for different colors of the bread, including the Ajamiyya, Mawardiyya, Istanbuliyya, Shahba, Sabha and Najma.
Shami goats are also known for their capacity to produce milk and to give birth twice a year (every five months), if they are kept in a suitable environment, as Hassan Mohammad, a breeder in in Eastern al-Ghouta, told Enab Baladi. He stressed the fact that goats need a quiet and clean environment, lots of forage – especially barley, which costs up to 500 Syrian pounds per kilo – and warm weather.
If such an environment is provided and the goat "feels comfortable," as Mohammad puts it, the goats can give birth twice a year and occasionally to twins.
Five thousand dollars per head
These distinctive characteristics of Shami goats and their color have attracted the attention of those who are interested in breeding them, especially from Gulf countries.
Breeders from Gulf countries who are interested in rearing rare breeds, whether goats or horses, used to frequently visit al-Ghouta before the revolution to buy Shami goats.
Mohammad insisted that the price of one regular Shami goat is no less than 150,000 Syrian pounds, since owners are refusing to sell their goats unless absolutely necessary. The price of rare breeds is even higher.
The breeder noted that before the revolution, he had seen goats sold for 250,000 Syrian pounds, which was the equivalent of 5000 US dollars at the time – now 2.5 million Syrian pounds according to the exchange rate today (517 pounds being the equivalent of one US dollar).
Because of its rare breeds, auctions and festivals were often held to display the finest Shami goats. There are many videos of Shami goats on social media, which has attracted attention to the breed and made them a target of widespread smuggling to neighboring countries before the revolution.
Shami goats now an endangered species
Shami goats, already a rare breed, are now threatened with extinction. A large proportion was killed during regime bombing of Eastern al-Ghouta, while many others died due to lack of nutrition and the absence of a suitable breeding environment.
Mohammad told Enab Baladi that he used to own more than 100 Shami goats before the revolution. Today, he has only five left. Many breeders in the region are facing the same situation, with the number of Shami goats falling from 10,000 before to the revolution to 2,000 today, meaning that 80% of al-Ghouta's goats have perished.
Enab Baladi tried to verify these statistics with authorities and agricultural engineers in regions most known for breeding the goats (al-Ghouta and Deraa in the South) but we were told that there has been a lack of data in recent years.
Abu Abdallah Hashish, a farmer from Deraa, states that the number of Shami goats has dwindled, especially rare breeds. He pointed out that this breed tends to be found close to rivers, especially the Yarmouk River, which is currently under the control of the "Islamic State." Enab Baladi tried to contact one of the farmers there, without success.
Abu Abdallah demanded that quick solutions be found to preserve the breed. He argued that an agreement should be made with certain authorities to protect the goats by gathering them somewhere far from conflict zones and where a suitable environment can be provided to protect the breed and ensure its survival.
Official Figures: Numbers drop by around 50%
According to statistics collected by the Syrian regime, the number of Shami goats has seen a significant decrease over the last two decades. In an investigative report published in 2012, the state-owned newspaper "Al-Thawra" mentioned that the number of Shami goats had reached around 40,000 in 2009, down from around 77,000 in 1987.
The newspaper claimed that the number had dropped by 49% and linked this to shrinking grazing pastures, the high cost of fodder in recent years and the fact that the species is now only bred for trade  with the aim of making huge profits.
This decline pushed the regime to set up research centers aimed at strengthening and purifying the breed and increasing its numbers. The regime has also taken measures to prevent smuggling of the breed to Gulf Countries, especially Saudi Arabia.
if you think the article contain wrong information or you have additional details Send Correction