Refugees are Returning and Life in Aleppo is Stabilizing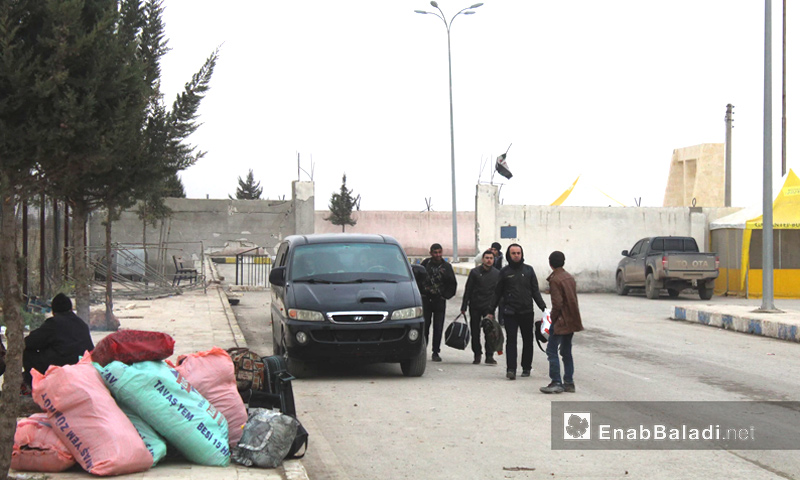 Thousands of Syrian refugees have returned to their homes in the northern countryside of Aleppo, after the Free Syrian Army and Turkish army managed to retake the territory from ISIS during the Euphrates Shield Operation that began last August.
Jarabulus, Al-Rai, Suran, Akhtarin, Dabiq and Turkman Bareh are among the most famous cities retaken by the Free Syrian Army, in addition to Maara and Izaz, which were already under their control. These areas have seen a return to normal life in their streets and markets in the past few months.
Due to the improved economic situation in these regions, the number of refugees returning to Aleppo's northern countryside through the Jarabulus border crossing has increased drastically.
500 people a day
The head of Jarabulus' media office, Abu-Qussay al-Kajak, told Enab Baladi on 30 December that the number of people crossing the border crossing on a daily basis is on average around 500 people, although the number fluctuates.
Abu-Qussay says that the refugees are returning mainly because the area is now safe after ISIS was ousted and all essential services such as water, electricity and basic goods are now available.
He added that before entering the area, all returning refugees must give back the "kimlik" identity card provided by the Turkish government. If they do not have it, they are fingerprinted to register their departure from Turkey.
The Turkish government has also allowed refugees to transport their furniture from Turkey to Jarabulus using trucks that go between the two sides, which have become widespread.
Prices are "logical"
Enab Baladi's correspondent reports that the return of refugees is accompanied by the stabilization of prices of essential goods, which differ only slightly between areas in northern Aleppo. The recent period has also seen large numbers of shoppers at local markets.
Essential goods and food items are exported from Turkey to northern Aleppo through the Bab al-Salama and Jarabulus border crossings. The Turkish Ministry for Trade and Customs has decided to make the latter the official border crossing for overland imports and exports of Syrian goods.
Enab Baladi's correspondent also said that people in Jarabulus and Izaz appear to find the prices of goods "logical". The prices of essential goods in Lira are as follows (1 US dollar being equivalent to 500 Lira):
| | | | |
| --- | --- | --- | --- |
| Tomatoes | 225 | Sugar | 450 |
| Cucumbers | 400 | Rice | 350 |
| Potatoes | 125 | Bulgur wheat | 275 |
| Eggplant | 350 | Lentils | 550 |
| Lamb | 2500 | Heating Oil (1 liter) | 200 |
| Chicken thighs | 550 | Gasoline (1 liter) | 250 |
| Whole chicken | 850 | Gas cylinder | 7300 |
It appears that the security that these regions have experienced in the last few months after the expulsion of ISIS was a strong incentive for refugees to return home, given the difficult living conditions in Turkey. More than 16,000 refugees have returned in the last few months alone, according to figures announced by the Turkish authorities last month.
Recent statements by Recep Tayyip Erdoğan regarding the creation of a buffer zone in northern Aleppo also brought more hope to refugees. According to the Turkish president's statement on 2 October, the zone would cover 5,000 kilometers of Aleppo's northern countryside.
if you think the article contain wrong information or you have additional details Send Correction