People in Homs Recycling the Rubble from their Houses to Re-use in Construction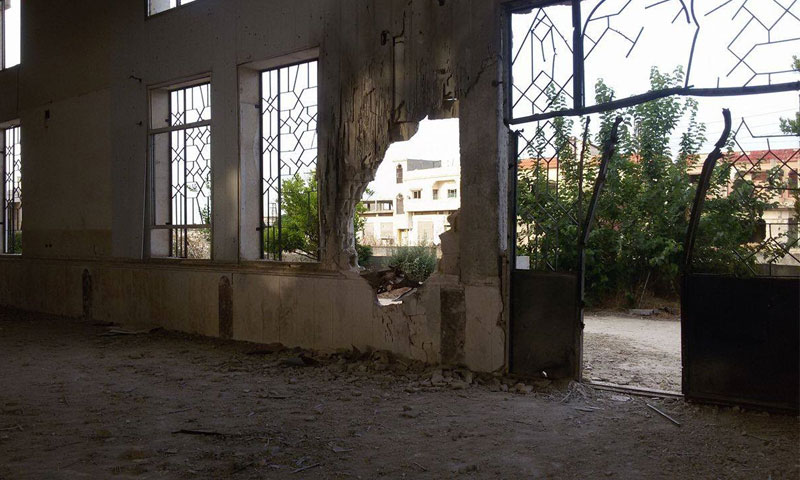 Al-Waer – Enab Baladi
The military campaign in Homs' northern countryside in 2013 caused widespread destruction of houses and infrastructure, which was already known for its fragility and incapacity to resist strikes carried out by rocket launchers and air raids.
The northern countryside of Homs is filled with thousands of displaced families from several areas, and particularly Qazhal and Umm al-Kasab, which remain highly unstable. Residents are facing excessively high rents and a shortage of new housing, leaving them no option but to re-build and restore what the war has destroyed.
Few houses and overcrowding
According to Ya'rob al-Daly, a media activist who lives in the northern countryside of Homs, the military campaigns pushed many displaced people in the northern countryside to move to shelters that help them to survive, amid poor economic conditions.
The media activist told Enab Baladi, "Only 20% of the northern countryside of Homs is now habitable. This is what pushed many in the region to compete for the few houses available. The high prices caused by the recent waves of displacement forced them to live in shelters, as they do not have enough money to rent after being displaced from their homes".
The high cost of rent has forced many families to rent one house together. This is in addition to congestion in residential areas. "There are many reasons for the high prices, the most important being the fact that original homeowners need the money, especially due to the lack of job opportunities and the rising living costs for families. Moreover, some soldiers and relief workers have contributed to this rise since they can rent houses at high rates, which has made it possible for homeowners to unilaterally raise rents", the media activist added.
 Construction using rubble
In 2014, construction boomed in the northern countryside of Homs as residents took to recycling the rubble from their destroyed houses and taking it to be crushed after the iron is removed. The rubble is crushed using hammers after which sand and gravel are separated using electric sieves.
"The construction taking place in the area stems from the need to build new houses to replace the destroyed ones. This is what encouraged residents to recycle, as the countryside lacks building materials due to the blockade", the media activist explained.
The equipment used to crush the rubble differs from the usual large crushers used in construction, and are smaller and hand-made.
The low price of recycled materials, compared with the price of new materials, encouraged people to start using it, as it is highly demanded for cement factories.
Al-Daly says that the high cost of original construction materials after the siege contributed to the increased demand for recycled materials, "The price of one bag of cement has reached 5000 Lira (one dollar being worth around 500 Lira) and the price of one ton of iron reached 450,000 Lira. So the cost of building one room is more than half a million Lira, which is why many people have resorted to using recycled materials".
Recycling saves half the cost
According to Mohammed Abu Abdo, one of the area's residents, recycling rubble and reselling it makes the cost less burdensome for people in the countryside. Abu Abdo built his house at a total cost of just over 450,000 Lira.
"My house was destroyed by a thermobaric missile and as I was intent on providing a house for my family at the lowest cost, I sold the rubble of my house directly to one of the crushers for 750,000 Lira. I then bought recycled materials for my new house, which only cost me 450,000 Lira. So I was able to build a new house without having to live as a refugee or rent a house at a high cost".
According to the activist, Mohannad al-Bakour, the cost of building a home in areas in the northern countryside differs from that in neighboring al-Houla, which is facing an even more difficult situation. He told Enab Baladi, "There is a big difference between the two areas in terms of the costs of construction. For example, in al-Farhaniyya in the northern countryside, people are building houses of cement and without pillars, as well as building regular roofs. They also use solar energy instead of electricity for approximately 950,000 Lira."
Meanwhile, al-Bakour explained, the cost of building a cement house is around one million Lira, "While the cost of building a house out of blue stone, which is more resistant to bombing, furnished with a shelter, electricity provided by solar panels and a water system, is around 1,150,000 Lira".
if you think the article contain wrong information or you have additional details Send Correction