Nabil Sharbaji… Syria, Do Not Mark Him as "Absent"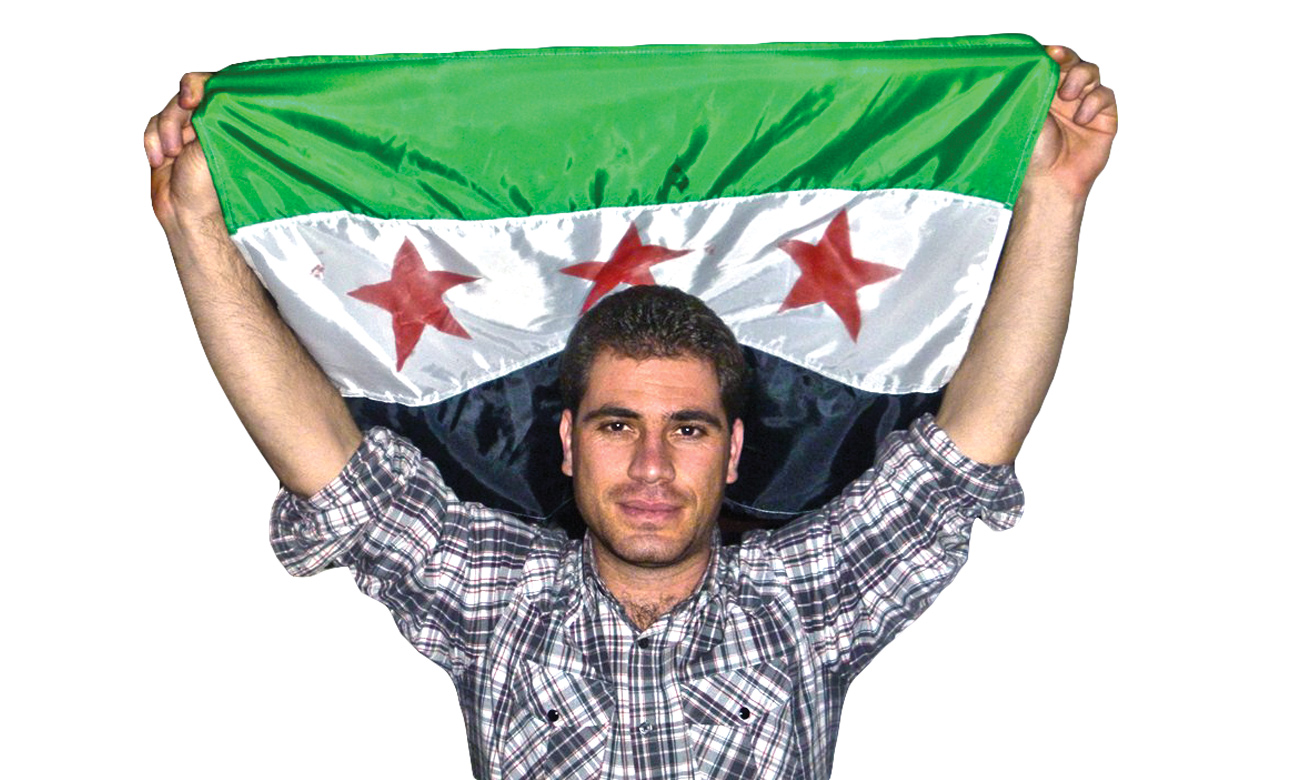 Enab Baladi — Editorial Board
"Dear Lord, exonerate us from any blame for any bloodshed or killing in Daraya, for any reason or justification, and exonerate us from blame in any act of torture or injustice perpetrated against any human being whomever they may be." These were the last words of the journalist Nabil Sharbaji before he was arrested by the Air Force Intelligence branch in Damascus.
The pro-revolutionary "Free Syrian Army" had started its first operations against the al-Assad regime by killing its agents in Daraya. A small minority of activists were against the targeting of regime collaborators known commonly as "al-awayniya", fearing the spread of killings and chaos, and the deaths of innocent people. Nabil was one of those who repeatedly denounced any act of violence that could lead to the death of a civilian.
A few weeks before his arrest, Nabil wrote on his Facebook page, "I testify that we will not be silent about any injustice or killing perpetrated by any human being even if they are someone close to us. We are willing to die for this. And because we love Syria and we sacrifice for it, we refuse that any person or persons issue statements calling for the killing of human beings. We are fighting for a state based on the rule of law, freedom and integrity."
Nabil was the only journalist among a group of activists who established the first independent journalistic initiative in Daraya – Enab Baladi. He edited the news in its first issues and, with his camera and using his own voice, recorded the announcement of the launch of the "Zero" issue of the newspaper on 29 January 2012.
Syria, Do Not Mark Us As Absent
Despite his participation in peaceful opposition activities and mobilization in Daraya, Nabil's status on social media was, "Syria, do not mark us as absent." Perhaps he was afraid of actually being absent, and this was evident in his repeated statements that he expected to be arrested one day.
In February 2012, the security forces used to cut off the electricity in Daraya after ten o'clock at night and patrol the streets. Nabil took advantage of the darkness to meet and coordinate with the leaders of the movement.
On 26 February, Daraya's activists burnt the Syrian regime's proposed draft constitution to express that they recognized neither the constitution nor the regime that had proposed it for a referendum. Nabil uploaded the video of the constitution being burnt on YouTube and decided that night to visit a friend preparing to travel. Nabil was staying with a friend at the time, who was unable to convince him not to go out, so he accompanied Nabil to his destination to ensure he arrived safely, based on his testimony to Enab Baladi.
When crossing Omar Bin Abdul Aziz Street in the city center, a Syrian security convoy stopped the car in which Nabil, his host and his host's brother were travelling. "Abu Kayid" the commander of the security patrol in Daraya, asked them for their names and occupations. The brothers answered and he ordered them to step aside.
I Am a Reporter… Leave My Friends Alone
"Nabil Sharbaji. I am a reporter and not in a permanent job," Nabil responded to the commander, according to his companions. They thought it brave of him to disclose his profession at a time when the Syrian regime was pursuing journalists and activists. It was his attempt to draw attention to himself, making himself the scapegoat so the brothers could escape.
The "Shabiha" confiscated Nabil's laptop and took him to the Air Force Intelligence branch in Mezzah, where he underwent the worst period of interrogation, according to a detainee who was being held in the same cell as him. The second detainee later died after being released from detention due to a muscular disease. Nabil was later transferred to the Fourth Division in al-Saboura mountain before being transferred to Adra Central Prison and finally to Saydnaya Prison. Inmates in Saydnaya said that he died of illness in May 2015.
Prison Letters

Entering a Syrian prison is like death and being released is like birth. No calls, no communication with family, and the news that arrives about detainees rarely provides correct information about their location or condition. When people were trying to get information about their relatives, Nabil was a voice for them on the inside.

The first of Nabil's messages was on another detainee's shirt on which Nabil wrote the names of his cellmates with blood and rust. The journalist Mansour al-Omari smuggled it out when he was released.

After he was transferred to Adra Central Prison, Nabil sent a series of letters and articles with his visitors. Enab Baladi published the letters, in which Nabil reassured people that he was alive and well, and wrote about his experience during the first year of detention in the Air Force branch in al-Mezzah and the Fourth Division. During that year, his jailors repeatedly suggested that he would soon be executed but despite that, he felt a sense of serenity.

In the letters, he explained some of the prisoners' techniques for staying alive, "The detainee struggles to find an outlet to escape from the walls of his prison, to smell the fragrance of life, a scent that makes him forget his stolen freedom for a moment."

In one of his articles, Nabil drew on the example of the Prophet Joseph, "Every time I am alone, I remember Yusuf peace be upon him and I try to inspire in myself some of his patience, He was unjustly imprisoned and despite this said, 'My Lord, prison is more beloved to me than that to which they call me', and we say 'O Lord, prison is more beloved to us than what the tyrants of our nation ask of us.'"

Amid the constant threat of being executed at any moment, he wrote, "The suffering continues, as our fate until now is unknown. We live under forced isolation, no one is allowed to approach us or communicate with us."

Nabil mourned his friends who had passed away, "… and a long list of many others…The moment of death mingled with drops of love from their veins to quench the thirst of the land that had been drowned in hatred and spite. Either you become drunk on its wine and believe, or it becomes a hell that spares no one and nothing!"
"My Brother Omar"
The last and most painful letter he wrote was a eulogy for his brother, Omar, who died defending Daraya in August 2013. Nabil wrote, "In all the twenty-nine years of my life, it never took me a long time to become convinced of something or believe in it or make peace with it, but this time it will take me all of eternity to believe that his sun has set and to realize that I have lost Omar forever."
He ended the letter by saying, "Rest in peace, smiling and optimistic as we always knew you, where you wanted to be. You became a legend. God will be merciful to your parents, your friends and me, and give us patience. The biggest honor for me is to be able to say that I am Omar's brother."
We did not understand Nabil's insistence on publishing his letters. He used to sing "Rajeen Ya Hawa" (We will return, my love) and always believed he would return to his life, but his concept of love was different to that of the rest of us.
Rumors of Nabil's illness and death circulated until the news was confirmed by Omar al-Shagri, one of the detainees who witnessed Nabil's death. "The jailor used to come every morning and shout 'Listen up prison bastards, who has a dead person in their cell?'. That day, the officer in the cell next to mine said he had someone. The jailor asked him for the full name, mother's name and date of birth. The officer responded. 'Nabil Sharbaji' then listed his father's and mother's names and his date of birth. I remember that day well as a close friend of Nabil's was in my cell. He cried when he heard Nabil's name and his mental and physical health deteriorated after hearing of the death of his closest friend."
Nabil has departed, joining his brother Omar and his friends Mohammed Khayr Shama, Mohammed Shahada, Mustafa Reesha and Mohammed Qraytem. His mother also passed away after Nabil's death was confirmed on 28 December 2016.
The biggest honor for us is that we are "Nabil's brothers".
if you think the article contain wrong information or you have additional details Send Correction