Syrian father says he was rounded up and deported back to Daraa along with others after being arrested in the Jordanian capital as part of a wider crackdown on Syrians in the kingdom
Jordan Accused of Expelling Refugees Back to Syria in 'Ejection' Campaign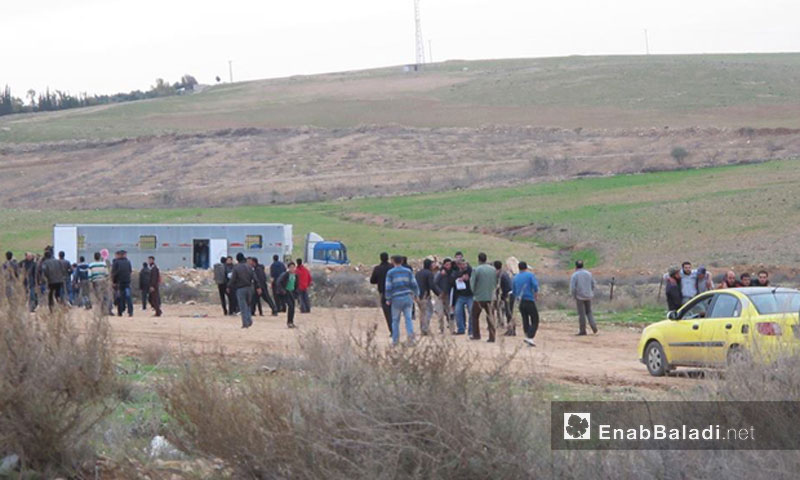 Syrian refugees have been forced out of camps in Jordan by Jordanian authorities and arbitrarily returned — mostly to Daraa provice — in what has become known as a policy of "ejection outside the border," which has put tens of thousands of refugees under the threat and specter of permanent expulsion.
Large and continuing waves of refugees have pushed Jordanian authorities to close the border completely. This has led to a number of newer camps being set up inside Syria, with the largest being the Al-Rukban camp to the east of the Suweida province.
The major escalation of "ejection" during the last few weeks, and its transformation into a state of randomness, affects any person upon whom the Jordanian gendarmerie lay their hands. Even carrying a license or a refugee ID, or residing in compliance with all laws, has not prevented Syrians from being arrested suddenly and "ejected" from the border to inside Daraa province. This is what happened to Abdullah al-Rufaie, from the Daraa countryside, who told Enab Baladi that he was in possession of a refugee ID from a police station in the Jordanian capital Amman, and that according to the ID his presence in the country was completely legal.
He added, "During the last few months the Jordanian authorities gave all Syrian refugees a deadline to exchange the temporary IDs in their possession for another, new one. Along with my family, I exchanged our IDs at one of the police stations near where we were living."
However, this did not spare Abdullah from what he had heard from a number of refugees about the arbitrary expulsion campaigns. "It's always hard to believe that any person would be expelled without a reason. I was thinking that there were violations the refugee had committed, and that this was what pushed the authorities to expel them." But the young man faced the same situation in mid-November, 2016, when he was stopped while walking in one of Amman's markets.
"I was stopped by a security patrol, and they asked for my identity papers, and so I showed them the ID. They told me that it was forged, and then took me to a bus nearby which contained a number of Syrian refugees."
Abdullah said that he tried hard to confirm to them that the ID was legal and asked them to look into it, but to no avail. "When they put me in the bus, I was trying to convince them that the ID was legal, until one of the Syrians in the bus told me not to wear myself out. All of them had legal IDs and they had been arrested on the accusation that it was forged." The passengers were all taken to the Rabaa Serhan on the Syrian-Jordanian border, to be transported, according to Abdullah, inside Daraa province the next day.
The Kingdom of Jordan has received more than 650,000 Syrian refugees, according to the United Nations refugee agency. They are distributed throughout camps, most prominently Zaatari camp, the largest camp in the region. Most Syrian refugees reside inside Jordanian cities, especially Erbid and Al-Ramtha, in addition to some other cities such as the capital Amman, Zarqa, Jarash and Mafraq. These refuges are not free of challenges and difficulties, beginning with rising rent and the cost of living, and including the obstacles to obtaining work permits. Syrians in Jordan over the past few years have suffered a great deal, to the extent that migrating to foreign countries has become the first choice for many, despite the fact that they suffer few difficulties in acclimatizing and integrating into Jordanian society, which in nature and customs greatly resembles Syrian society in the south.
New reality inside Syria
Inside Syria, a new journey begins. One returning this way is confronted with a fait accompli, and it's up to him to adapt quickly. Abdullah added that: "The biggest difficulty is if the person returning is the head of a family, meaning his family is now alone in Jordan, and it is now up to them to sort their affairs out themselves or to prepare to follow the head of the family to Syria."
In Syria, attempts to readapt begin once again, searching for a home and work and means of communicating with relatives and friends. Abdullah said that, "The hardest thing that happens is that they expel you in hours, without giving you any chance to get your affairs or the affairs of your family in order. It's been about a month since I returned, and my family is still in Jordan, trying to sell the contents of our house there and end some arrangements which are difficult for them to carry out in my absence."
Some unofficial estimates indicate that the number of refugees returning from Jordan to Syria — voluntarily or forced — is nearly 1,000 per week. Although Jordanian authorities are violating international humanitarian law with the ejections and despite the UNHCR calling on authorities more than once to stop expelling refugees, most efforts have ended with failure.
This article was translated and edited by The Syrian Observer. Responsibility for the information and views set out in this article lies entirely with the author.
if you think the article contain wrong information or you have additional details Send Correction