Wadi Al-Barada Hit with Explosive Barrels for the Sixth Consecutive Day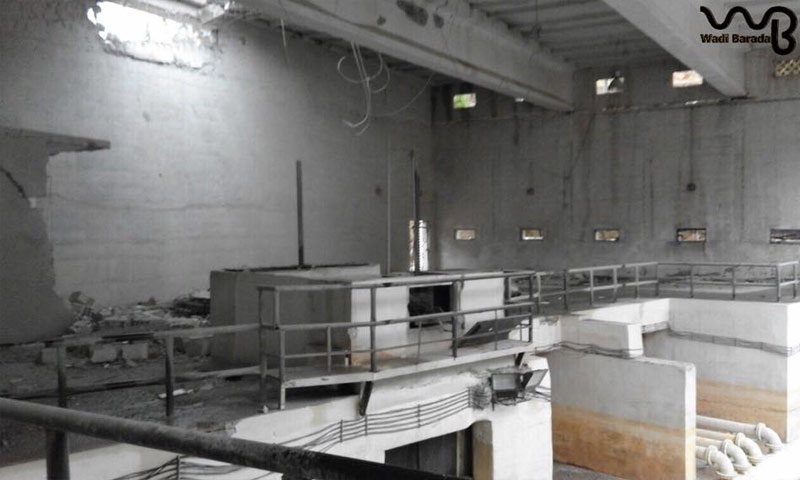 Syrian regime aircraft bombed the villages of Wadi al-Barada valley for the sixth consecutive day targeting Jabal Ein al-Fija and the village of Bassima.
Abu Mohammad al-Bardawi, member of the Media Association in Wadi al-Barada, spoke to Enab Baladi on 28 December 2016, saying that the regime's warplanes targeted Ein al-Fija with more than 10 aerial strikes. The regime executed similar airstrikes against the village of Bassemeh and the village of al-Husseinet.
The Association stated on its "Facebook" page, "Regime helicopters unleashed four explosive barrels on the village of Ein al-Fija amid violent clashes between Free Syrian Army fighters and regime forces on several fronts."
Abu Mohammad confirmed that no negotiations are underway and that there is no contact with Syrian regime representatives.
Wissam al-Tair, manager of the "Damascus Now" network, said, "The fighters of Wadi al-Barada want to negotiate but those from outside the valley, fighters from al-Zabadani and Rankos, do not want to settle."
Regarding Ein al-Fija Water Station and the need to repair the damage caused by the bombardment in previous days, which led to the water station going out of service, Abu Mohammad confirmed that the bombing specifically targeted the station and that the damage cannot be repaired.
The Syrian regime launched an offensive on the villages of Wadi al-Barada as part of its plan to expel fighters from all areas outside regime control in Damascus' suburbs and subsequently announce the suburbs as safe.
The attack on Wadi al-Barada led to water cuts in Damascus city and its outskirts due to the Ein al-Fija water station going out of service after it was bombed with explosive barrels by the Syrian regime.
Five towns and cities in Damascus' suburbs (al-Qabun, al-Qalamun al-Sharqi, the villages of Wadi al-Barada, and Tajammo al-Harmon) announced the formation of a "United Military Command" to put "an end to the Syrian regime's violation of ceasefires in the besieged towns." The Command also aims to strengthen various frontlines to stop the Syrian regime's military campaign and plans to forcibly displace the residents of Damascus' rural outskirts. However, the Command has yet to undertake any concrete actions, according to information obtained by Enab Baladi.
if you think the article contain wrong information or you have additional details Send Correction