President celebrates international day of disabled with Syrians paralyzed by the war, as U.N. office for humanitarian affairs releases damming report on the scale of permanent injuries inflicted during the nearly six-year conflict
United Nations Reveals 2.8 Million Syrians Disabled in Assad Regime's War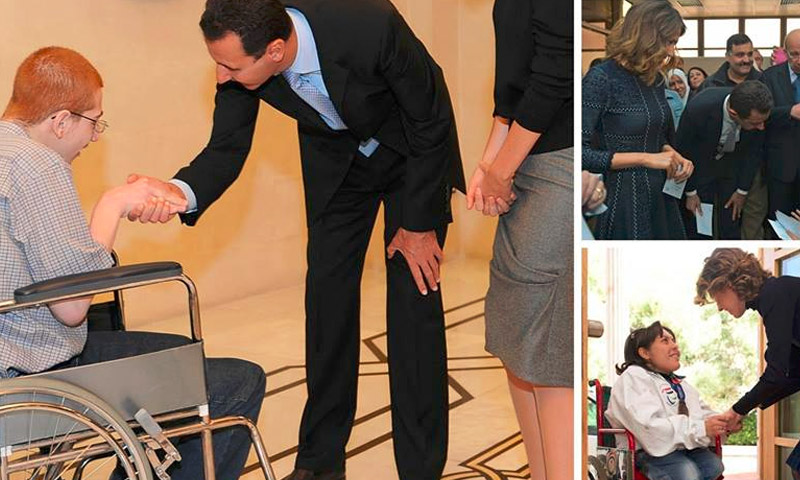 The wheels of Syrian war machine have set in motion the wheels of countless wheelchairs bearing the wounded – disabled and unable to move – as the cluster and vacuum bombs and other weapons of the Syrian regime have resulted in the paralysis of hundreds of thousands of its civilians.
As international media reverberated with images of the remains of victims from the continuous bombardment of Aleppo city, the regime's president, Bashar al-Assad, used Facebook to express a "more humane" side.
The presidential Facebook page on Saturday published images showing Assad and his wife while honoring a number of people with disabilities in celebration of their international day.
The only image which the page published included four different photos of Assad leaning down to communicate with young men and women confined to wheelchairs and surrounded by parents.
This pushed regime loyalists to voice their pride in the "humanitarian stance" of the president, as a number of them wrote in comments on the image.
The images came out at the same time as a report published by the United Nations Office for the Coordination of Humanitarian Affairs which stated that 2.8 million Syrians are suffering from permanent physical disability because of the ongoing clashes in different parts of Syria, in addition to 30,000 people a month that are subjected to psychological trauma due to the conflict.
The Syrian regime has depended on local media since the outbreak of the revolution to express its "sympathy with the people" through the repeated honoring of the "families of martyrs and wounded" and offering of material compensation which does not exceed, for the most part, $300, or about 150,000 Syrian pounds. These compensations have been reduced recently to a symbolic wall clock given to families of the regime army members who were killed.
The disabilities as a result of the war are not limited to the loss of limbs — indeed international organizations have recently warned that sieges in a number of Syrian areas were creating various types of disabilities related to chronic diseases.
Meanwhile some doctors in besieged areas have been compelled to amputate the limbs of sick children because of the lack of available treatments.
The number of wounded and permanently disabled seems closely related to the paralysis of international and local organizations and their inability to stop the flood of fire into the faces and bodies of Syrian civilians who, over the years of the war, have born the marks of brutality which will not be erased for decades to come.
This article was translated and edited by The Syrian Observer. Responsibility for the information and views set out in this article lies entirely with the author.
if you think the article contain wrong information or you have additional details Send Correction