Thousands Still Besieged in Aleppo.. Activists Fear For Their Fate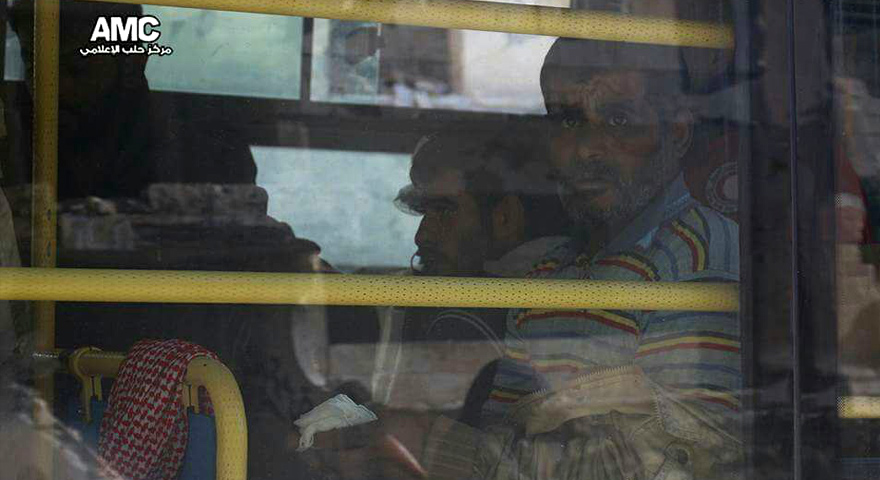 The fate of around 5000 people still in the besieged eastern neighborhoods of Aleppo remains unknown as of noon 21 December amid delays in implementing the agreement to evacuate them to the city's rural outskirts.
Informed sources reported that the situation of the people remaining in the neighborhoods is "very bad" due to severe cold and shortage of food. None of them have been able to leave according to reports emerging from the neighborhoods at the time of writing this report.
Enab Baladi spoke to Mohammad Yasir, an activist in "Zero Point," a place that is welcoming the displaced in Aleppo's outskirts. He said, "There are people inside Aleppo who have been on the buses since 6am yesterday morning."
Yasir confirmed that the last round of eight buses arrived on 20 December and that the humanitarian situation inside the besieged neighborhoods is "very bad – no one knows what may happen in the coming hours."
The activist said it was possible that the evacuation operation would resume soon but this news came from,"untrustworthy and not very credible sources." Yasir indicated that he had lost contact with several people inside the city, "The last message I received from inside Aleppo was at dawn this morning."
The agreement between the Syrian regime and opposition mandates the evacuation of the eastern neighborhoods of the city in return for the evacuation of the residents of the towns of Kafriya and al-Fu'ah. Residents of Madaya and al-Zabadani were later added to the agreement as the ceasefire in those areas has been repeatedly breached by Iranian and Shiite militias in those cities.
Yasir expressed his concern for the women and children still in Aleppo due to the severe fall in temperatures to minus three degrees Celsius. The activist requested that the situation of these people be brought to the attention of the concerned parties to facilitate their evacuation.
Mohammad Arslan, an activist who left the besieged areas on 20 December, confirmed to Enab Baladi that the buses' departure remains unconfirmed. Activists spoke of the arrival of 31 buses and 100 civilian cars to the al-Rashideen area in Aleppo's eastern countryside. However, according to Enab Baladi's sources, no buses have left Aleppo today, 21 December, until now.
Mevlut Cavusoglu, the Turkish Minister for Foreign Affairs, announced on 20 December that over 37,000 civilians were evacuated from the eastern neighborhoods and that the evacuation of the remaining fighters and civilians is supposed to take place today.
While thousands of Aleppo's displaced residents have been arriving in the province's eastern countryside since 15 December following the agreement, buses from the pro-regime towns of al-Fu'ah arrived in tareas under regime control in Aleppo. The evacuation of civilians from Madaya and al-Zabadani remains suspended until this time.
if you think the article contain wrong information or you have additional details Send Correction