Theatrical Performances Highlight Violence Against Women In Idlib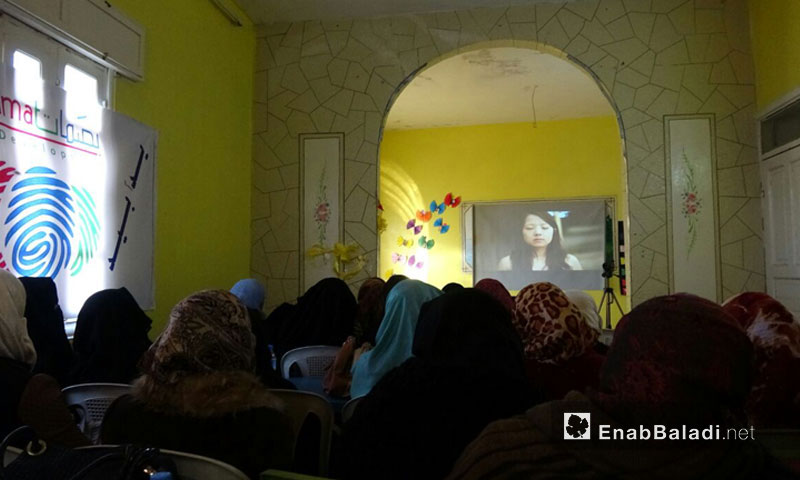 Enab Baladi – Idlib
"We got bored of talks and perhaps theatrical performances are more expressive and representative of reality," said Omm Salam, the deputy manager of Bassamaat Women's Center in Idlib city, introducing the symposium sponsored by the center during its participation in the 16th day on eliminating violence against women on 10 December.
Women all over the world have celebrated the International Day for the Elimination of Violence Against Women on the 25 November every year since 1981. The date is historically significant as it was on that day in the year 1960 that the three Mirabel sisters were assassinated in the Dominican Republic.
Attendees were presented with a busy schedule of activities at the Center's headquarters in Idlib city, including an introductory seminar on the issue of violence against women. However, all the attendees Enab Baladi spoke to said that the theatrical performances were the highlight of the day.
Ahad al-Haj Hassan, the center's manager, told Enab Baladi that those running the center believe they need to play a role, "Especially as we are living in areas where women are suffering from severe violence due to the ongoing war." In her view, rebuilding Syria "will depend on its people, and its women especially, so we must be the first to take on this role."
Diana Maari, a member of the charity "Bassamaat Imra'a" (A Woman's Mark), expressed her appreciation for the theatrical performances, "They are close to reality in a time of great violence and an increase in the number of widows and wives of detainees, which all increase the pressures on women, so it is good to highlight and focus on these issues."
Yara, a young 19 year-old woman who participated in the performances in different roles, explained that she has little prior experience of acting but hopes to increase her experience through "beneficial" performances in the future. Yara explained, "We practiced the scenes only twice before doing the performance."
The center's deputy manager explained that the performances had a lot of input from the center's students, "drawing on their ideas and relying on their acting." She pointed out that the performers trained a total of eight hours over two days, "And the results were satisfactory, we should not be embarrassed about our problems, we should be open about them."
Aside from the theatrical performances, the symposium was a meeting place for the women's organizations working in the city and was attended by around 50 women working in these organizations. Nermin Khalifeh, the manager of the "Educated Women's Association", told Enab Baladi that there is a need to propose ideas that are closer to the reality of women in Idlib, "The symposium could have been richer by showing videos closer to our reality but perhaps due to the many problems faced it would have been impossible to present them all in one meeting."
The center's managers believe that the women's trainings and seminars are useful and will continue, but that it is necessary to raise men's awareness of the ongoing violence, "But it is harder for us as women to cover activities within their society."
The Bassamaat Center was established in May 2016. It organizes trainings for women by experts and qualified trainers focused on different ways of upskilling women such as sewing, knitting, nursing and psychological support."
if you think the article contain wrong information or you have additional details Send Correction