Second stage of the campaign, which will include forces from the Syria's Tomorrow group, aims to take the western countryside of Raqqa and isolate the city, according to SDF statement
SDF to Join Forces With Raqqa Revolutionaries for Operation 'Euphrates Rage'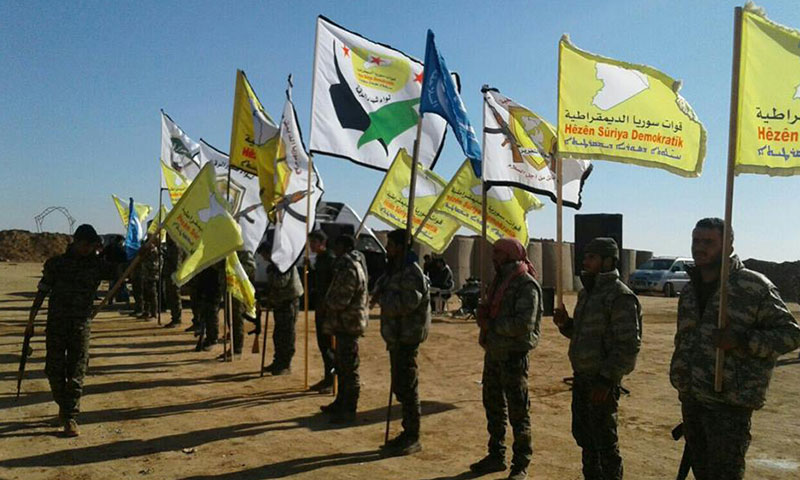 The Syrian Democratic Forces (SDF) launched the second stage of its "Euphrates Rage" campaign to take back the city of Raqqa from the Islamic State group, saying that it had incorporated the "elite" forces of the Ghad al-Souri (Syria's Tomorrow) group alongside others in its ranks.
In a press conference held on December 10, SDF spokesmen said that the first stage of Euphrates Rage resulted in the capture of over 700 square kilometers and dozens of towns and strategic roads in the northern Raqqa countryside.
The second stage of the campaign aims to take the entire western countryside of Raqqa and isolate the city, according to the statement, which Enab Baladi viewed.
The SDF announced its expansion and incorporation of new forces, including the Deir-ez-Zor military council and the "elite" forces of the Ghad al-Souri, which was established by the former Syrian National Coalition president Ahmed al-Jarba and the Front of Raqqa Revolutionaries brigade.
The SDF said that it had recently incorporated about 1,500 Arab fighters from Raqqa and its countryside who have been trained and armed by the international coalition.
The Democratic Forces were formed in October 2015 with a number Kurdish, Arab and Syriac groups, most prominently the People's Protection Units of the Kurdish Democratic Union Party.
The SDF launched the Euphrates Rage battle on November 5 with the aim of capturing Raqqa with the support of the international coalition under the leadership of the United States.
This article was translated and edited by The Syrian Observer. Responsibility for the information and views set out in this article lies entirely with the author.
if you think the article contain wrong information or you have additional details Send Correction