Revolutionary Flags Flutter at Demonstrations in Idlib City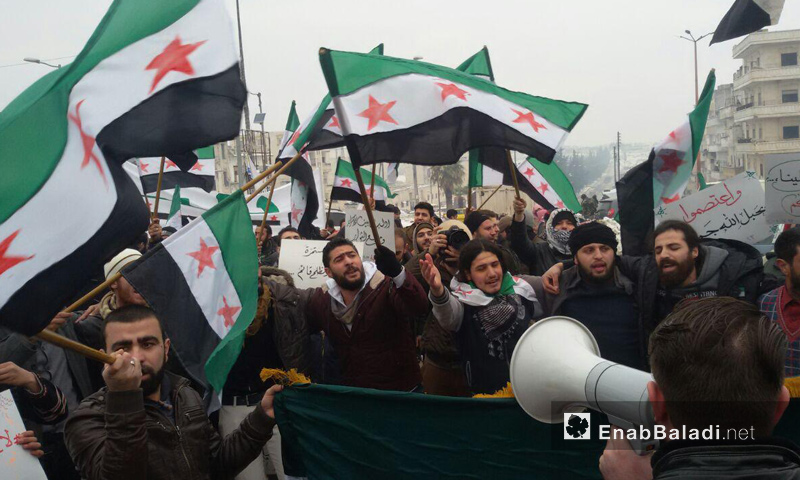 Dozens of activists participated in a demonstration after Friday prayer in Idlib city on 23 December. Demonstrators called for unifying efforts to confront the al-Assad forces and their allies and asserted that the revolution against the regime would continue.
Enab Baladi's correspondent, who attended the demonstration, explained that activists from the provinces of Aleppo and Idlib participated in the demonstration and carried revolutionary (independence) flags in large numbers.
The Security Committee of Jaish al-Fateh, which controls the city, had previously prevented demonstrators from carrying revolutionary flags.
A demonstration the previous week had witnessed the return of the orator Abd al-Baset al-Sarut, but demonstrators did not carry revolutionary flags, according to Enab Baladi's observations.
In a demonstration two weeks ago, a Fateh al-Sham member tore up a revolutionary flag and threw a hand grenade, which did not explode.
The demonstration on 23 December took place as the Russian President Vladimir Putin announced the end of military operations in Aleppo city and the Syrian regime's complete control of the city amid warnings to opposition factions that Idlib will be next.
if you think the article contain wrong information or you have additional details Send Correction