Daraya's Students Pursue Their Studies in Northern Syria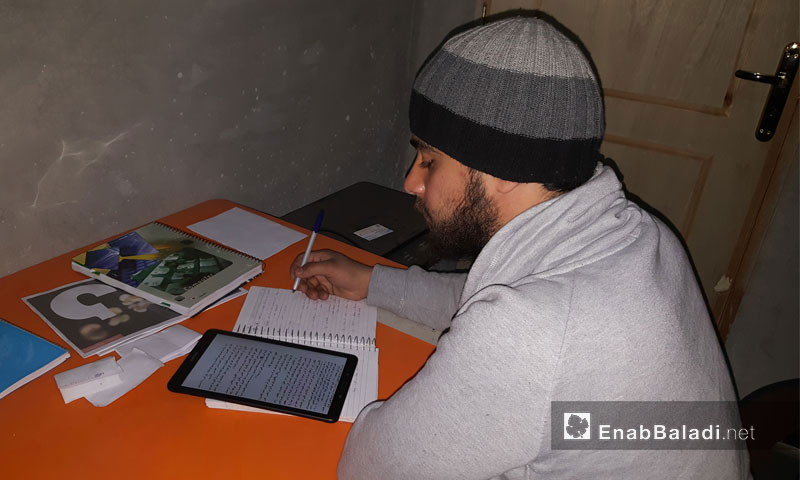 Enab Baladi – Idlib
Mohammed Haider is a resident of Daraya city situated in western Damascus. He fled with his family to the countryside of Idlib last August and resumed his studies, like dozens of students, in the University of Aleppo.
He cites that "An educated person earns a living from the knowledge he has gained and worked hard for.  Before the Syrian revolution, that's what I believed and we are even more determined now to gain knowledge due to the dangers of ignorance we have lived through."
At the start of this academic year, the universities of Idlib and Aleppo welcomed a group of students from the city of Daraya and others from Damascus' rural outskirts. These students are trying to cope with the new learning environment after their studies were interrupted due to the siege that lasted for many years.
Students Face Hardships Due to Interruption
Since his arrival in northern Syria, Haider (26 years old) is determined to continue his studies. He told Enab Baladi that he does not give great importance to the issue of recognition of certificates or even to the difficulties that he is going to face.
The three months Haider spent in detention in the Syrian regime's prisons at the beginning of the revolution was enough to keep him inside Daraya because he was afraid of being detained again. Like his peers, he soon joined the armed opposition.
The student described Damascus University, where he studied, as "one of Assad's intelligence agencies that kept chasing us and deprived me from realizing my dreams".
Despite joining the frontline, Haider has not stopped reading, "I used to entertain myself with some linguistics reading and books that would help me in my studies in the Faculty of Economics, until I left the city in search of other ways to pursue my studies. Then I enrolled in Aleppo University."
Haider believes that resuming his studies does not mean that he has to leave the revolution, which is why he is looking for a way to pay for his studies and fulfill his "revolutionary duty". He continues to encounter many difficulties including the expensive enrolment fees ($200 per academic year) and the cost of books and transport. He said, "Many might see this as a small cost but for people in my situation it is difficult to afford."
High School Students Try to Integrate
 "Last July, only 4 students out of 40 managed to sit their exams in the "Iqra and Irqa" school in Daraya in western al-Ghouta. They sat their exams in the worst security conditions ever since the early days of the campaign against the city, which was recently emptied of its residents. These conditions prevented 36 students from finishing their high school and primary school exams, which led to their withdrawal before finishing their end-of-year exams. Two students sat their primary school exams and two others completed their secondary school exams in humanities."
High school students are trying to cope with adjusting to their new schools and colleges in northern Syria. Huzaifa Saleh, a 20 year-old student from Daraya, says that he has been looking for a way to complete his education and obtain qualifications since his arrival in Idlib's countryside.
Two months have passed since the start of Saleh's educational journey. He added during an interview with Enab Baladi that he has faced many obstacles in finding an institute where he can continue his education with his friends from different specialties. He said, "Because of our special circumstances, we need a period of revision to refresh our memories after the long interruption."
Saleh and some of his peers were forced to look for teachers who understand their particular situation. He points out that the financial situation and place of residence are "the main obstacles we face, and this is what forces some students to drop out". He added, "The factions we were part of provided us with support and aid to help us continue our studies".
The young man believes that the perception of education has now changed, "Before the outbreak of the revolution, most of us studied because we had to, but the brutal siege made us realize the importance of knowledge and despite the difficult circumstances we managed to learn English and read dozens of books." He added that he loves Arabic literature and that he will specialize in this field after graduation.
Universities and Schools Embrace Displaced Students
Jamal Shahoud, Director of Education in the province of Idlib, announces that the number of students enrolled in secondary and elementary schools reached nearly 17,000 last year. He emphasizes that, "This year, we noticed an increasing demand from newly displaced students from the countryside of Damascus who are eager to enroll in, and graduate from our universities."
The Director of Education points out that 5% of Idlib's students continue to enroll in schools in the areas controlled by the Syrian regime. He explained, "We recently published a general statement warning that those who complete their elementary education in the regime's schools will not be allowed to continue their studies in our schools. We are now discussing a similar statement with the Universities of Aleppo and Idlib to issue a similar decision to ensure that any diploma from regime secondary schools will be refused."
Abdu al-Haj, student affairs administrator at the Faculty of Economics at the University of Aleppo told Enab Baladi that the university takes into account all the students' conditions, especially those who have recently been displaced and want to continue their studies. He adds, "Many students have lost their papers that prove their registration at university and did not bring school reports from the regime's universities."
Al-Haj adds, "Any paper that proves their enrolment in the regime's university system is acceptable, such as their university registration number or university card." He mentions that once the student writes a pledge setting out the subjects he previously studied, he is accepted until he can bring an academic transcript. Otherwise, if he cannot, he will sit the exams again in  these subjects."
The Universities of Idlib and Aleppo welcome thousands of students from northern Syria, along with the schools of the Directorate of Education. The students of Daraya interviewed by Enab Baladi confirm that they are determined to continue their education and achieve the dream they thought they had abandoned in the cities they left behind.
if you think the article contain wrong information or you have additional details Send Correction