Activists Say "Syrian Democratic Forces" Imposing Forced Conscription West of Al-Raqqah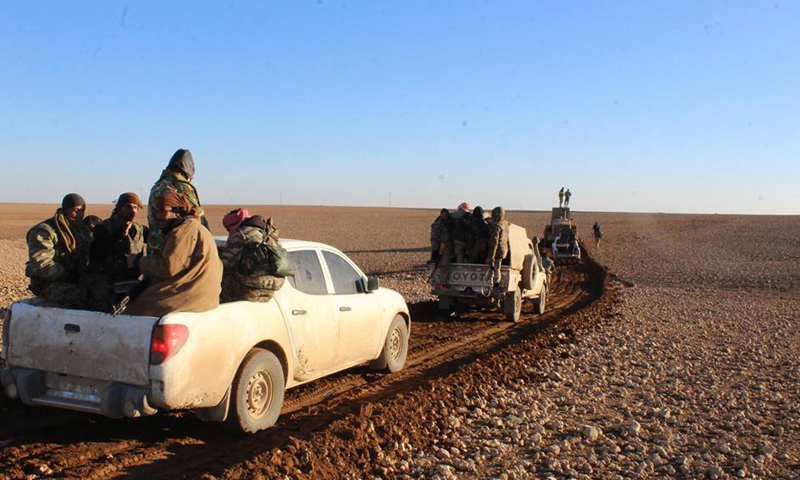 The "Al-Raqqah is Being Silently Murdered" campaign team said on 23 December that the "Syrian Democratic Forces" (QSD) have imposed conscription on young males in al-Raqqah's western countryside.
Campaign member, Sarmad al-Jilani, confirmed to Enab Baladi that the QSD is imposing mandatory military service on young men born between 1986 and 1996 in the areas it recently took control of in al-Raqqah's western countryside.
The Operation "Euphrates Rage" command center announced the results of the second phase of the military operation during a press conference held in al-Raqqah's western countryside on 13 December.
The operations command explained that the second phase of the operation, which began on 10 December, finished with the Forces gaining control of 1300 kilometers squared over ten days, advancing along the al-Qadiriyat and Kardashon axes. The area includes 97 villages, dozens of farms and several strategic hills.
Al-Jilani confirmed that the campaign could not identify the names of those conscripted, "But it learned from eyewitnesses that many people were drafted, and the Syrian Democratic Force members informed people of the decision."
The second phase of Operation "Euphrates Rage", which was launched on 10 December, aims to take control of the western countryside of al-Raqqah city and close in on "Islamic State" Forces present in the city.
QSD launched Operation "Euphrates Rage" on 5 October with support from the international alliance under the leadership of the United States. The first phase of the operation ended with QSD gaining control of 700 kilometers squared, dozens of towns and strategic routes in the province's northern countryside.
It is not the first time Syrian Democratic Forces have imposed conscription on residents in areas under their control. Activists have documents dozens of cases in al-Hasakah, al-Qamishli, Afrin and other areas under the group's control in Syria.
if you think the article contain wrong information or you have additional details Send Correction