Five years of training Syrian refugees
Rouba Mhaissen Shows Up the International Community and is Honored by Britain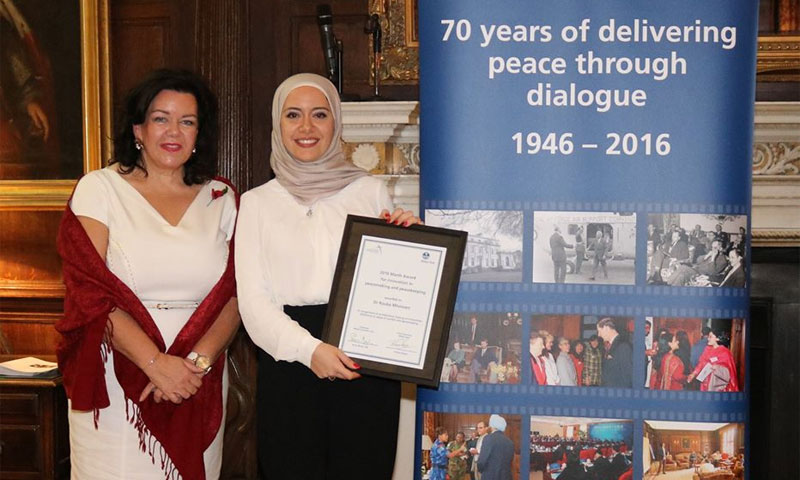 Obada Kojan – Enab Baladi
"Talk to us, don't talk about us and do not speak in our name." This is how Dr. Rouba Mhaissen ended her moving and exceptional speech at the "Supporting Syria and the Region" conference held in London last February. The press said her speech had shamed the international community and Ban Ki Moon, who was listening in the audience. On 13 November, the British Foreign and Commonwealth Office awarded Rouba the 2016 Marsh Award for Peacemaking and Peacekeeping for her work to help Syrian refugees in Lebanon through her organization, Sawa for Development and Aid.
Enab Baladi spoke to Rouba Mhaissen the evening after she received the award in London, becoming one of the Syrian women who has succeeded in ensuring the voice of Syrians reaches the international community. Rouba, who has a Beirut accent due to having a Lebanese mother, has a graceful way of explaining her humanitarian work and it is clear from her words that she sided with the Syrian revolution against the al-Assad regime.
 Rouba Mhaissen, 28, was born to a Syrian father and Lebanese mother. She grew up in Lebanon and received her education there but always visited her mother country, Syria, on weekends and in her spare time.

Rouba received her BA in Economics from the American University of Beirut and an MA in Economic Development and a PhD in Economic Affairs from SOAS in London.

The young woman began her work with Palestinian refugees in Lebanon and later with Lebanese refugees in Syria in 2006. She has been working since 2011 to support Syrian refugees in Lebanon and founded her organization, Sawa, which specializes in aid, education and job training.

The young Syrian woman has participated in drafting laws and establishing lobby groups to pressure international and local political actors to protect refugee rights, and she continues to persevere in her humanitarian work.
Establishing "Sawa for Development and Aid"
The media reported on the arrival of the first 40 Syrian families who took refuge in Lebanon in January 2011, fleeing from the war launched by al-Assad against his peaceful opponents. This is when Rouba's  humanitarian work really started. "I contacted some of my friends and we headed towards northern Lebanon to see the needs of the refugees. My visit had a big impact on me; it was very painful because of all the terrible stories I heard. The first thing I did was to tell everyone I knew about the tragic situation of these families via a text message in which I explained their urgent needs. My message spread very fast and hundreds of people who wanted to donate contacted me. Some wanted to support or volunteer."
The need for aid increased as more and more families arrived in Lebanon, which led Rouba to start her organization. She said, "I founded Sawa as a local NGO based on the efforts of the local community in Lebanon and supporting it at the same time. Sawa is now registered in the United Kingdom to work mainly on supporting Syrians in the region and in Europe."
Sawa moved from humanitarian aid to education and later to holistic development for Syrian refugees in Lebanon. Rouba continued, "We began with enhancing the concept of holistic development. The organization now works on humanitarian aid, education, development and job training, and provides basic needs and more for individuals and communities. It also offers psycho-social support and spiritual, non-sectarian programs that contribute to developing ties between individuals in the same community and other communities using music, arts, sports and nature. In addition, there is a program called 'Bridging' which rehabilitates school drop-outs to help them re-enrol in official schools or enter vocational training."
Sawa for Development and Aid follows an approach that is different from local NGOs and INGOs. The approach is based on three foundational principles: dignity, ownership and involvement. Rouba clarified, "Every human being has the right to run their life and live it as they want. Every human being has the right to live a decent life. Our work is not charity. It is social work with and for society. We work with every individual in the family and our activities are paid for by communities in the camps and abroad. They are the ones who choose, run and manage the projects. Our role as the organization's management is to facilitate projects that families want."
A Quantum Leap After Her Moving Speech in Lebanon
Rouba gave an eight-minute speech in front of politicians and Arab and Western officials who attended the "Supporting Syria and the Region" conference convened in London last February. UN General Secretary Ban Ki-moon and British Prime Minister David Cameron were among the attendees.
Rouba's speech went viral on social media and was circulated by local and international news outlets. They considered that Rouba had embarrassed Ban Ki-moon and representatives of the international community when she began her speech by saying, "I have been told I am here to shock you. To bring you to tears. To tell you stories about Syrian refugees. But I am not going to do that."
The young woman's speech was realistic and brave. It delivered constructive criticism concerning the way in which donor countries deal with the Syrian issue as a whole and the way in which Europe and neighboring countries have dealt with the arrival of thousands of refugees. She concluded her statement with, "I urge you to talk to us. Do not talk about us and do not speak in our names. I promise you from now that I will be returning your hospitality for hosting us here, hopefully at the next donor conference, which will be held in Syria." Ban Ki-moon commented on her speech saying, "Thank you for your courage. We will do all that we can."
When asked about whether the speech had been a turning point in her work, Rouba said, "What I said in front of Ban Ki-moon, I have been saying since 2011. I did not know that Syrians shared and translated the video. The speech is the result of a long history of work with local organizations and Syrian activists to pressure countries to change their policies."
Rouba saw her speech "as a turning point in my life not because of becoming famous because we must dedicate our work to God alone and it is our duty to do this. It was important because of all the moving messages I received from families in areas under siege and bombardment. That's why I feel a huge responsibility towards our people in Syria and feel an even greater responsibility and duty that I have to fulfill in the best possible way."
This was neither her first speech nor will it be her last, "We will carry on with our work to pressure the international community and governments to protect civilians and allow Syrians to live decently, to stop the war and stop bombing civilians, to protect schools and hospitals. Unfortunately, the international community and the UN are deaf and mute, they do not take our views into consideration and they have betrayed the Syrian cause."
Obstacles and Burdens of Humanitarian Work
Rouba does not hide the scale of responsibility that lies on her shoulders although she is still only 28 years old. She always feels she is not doing enough given the huge needs of Syrian refugees and her desire to see ideal conditions for families in the camps. The reality is completely different. It is a burden that she carries wherever she goes, but she shares it with her team, "I am surrounded with a wonderful team of Syrian men and women in Sawa and in Syrian civil society. The best thing that happened to us during the past five years is making friends who believe in the same principles. We work together for a better future."
There are many obstacles facing Rouba and her team in Sawa. The biggest is the fact that the international community is ignoring all appeals by Syrian NGOs to protect civilians. Time is another obstacle, "Time is moving against me. There is work that has to be finished in relatively limited time." The third obstacle is funding, "The funds donated by countries go to the big regional organizations but local ones exert double the effort to get donations, which have become scarce in the past two years."
The scarcity of qualified staff is another challenge Rouba faces since many Syrian youth see Lebanon as a stepping-stone to moving to other countries, "We lost many of our most skilled staff who left Lebanon in search of a better life. We had to attract new staff and start from zero with them." She also points out the difficulties she faces in her work as a woman, "There are people who do not like to see a woman leading an organization and appearing on public platforms. Despite that, I have been welcomed and encouraged by many supporters and by Syrians in general."
Rouba was nominated for and given the Marsh Award of the British Foreign and Commonwealth Office for her work in Sawa for Development and Aid. She dedicated the award to Syrian refugees and has donated the money she received (1000 pounds sterling) to the organization she founded five years ago.
if you think the article contain wrong information or you have additional details Send Correction