"Execution" Is The Price For Leaving Regime Areas in Deir Ez Zor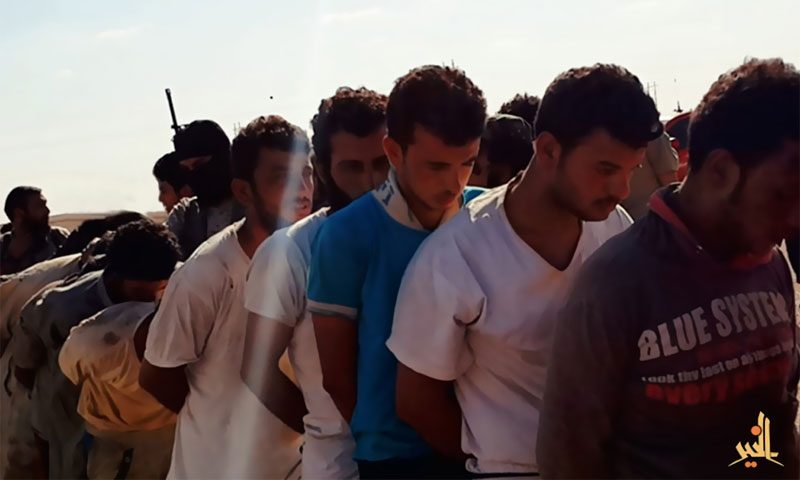 Burhan Othman – Urfa
"To throw yourself into the unknown is easier than the life we were living." This is how Bakr described the al-Jourah neighborhood he is leaving behind, although he knows this may cost him his life. He described the neighborhood as "a large prison whose inmates are waiting for a slow death."
Everyone in al-Jourah is exhausted, "No electricity, no drinking water, and even bread has become scarce." Everything stopped over a year and a half ago in March 2015 when the "Islamic State" announced its siege of the regime-controlled areas in Deir Ez Zor – the neighborhoods of al-Jourah, al-Qusoor and Harabish.
The three neighborhoods included over 250,000 civilians at the time. Now the number of civilians does not exceed 150,000.
It was possible to officially leave by presenting a request to the governor or the military commander, Assem Zahir al-Din. "Certain people", according to Bakr, who are close to the regime and its militias were given approvals while the queues waiting for the permission to leave hell were in the thousands. Of those thousands, a limited number managed to get the official stamp that allowed them to cross.
Price of Smuggling Reaches 150,000 Syrian Pounds
The young man, who was trying to finish his university degree before he escaped for fear of being conscripted into the al-Assad forces or militia, said, "I managed to escape from the areas under regime control after three failed attempts and it cost me 150,000 Syrian pounds."
After that, the young man reached the "Islamic State" checkpoints in the al-Husan area, "There, women are separated from men and each are taken to a separate prison where they interrogated us for more than two days before we were released. They took all our official documentation from us, tore up our diplomas and some other official papers we had with us, and the Islamic State members made us sign a declaration that we pledged to attend a Sharia course after a few days."
After a dangerous river crossing and facing an uncertain future, the young man considers himself lucky for managing to escape from the regime and "Islamic State" areas, but he still asks about the fate of seven young men who were with him during the journey and subsequent imprisonment in "Islamic State" prisons, "We were nine young men in the prison and only two of us got out. I am one of those two."
Among the seven who disappeared are four of Bakr's closest friends. He lists their names – Ibrahim, a third-year economics student, Mamoun, a fourth-year science student, Abdul Majid, a fourth-year law student and Faisal, a third-year veterinary school student. Since their disappearance on 28 November 2015, Bakr has had no information about them. In the meantime, the "Islamic State" announced that it executes all who it proves are connected to the regime.
Bakr did not attend the Sharia course and escaped immediately to another place where he lived temporarily using a false name for fear the "Islamic State" would pursue him. He explained, "Some of those who attended were sent to military training courses and closed training camps, and many did not return."
The "Islamic State" used to round up people leaving the besieged neighborhood and take them to the village of Maadan for what was described as "repentance", forcing them to attend a 40-day Sharia course.
Bakr said, "Inside the investigation centers, we are accused of all kinds of things but the most dangerous was membership of the National Defense militia and fighting in the regime's forces. We were subjected to violent and exhausting interrogations."
Today the besieged neighborhoods are almost closed and there are no means of leaving except by helicopter as the regime forces have prevented civilians from leaving. Young men in particular are targeted, becoming prisoners in their own homes for fear they will be conscripted into regime forces or its militias.
The Price of Crossing Is Execution
From time to time, the "Islamic State" announces that it has executed one of the detainees who left al-Jourah neighborhood. For a period, the group stopped providing news of detainees, but after some months they began announcing the execution of detainees once again, always on accusations of communicating with the regime.
Mohammad, a former "Islamic State" prisoner, said no one knows how credible the announcements by the "Islamic State" are regarding the date or cause of death, or whether the accusations made against these people are proven or not. Mohammad confirmed that several detainees die under torture as the "Islamic State" members are artistic and inventive in their torture methods, using different instruments such as knives, scissors, sharp blades, electrical drills and iron nails other than standardized methods such as "the ghost", sleep deprivation and severe beatings.
Mohammad was released after two months of interrogation based on the accusation he was in contact with the Free Syrian Army or the "apostates" as the "Islamic State" calls them.
Mohammad still wakes up in his sleep frightened. He recounted what had happened to him during his detention, "One night the Islamic State members ordered us to get into a pick-up truck. We were ten blindfolded detainees. There were a number of members with us, threatening to kill us. They would fire shots close to us and pass knives along our necks. They were talking about taking us to al-Fulat, a faraway and uninhabited place in the wilderness, to slaughter us."
The young man does not know if the threat was real or just a way of terrorizing them, but he remembers that the car stopped half way and that he jumped out and ran with the other prisoners, wondering, "Was this their way of releasing us or did we actually escape?"
An Unknown Fate
A long list of the dozens of people whose fate remains unknown until today. Perhaps an announcement of their death would be a relief to those who are still waiting for news of them.
While the numbers of those missing circulated by activists vary, the exact number remains known only to the "Islamic State." The fate of hundreds of detainees remains shrouded in mystery, a pawn in the hands of "Islamic State" members. Their families continue to hope for news of their whereabouts.
After more than a year and a half, Bakr still believes the people of Deir Ez Zor paid a high price for their crossings, and perhaps they are still paying it even today. He continues to seek news of his friends so that he will no longer be held hostage by doubt, while Mohammad tries to live with his nightmares, which have become part of him and of his city.
if you think the article contain wrong information or you have additional details Send Correction