New report states largest number of barrel bombs landed in Damascus province, followed by Hama province, and then Aleppo and Idleb, killing 14 civilians
Assad Regime Dropped 1,128 Barrel Bombs in October: Monitor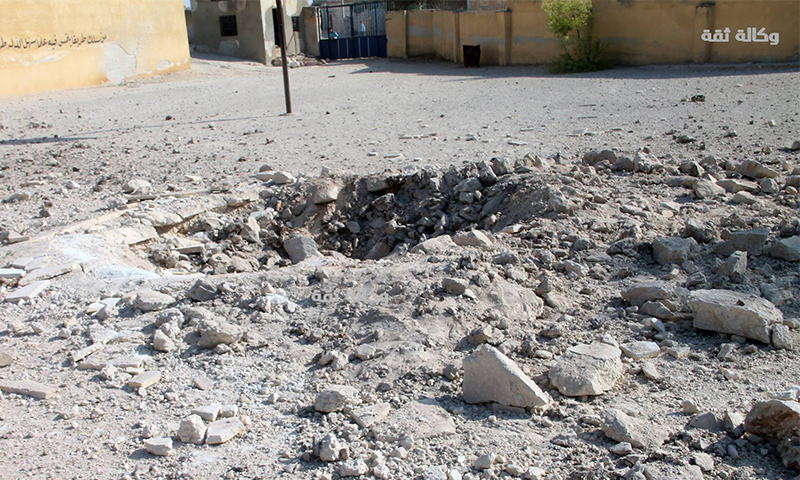 The number of barrel bombs dropped by regime aircraft in the month of October reached 1,128, according to a new report by a UK-based human rights monitor.
The report, compiled by the Syrian Network for Human Rights, documented the toll of the barrel bombs used by the government forces during the previous month. The study revealed that the largest number of barrel bombs landed in Damascus province, followed by Hama province, and then Aleppo and Idleb.
The report confirmed the death of 14 civilians, including a child and a woman and two medics, while the bombardment damaged no fewer than 14 civilian centers.
The number of barrel bombs that fell on Syrian areas since the Russian intervention was estimated by the report at about 14,152 bombs.
The network believes that due to the fact that the barrel bomb is an exceptionally indiscriminate weapon which causes huge amounts of damage, its effect does not stop at just killing civilians, but terrorizes the people in the targeted area, and is also tantamount to a war crime, according to the report.
It also said in its report that the first prominent use by government forces of barrel bombs was in the beginning of October 2012 against the civilians of Salqin in Idleb province, indicating that 99 percent of the victims are civilians, while the proportion of victims who are women and children range from 12 percent to 35 percent in some cases.
According to the report, the Syrian government is still violating to an "unacceptable" extent the Security Council Resolution 2139 and using barrel bombs in a systematic and widespread fashion, thereby violating, through the act of murder, Article VII of the Rome Statute.
The network concluded its report by recommending that the UN Security Council guarantees the serious implementation of the resolutions it had issued, "as they have been turned into mere ink on paper, and therefore it has lost all credibility and legitimacy of its existence."
Barrel bombs continue to claim the lives of civilians in most areas of Syria, and although their use has slowed to some extent, at the same time the Syrian regime is relying on new weapons, from which activists have recorded widespread damage, especially in Aleppo and the eastern Ghouta.
This article was translated and edited by The Syrian Observer. Responsibility for the information and views set out in this article lies entirely with the author.
if you think the article contain wrong information or you have additional details Send Correction