Social media pages mourn the death of five soldiers from the western Hama town killed in Aleppo, including General Abou al-Muntakhab
Aleppo Fighting Claims 5 Soldiers from Masyaf, Including High-ranking General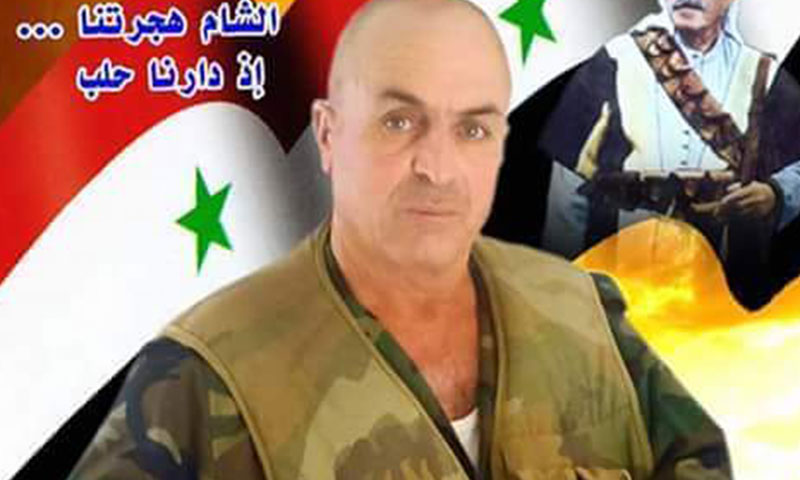 Five soldiers from the Masyaf region in the western Hama countryside were killed during fighting in the city of Aleppo earlier this week, including a high-ranking general.
General Hassan Nawaf Suleiman was killed in fighting in Aleppo on Wednesday, November 2, according to loyalist pages which mourned him on Facebook.
The pages described General Suleiman as "al-sheikh al-mujahid, Abou al-Muntakhab," from the village of Deir al-Saleeb in Masyaf.
Loyalist sources said that four fighters from Assad's forces were killed in the city of Aleppo, all of them from the village of Beyreen in the Masyaf countryside.
The sources said that the four fighters were buried Thursday morning in the village. They were: Moussa Mahmoud al-Mohamed, Mahmoud Youssef Akari, Talal al-Ashqar, and Yamen Eissa Zamzam.
Enab Baladi's correspondent confirmed a short while ago the death of a colonel in the Republican Guard during a new round of fighting which aims to break the siege on the city of Aleppo.
This article was translated and edited by The Syrian Observer. Responsibility for the information and views set out in this article lies entirely with the author.
if you think the article contain wrong information or you have additional details Send Correction