UNICEF to Enab Baladi: We cannot reach every child and identifying the criminal is not our job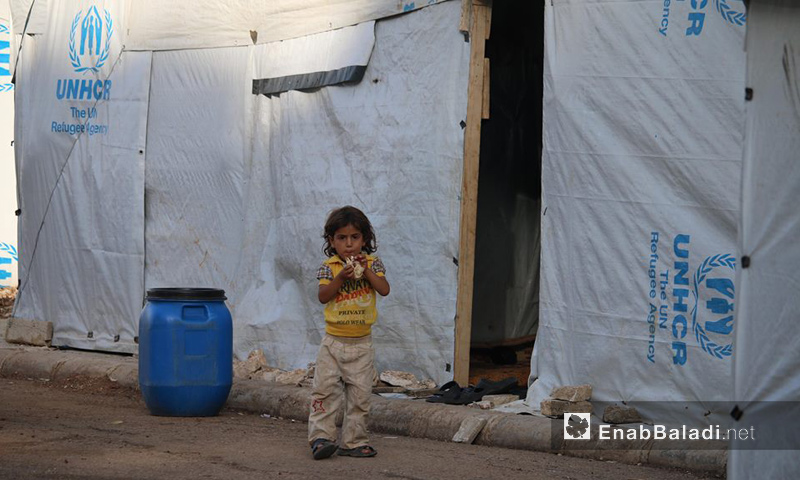 During our research into children's daily realities in Syria, we came across a number of issues, violations and accusations that the investigative team at Enab Baladi brought to the attention of the UNICEF regional office in Amman, as the primary humanitarian and developmental agency in the world in the field of child rights.
UNICEF does not interfere in the work of many local organizations that work on child welfare, nor does it coordinate with them, leaving the door wide open for malpractice, violations of children's rights and  their privacy.
The organization sheds light on the exploitation of children
Regarding UNICEF's actions to hold these organizations responsible or accountable and to evaluate them, the Head of Communications at the UNICEF regional office in Amman, Juliet Touma, explained that the organization works with a large number of non-governmental and civil society organizations, which is the case in all countries around the world. She emphasized that UNICEF follows "strict procedures" for dealing with these organizations based on their history, the services they have provided to children, their financial and human resources and their political neutrality.
However, Touma clarified, "It is not UNICEF's role to act as a censor of the organizations working in Syria or other countries, and this is not part of our constitution."
Touma did not deny the exploitation and suffering of children – prime among them the killing and injuring of children – for political, military, war and propaganda purposes. She confirmed that the organization condemns this situation and works to shed light on the exploitation of children as part of its constitution, and to highlight the issue and raise awareness about it, through its periodical reports setting out violations and breaches, which it sends to official institutions within the United Nations.
Criticisms met with the response: not our role
Syrian activists have directed extensive criticism at UNICEF for claiming its neutrality in its reports that document violations of children's rights while not holding the actor carrying out the crime responsible or trying to put pressure on them to stop. However, Touma confirmed that it is not one of the organization's missions to accuse any actor within the conflict – not only in Syria but in every part of the world, and that it is not authorized to do so.
She clarified that their approach stems from the principle of neutrality, "because we are not only an organization defending children's rights and human rights, but also an organization active on the ground providing aid and assistance to children and families. The organization has to tread a fine line between being able to monitor violations of children's rights and the degree to which its employees may "raise their voice" on one hand, and being able to keep providing humanitarian assistance to children on the other."
UNICEF's stance facilitates its projects and the response to them. These projects, according to Touma, "are massive in the conflict areas". She pointed to other organizations within the United Nations whose primary role is undertaking investigations and accountability.
During a survey conducted by Enab Baladi on the delivery of vaccinations to children in Syria, which is one of the most important UNICEF projects in Syria, we found that some children did not receive their routine vaccinations despite the organization's repeated campaigns inside the country.
Touma responded, "In Syria, we faced major challenges getting the vaccinations in, and the proof of this is the return of child polio disease towards the end of 2013 because the vaccinations did not reach those children and because of water pollution and the difficult living conditions."
Children without vaccinations
"Children not receiving routine vaccinations is one of the major challenges facing UNICEF but some progress is being made after all efforts were mobilized inside Syria and in neighboring countries," Touma said. She continued, "We launched several children's vaccination campaigns. It is the biggest such effort in the history of the Middle East as 25 million children were vaccinated several times… and in Syria, we focused on children so that instead of them receiving three rounds they received six rounds."
The head of communications confirmed that the organization was unable to reach and vaccinate every child, indicating that "some children have not received a single vaccination in their entire lives."
She argued, "As long as there are children who are not receiving routine vaccinations, there is a risk of diseases spreading such as child polio and measles. This is not acceptable at all, especially as the level of child vaccination in Syria was over 90% before 2011 (almost each child received routine vaccinations)."
Who is responsible?
Regarding the actor(s) responsible for the vaccinations not reaching children, Touma added, "From our perspective, delivering the vaccines is our top priority, but in Syria we face problems reaching all children. There is no regular and organized means to reach the children in need. There is always work, negotiation and appeals to all participants in the conflict."
"There is a ray of hope, we must take advantage of it to reach deprived children, and it needs to be always maintained, because epidemics and diseases do not recognize political parties, affiliations, borders, conflict zones or military checkpoints. Epidemics spread, and what is important is for us to get to where we need to get."
if you think the article contain wrong information or you have additional details Send Correction