Source claims there are 37 humanitarian aid cars carrying food and medical supplies waiting to enter with the regime delegation
Syrian Regime Delegation Accompanies Prisoners Waiting to Enter Douma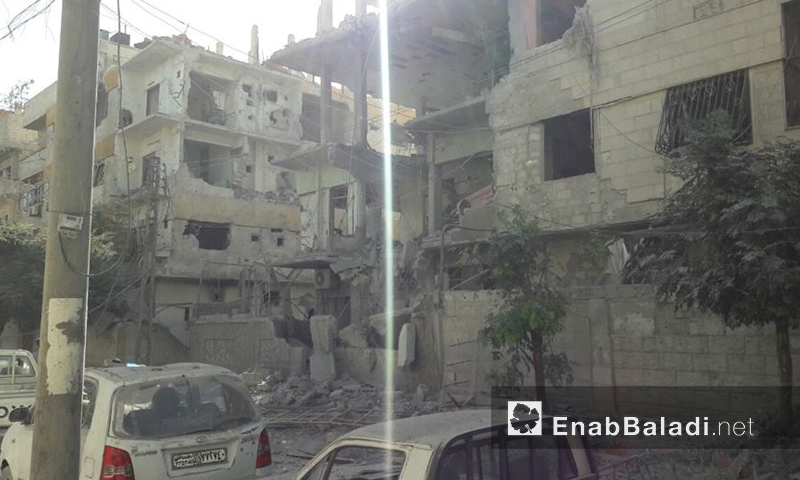 A delegation from the Syrian regime's communication committee was still waiting to enter the city of Douma up until Wednesday evening, accompanied by a number of civilian prisoners and cars of humanitarian aid.
An informed source, who declined to give his name, told Enab Baladi that the communications committee was still waiting at the time of this report's preparation at the Al-Waafdein crossing, accompanied by four prisoners from among the Douma residents, including three women.
The source said that the committee was waiting for the regime to permit it to enter the districts, and said that there were 37 humanitarian aid cars carrying food and medical supplies waiting to enter with them.
The same convoy had been expected to enter last week but the regime blocked it twice before today, according to another source, who told Enab Baladi that the committee was trying to enter with the convoy and the prisoners, "But it has nothing to do with them, since they have been released within a prisoner exchange with the rebel groups in the district, as is happening continuously."
The Syrian regime delegation has repeatedly visited the city of Douma in the eastern Ghouta to discuss a truce there, which was secret and on a small scale, until a statement was published about the communications committee and the proceedings of the meeting with them on Monday.
The last visit of the committee was at the behest and under the guidance of the national security apparatus in the regime government using the same camp in proximity to Jaish al-Islam (Army of Islam) fighters on Thursday. According to sources, the three visits have not yet resulted in any agreement.
This article was translated and edited by The Syrian Observer. Responsibility for the information and views set out in this article lies entirely with the author.
if you think the article contain wrong information or you have additional details Send Correction