Lack of medical staff, equipment and medicine to cover the needs of the wounded forces closure of besieged town's medical committee
Madaya's Medical Committee Stops Work Due to Severe Shortages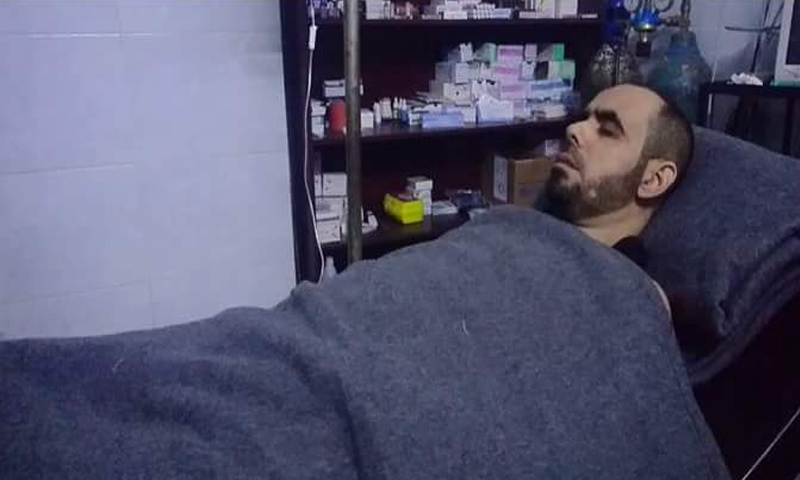 The medical committee in besieged Madaya in the Damascus countryside announced it stopped work in the only medical area of the town because it lacked enough medical staff.
The committee manager, Mohamed al-Youssef, said in a video recording published on the committee's Facebook page Thursday, October 27, that, "Three reasons compelled the committee to take the decision to stop: The area's lack of enough medical staff to deal with serious injuries, and the lack of enough equipment and medicine to cover the needs of the wounded."
Youssef added that another reason was, "The Lebanese Hezbollah militias besieging the town will not permit injured people to leave for treatment in Damascus."
He called for "the implementation of the United Nations resolutions regarding breaking the siege on civilians and opening humanitarian corridors, and an end to obstruction of evacuating serious and urgent cases."
He also called for "a Red Crescent clinic to be brought into the area, as well as basic medicines and medicines for chronic ailments and children's vaccines."
The Madaya activist Hossam Mahmoud told Enab Baladi that the committee had stopped work and the hospital had been fully closed.
Regarding the treatment of severe cases, Mahmoud said that if there are any they are dealt with according to the available capacity, "however, unfortunately, there no longer are any capacities." He said that, "the young man Mohamed Layli died when he was hit by a sniper at the Al-Asli checkpoint" on Thursday morning.
Another young man Mohamed al-Moweel died on Monday after appeals issued by the medical committee in Madaya to evacuate him after he was shot, however, they received no response. Hezbollah forces obstructed the appeal, demanding that some residents of the besieged town of Foua be brought out in exchange for permission to bring him to Idleb to receive treatment.
The city of Madaya, where about 40,000 civilians are living, has been under full siege for about a year by Assad's forces and Lebanon's Hezbollah. The last humanitarian convoy to enter the town was about four months ago.
This article was translated and edited by The Syrian Observer. Responsibility for the information and views set out in this article lies entirely with the author.
if you think the article contain wrong information or you have additional details Send Correction