September: a guest wearying Syrian pockets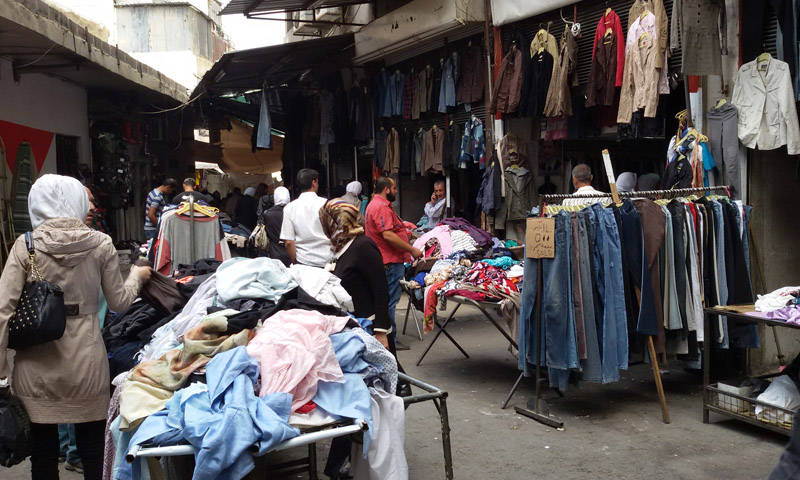 The month of September comes as a difficult guest for Syrian citizens due to Eid Al-Adha and the opening of schools, not to mention that it is the month during which Syrians usually store their winter food supply.
The month comes bearing with it huge financial worries and burdens, the first of which is Eid al-Adha, which has become a luxury for many people, followed by the school opening with its inevitable needs.
The school season… inevitable expenses
State education in Syria is still free, but to supply one student with the required equipment would be disastrous for a family whose monthly income does not exceed 35 thousand Syrian pound.
Eman Mohammad, a housewife living in the countryside of Damascus, needs more than 50 thousand Syrian pound to provide her four children with school notebooks and stationery. That's without school uniforms and bags, which will cost a fortune, as she put it.
Eman tells Enab Baladi that prices rose this year. A school bag that was sold at the price of 2000 last year is now being sold at a price between 3 – 6 thousand Syrian pound, depending on size and quality, while the school uniform is priced at 8 thousand Syrian pound. These are prices she cannot afford.
Eman's husband's salary does not exceed 35 thousand Syrian pound, so she can't buy all of the required school supplies and will only get pens and notebooks. As for the bags and school uniforms, the children will use last year's uniforms and she can fix any flaws in those uniforms, she says.
The solution is in used items
"It is a necessity that we cannot dispense, even if I had to borrow money to buy school supplies, I will", says Iyad Ali, a sports teacher in the town of Marwba in the countryside of Damascus, as he begins his interview with Enab Baladi. He explains that his salary does not exceed 30 thousand Syrian pound and that he would need five times his salary if he wanted to provide his five children with school supplies.
Ali stresses that the only solution he can find is to buy used supplies from the market stalls in the street, which have cheaper prices than new items. He points out that family members are resorting to swapping from each other, especially school uniforms since their prices have risen so much.
Consumer Protection Association: equipping a student costs 18 thousand pound
Adnan Dakhakhni, President of the Consumer Protection Association, admitted the high costs of equipping a student in Syria in an interview with the pro-regime "Al Watan" newspaper on 31st August,.
Dakhakhni explained that "an elementary student would need around 18 thousand Syrian pounds worth of school supplies that include a uniform, bag and stationery, while a middle and high school student would need 30 thousand Syrian pound to provide him/her with school supplies."
The Association's president explains that the average price of a school bag is around 3 thousand pounds and the uniform is 8 – 14 thousand pounds. As for pens, the cheapest average kind of pen is worth 150 Syrian pounds.
The Ministry of Domestic Affairs and Consumer Protection opened a stationery and school supplies exhibition at the Umayyed Consumer complex in Damascus last week, which had 40 – 60 % cheaper prices than the market, according to Minister of Trade Abdullah Al Gharbi.
"Two strikes on the head hurt"
Eid al-Adha precedes the opening of this school year by a week, and even though the needs of Eid have become luxuries for many Syrians, there are certain rituals and basic needs that are a must, even if they have decreased in recent years.
Teacher Iyad Ali describes the occurrence of the two occasions at the same time as disastrous; "two strikes on the head will hurt". The cost of Eid's equipment and supplies comes at the same time as the school's costs. Even though many of Eid's traditions have subsided, baking Eid's sweets at home is a must in order to bring some joy to the children who have no sin in this war. Baking these sweets costs more than 15 thousand Syrian pounds.
Ali asserts that this month is going to be financially tough for Syrians; an employee whose average salary is 30 thousand pounds will need three times his salary in order to meet the needs of these occasions, especially because they coincide with the month during which Syrians usually store food for the winter season.
The government of the regime… "Pretend to be dead"
The Egyptian saying "pretend to be dead" describes the Syrian regime's full detachment from reality, according to Ali . Other than useless statements, the government has not been offering any help for the citizens, with 87% of them now living under poverty line.
Prior to the Syrian revolution, Syrians were used to rumors regarding a full month financial grant by the government to decrease the financial pressures on the citizen, like in 2010, when the government provided a one-time 50% grant. Syrians hope that any controlling and conflicting parties in Syria or relief organizations will do the same again, to help them face a month that is probably going to be the toughest month of the year.
if you think the article contain wrong information or you have additional details Send Correction