Observations from Daraya families on their first day in Idlib refugee camps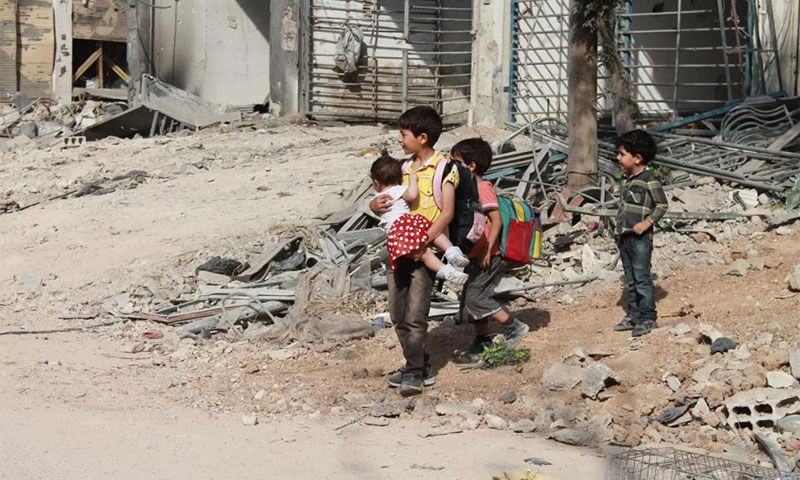 Families of Daraya, west of Damascus, mourned their city as evacuations for Idlib began on Friday afternoon. However, the "Icons of the Revolution" were surprised that this displacement did not occur sooner, as the siege has been on going for four years.
During resettlement, some Daraya civilians were sent to live in various refugee camps of Idlib, while others were sent to camps in al-Harjalah. Enab Biladi interviewed some of these refugees from Daraya after their first day in the Idlib camp.
● Just hours after his arrival at the refugee camp, Mohammed Abu Firas began looking for work. But he returned disappointed after the owner of the area's block factory responded to his inquiry by saying jokingly, "You come from Daraya. Everything will be at your service. You are our teachers."
● Samer Janah, 8 years old, is sad to leave his city behind. He has not been able to adjust to the children, nor has he been able to play with them. Every half an hour, he asks his father to return to Daraya.
● Judy, a six-year-old girl, says that she will return to Daraya, but not until the shelling ceases and the cookies are plentiful.
● Most of the Daraya children in the Atama refugee camp leave at sunrise to play, and do not return unless forced to after dinner.
● One family from Daraya says, "We were not expecting everyone here to be so welcoming. The leaders and members of the free army squadrons come and ask us how we were living… What is the secret to this determination and how did your squadrons manage to resist the army?"
The agreement, reached by a committee representing Daraya's military and civil activities and a delegation from the Syrian regime, led to the departure of the civilians and military personnel from Daraya to the Damascus countryside and Idlib. This agreement ended harsh times for the besieged people of Daraya. However, despite the difficultly and danger of the city, dozens of those settled in the refugee camps miss Daraya greatly.
if you think the article contain wrong information or you have additional details Send Correction