Group changes the names of Al-Shamaitiyeh and Al-Khareeta in the province's western countryside
Islamic State Renames Towns in Deir-ez-Zor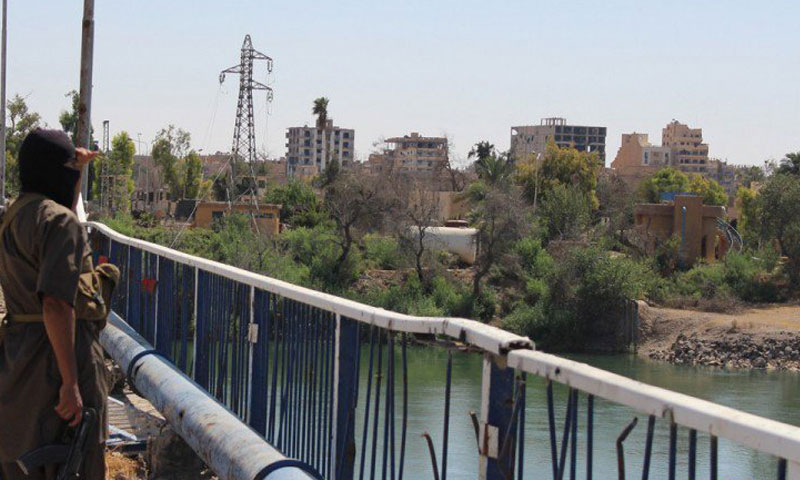 The Islamic State group renamed two towns in the western Deir-ez-Zor countryside and has warned against using the previous names.
The Al-Naataq agency which specializes in news from the province said that the group had notified citizens in the town of Al-Shamaitiyeh in the western Deir-ez-Zor countryside that the new name of their town was Al-Yarmouk, saying that it was necessary to comply with the new name under the threat of punishment (Yarmouk is the town where in 636 a famous battle saw the victory of Muslim forces and the end of Byzantine rule over Syria).
Enab Baladi spoke to the journalist Mohamed Hassan, from the province's western countryside, who said that the town of Al-Khareeta in the area had its name changed to Al-Khadraa (The Green).
The Islamic State group controls most of the areas of Deir-ez-Zor countryside, alongside areas inside the city, while the Syrian regime controls the military airbase and a number of areas around it.
Since taking control, the organization has changed the names of some Syrian cities and towns, giving the name of Wilayet al-Khair to Deir-ez-Zor and Wilayet al-Baraket to Hassakeh province, as well as Ain al-Islam to the city of Ain al-Arab (Kobani), when it entered it two years ago.
This article was translated and edited by The Syrian Observer. Responsibility for the information and views set out in this article lies entirely with the author.
if you think the article contain wrong information or you have additional details Send Correction