After
Film Director Abdul Rahman Kaylani: we will train staff internally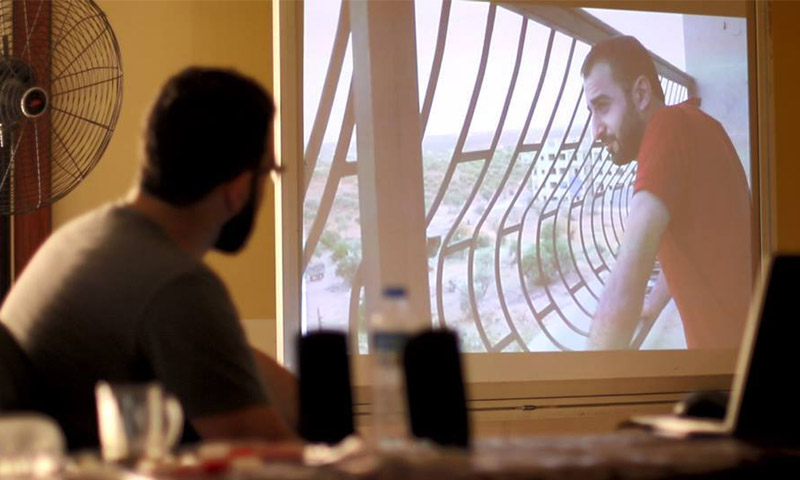 Interviewed by: Afaf Jakmour
Dozens of documentary films have been produced during the five years of the Syrian revolution by amateurs who used simple equipment like mobile phones to document key events. However, their brave videos and photos simply recorded their experience.
Abdul Rahman Kaylani, a Syrian director and documentary filmmaker, started his directing career in 2013, making a series of films, notably; "Of the Revolution and the State" and "The Long Path"; his most prominent milestone was the film "Ahrar Al-Sham", which he produced along with some of his friends and which was broadcast through "Al-Jazeera" channel in March 2016.
Problems at the beginning
When Enab Baladi interviewed Abdul Rahman's group in Idlib, they told us they had been interested in producing films from inside Syria, so they established a group called "Fish art media production" in order to train amateurs as a new initiative in the Syrian arena.
At the beginning, the team faced obstacles in finding specialized and professional staff, or even amateurs, in the fields of media and journalism, inside Syria. The members of the team were looking for any professional who might have even a limited experience in the documentary field so that they could accompany and train him, but their attempts failed. What made things even worse was that depending on a small production team was "a risk and major gamble", as Kaylani put it.
Those reporting news may become the news
With the frequent traumatic events Syria faces, death has become more probable than survival for media professionals, and they face being emotionally drained with each battle they find themselves in the middle of and each explosive barrel they document. Many of Abdul Rahman's friends were killed while working; some of them even documented their own deaths.
Moreover, media professionals can find themselves caught in a gap between the images they capture and the impressions that are in in the minds of those around them, resulting from the fact that the "rebels" themselves sometimes find their own actions to be "absurd. They can also be afflicted by a sense they are trying to convey a message to a "world that does not want to see or hear."
Nevertheless, these people insist on doing their job, driven by their moral, revolutionary and humanitarian duties, not to mention their passion for the profession. Abdul Rahman adds "we have no clue when we will become a news story, the story of a film that won't be told by anyone, or that might be told without a voice from the inside to tell it."
According to the latest figures from The Syrian Center for Free Press, 356 media professionals have been killed since the beginning of the Syrian revolution, most of them by Assad's forces, either by shelling or during battles they were covering, while others were arrested and died under torture.
Problems of Training inside Syria
Abdul Rahman and his friends tried to organise courses with professionals to train media workers inside Syria, but he could not find anyone to cooperate in this work. They encountered many obstacles in trying to bring media professionals to Syria: how to organise; their entry, their stay and their departure later on? Potential trainers were unwilling to take the risks this would involve. As a result, the team decided to change their plan and draw on their own practice, experiences, and "treasure of mistakes".
The first session they held in the "liberated" areas of the north in Syria, was something of a disappointment – their search for media professionals with relevant experience interested in attending was in vain. Even worse only one-third of the people invited showed up. However, that disappointment quickly faded within the first few hours of training; and, according to Abdul Rahman "we really felt the achievement on the last day, when the trainees, some of whom I am proud to know, came back with three completed documentary films. For most of them this was their first completed film."
Abdul Rahman believes that those sessions held inside Syria are not sufficient – in the media field or in any other field. In his view, the most effective way to move further forward is self-learning in order to keep working in a better way: "those sessions are not enough, therefore, we decided to have training as our future strategy, in addition to raising our level of production."
At the beginning, external press and media institutions such as; "France 24", "Reuters" and the "Associated Press" offered courses and workshops that were aimed mainly at training citizen journalists to be more professional in a way that would enable him to work according to the sponsoring organization's specifications and concerns.
However lately, the media sessions held outside Syria, especially in Turkey, have had a wider range of sponsors, including a number of Arab organisations. But the difficulty of moving people from Syria to the location of the sessions, as well as the high cost of doing so, has prevented many media activists from enrolling in these programs.
Hesitant beginnings for exceptional experiences
The Syrian revolution at its beginning relied on the citizen journalist, as professional journalists were rarely present. Most of those citizen journalists gained their first media experience by filming the early demonstrations with their mobile phone cameras. Events progressed and eventually exceptional media professionals were born in the heat of the moment.
Despite the absence of training and prior experiences, the citizen journalists may have excelled their professional peers, who have less experience. The citizens are distinguished by their bravery and their readiness to go into battles and to bear witness to massacres.
However, they pay a price for this daring – Abdul Rahman believes that one of the important factors hindering the development of media work is the daily, heartbreaking emotional drain that can get in the way of careful and thorough work.
if you think the article contain wrong information or you have additional details Send Correction