Despite being the largest group of people in the province...
Elders have no one in Hasakah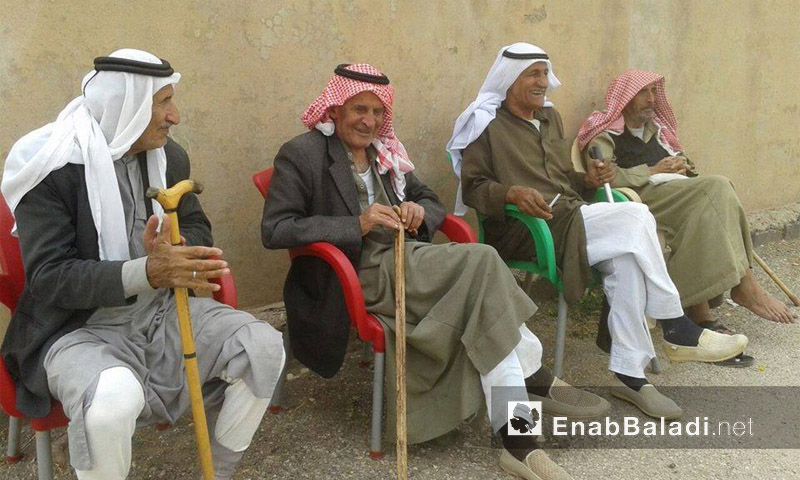 Enab Baladi – Hasakeh
Elderly people in Hasakah province are in as poor a situation as anyone, especially taking in account recent events in the province. According to the latest statistics gathered by different authorities the elderly are the largest age group in Al-Hasakah due to the mass migrations to Europe and neighboring countries.
The elderly suffer economic, health and psychological difficulties and have no retirement homes to take care of them, with the exception of one association that only takes care of Christian elders.
According to the latest statistics from a self-organised local council in the countryside of the province the elderly accounted for 55% of the population. Riad Mohammad Hasan, the statistics official in the council, said that a census is taking place in the countryside registering all family members. Young people have accounted for only 13% of the population.
In an interview to Enab Baladi, Mohammad Hasan believes the ratio to be higher in other areas of Al-Hasakah, adding "we will know for sure later on, when we finish the census."
Charities and relief associations give support to Mohammad Hasan's belief. The activist Roseem Hussein, from Ras Al Ein, said that the elderly made up the highest percentage in villages of up to 270 homes, telling Enab Baladi that those who completed the questionnaires were surprised at the results.
Economic and health problems
The elders of Al-Hasakah were more affected than others by the recent incidents of shelling and clashes between "Asayish" forces, the military arm of the Kurdish "Democratic Union" party, and Assad's forces, as well as the migration of residents. Physical and mental health issues most affected the elders, according to information conveyed to Enab Baladi.
Haj Marwan Sheikh Kasem (70), who lives in the countryside of the province with his 66 year old wife, suffers from diabetes and high blood pressure. He is in constant need of medication, pointing out that he pays around 20,000 Syrian pounds for medication on a monthly basis. He relies on donations to provide him with what he needs as his children have travelled abroad.
Some elders are forced to work in order to secure their daily needs and to support their families. Khalil Mourad, the owner of a workshop in the countryside of Qamishli, explains to Enab Baladi that the factory includes dozens of workers, five of which are over 50 years old, and some of them suffer chronic diseases.
Shaker Omar (57) works as a vegetable seller for eight hours a day, for a daily wage of 1000 Syrian pounds. He says he has to work "in order to get money for his wife's medication and for their daily food."
Dr. Shaalan Mazhar, a specialist in cardiology in Al-Hasakah, stresses that many deaths of those who are over 60 years are happening because of their inability to purchase necessary medications for cardiac disorders, the result of this lack of medication and poverty is "indescribable" suffering, to quote the word the doctor uses while finding it difficult to describe the situation of the elderly.
Psychological crises due to isolation
The isolation of the elderly has had a significant negative impact on their psychological state. Shaikha Mahmoud (56) lives with her 70 year old husband in Shaadala village in the countryside of Al-Hasakah, tell us that her seven children have migrated to Europe.
"Life no longer has a meaning and we hope that Allah will accelerate our deaths", she told Enab Baladi, attributing her attitude to the "absence of life away from our children, whom we strived to bring up and whose departure hurts us."
The migration of young people from all of Syria's provinces is a prominent reason for this depression, psychiatrist Shada Habsoon reports from the countryside of Al-Hasakah. She tells Enab Baladi she has received dozens of elders, all of whom have symptoms of "despair and weakness" as she put it.
Habsoon adds that most of the patients had earlier visited cardiology specialists, after experiencing high blood pressure and chest problems, only to find out that they had no physical illness and were redirected to her psychiatric clinic.
Despite all that is mentioned above, Al-Hasakah province does not have any centers or homes for the elderly, except for one association, "St. Mansour House", which takes care of Christians only.
Lawyer Khaled Ramadan, who comes from the province and lives in London, wishes for the establishment of an Elder's House in Al-Hasakah, believing that his father, who cannot move without help, and hundreds of other elderly people could benefit from it. He calls upon humanitarian organizations to establish centers for the elderly to take care of those in the cities and towns of Al-Hasakah.
The elders are the weakest group in most societies, as they need care and special attention. The residents of Al-Hasakah cannot see a easy solution for what the elders are going through. Some wondered "how would anyone care about a category where the affected ones are not even included in the statistics of human rights organizations and documentation offices?"
if you think the article contain wrong information or you have additional details Send Correction