Doctors in a liberated area of Aleppo perform surgery with remote help from a British doctor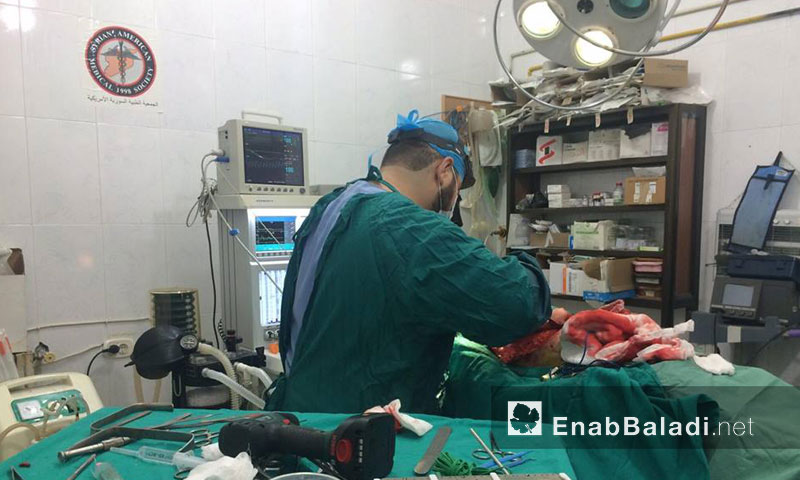 Doctors in the city of Aleppo succeed in performing a complicated surgery for a patient who lost his lower jaw, with the remote assistance of a British doctor.
Enab Baladi's reporter visited the field hospital where the operation was performed, and spoke with the doctor, who we'll call Abu Khaled to protect his identity. He said that the operation was performed on September 11 and lasted for six continuous hours. This operation is considered a complicated and unique operation and represents the first of its kind in the "liberated" areas Aleppo.
The doctor explained that the patient had been injured by shrapnel from artillery shelling. He said the man suffered "huge loss from his lower jaw, including bones, muscles, teeth and a complete loss of the chin."
A team of doctors including plastic surgeons, general surgeons, and jaw specialists participated in the surgery, along with consultation from a British doctor. Dr. Khaled pointed out that surgical operations in Aleppo often require that a doctor from outside of Syria participate in a surgery via the internet because of a shortage of doctors in the area. The medical term for such participation is "telemedicine."
The BBC quoted the British doctor, David Nott, who confirmed that he supervised the operation over Skype, explaining that some Syrian surgeons contacted him from their hospital in Aleppo, to help them perform this difficult and complicated surgery.
The doctors were able to install a plate on the patient's lower jaw, and cover the physical loss in the lower jaw with a slice cut from the victim's chest area, to complete the operation.
if you think the article contain wrong information or you have additional details Send Correction