After Delays… Aid Unfit for Human Consumption Enters Moadamiya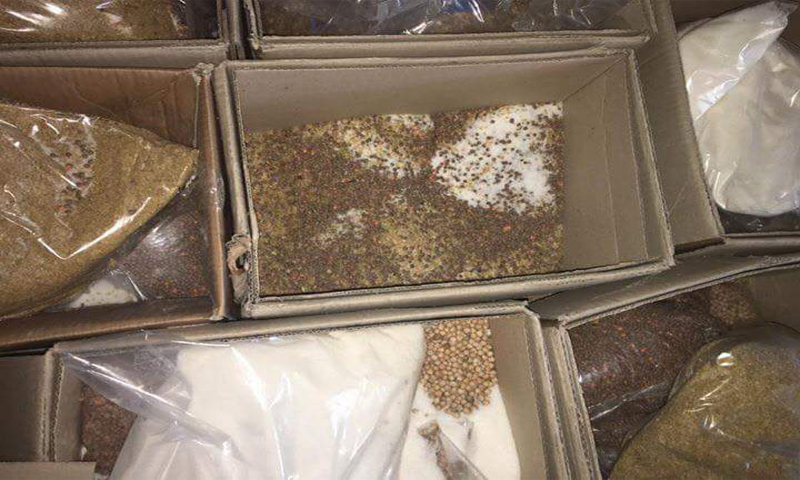 The Syrian regime agreed to allow the entry of humanitarian aid into the besieged city of Moadamiya on Sunday night, September 18, including seven shipments carrying foodstuffs into the city, despite the cargo being raided prior to delivery.
A member of the local council for the city, Wassim al-Ahmar, said on Monday on his Facebook page "with the entry of the first shipment, and unloading its cargo by the aid office, it was apparent that most of the bags were stolen and emptied on top of one another, which led to some of them getting mixed up as if they were going to something that wasn't human."
Ahmad continued: "The aid supervisor went out to the Fourth Division checkpoint and opened some of the cartons from the cars that were there in front of the checkpoint officials and in front of the United Nations and the Red Crescent and the cars returned after that to the United Nations storehouses in the city of Al-Kasweh accompanied by an official from the aid office and a member of the negotiations council. The car which entered the town remained in the trust of the United Nations until it also returned."
The coordination council refused with the Assad forces in the city of Moadamiya on Sunday to receive the aid cars that entered the city under the agreement made with the Assad forces to bring in humanitarian aid to the besieged people in the city, because of a deficiency in the amount of goods in the cars.
The city, which is west of Damascus, has 45,000 civilians living inside. It is bordered by the city of Daraya, which was also under siege and entered a truce with the regime at the start of 2014, but was subjected to dozens of breaches by the latter party, especially at the start of this year, when its forces cut the city off from Daraya completely.
This article was translated and edited by The Syrian Observer. Responsibility for the information and views set out in this article lies entirely with the author.
if you think the article contain wrong information or you have additional details Send Correction