Rumors circulate on social media around the proposal to scrap religious studies for
Parliament Considering Canceling Religious Instruction in Syrian Schools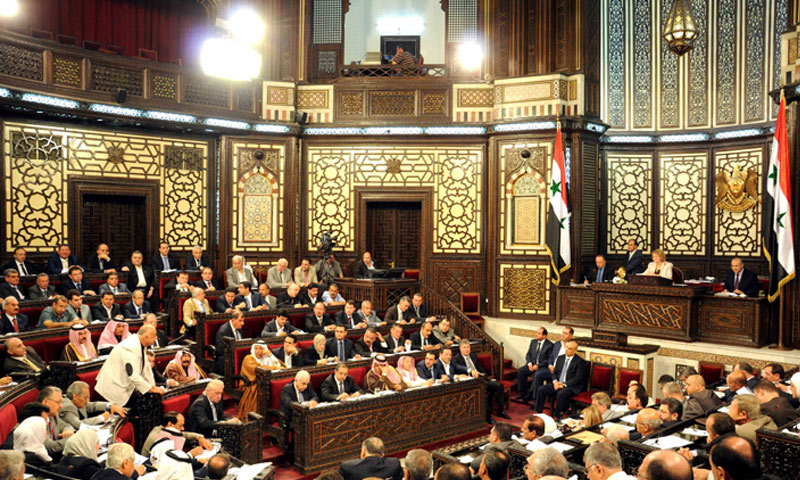 Syrian lawmakers discussed canceling religious instruction in schools as calls escalated recently demanding the subject be replaced with a more inclusive curriculum.
The MP, Nabil Salah, said on his Facebook page on Tuesday, August 2, that in parliament discussions, Islamist lawmakers Reem al-Saeie and Farah Hamshou had objected to their colleagues' calls for substituting ethics for religious instruction, and to the demand that Muslim and Christian students be integrated in religious study.
However, Hamshou denied the reports on social media in a conversation with Neenar Radio, saying "All the reports and statements that have circulated have no connection to the truth."
Rumors had spread on social media that Hamshou had called for separating male and female students in religious studies in private schools, sparking a wave of criticism against her.
Hamshou said that it was not possible to separate ethics from religion because it was a fundamental part of various religious teachings. She called for "religious instruction to remain, with a large and basic section of ethical education added to it, whether in Islamic or Christian educational books."
Some of those calling for the subject to be canceled, with the artist Duraid Lahaam at the forefront, see religious instruction in the schools as a reason for the sectarianism Syria is currently enduring. He told the newspaper Al-Watan, which is close to the regime, on July 14, that "the schools in Syria did not teach us belief. They taught us sectarianism."
Lahaam added that "The professor of religion pulled Christian students out of religion class, and the issue was similar in Christian schools. From that, we were taught there is a big difference between me and people from other sects."
He said that in the past he was a member of a committee in the Education Ministry to change the curriculum, and he protested the term "religious instruction" and proposed it be named "spiritual instruction," in order to gather one another under one god, according to his belief. He said that "some didn't like the idea."
The discussions intersect with the Russian draft constitution for Syria, spoken about by the Lebanese newspaper Al-Akhbar, which is close to the regime. The paper said that the important changes in it were amending the constitution to take out the word "God" from the presidential oath, while recommending annulling the president's religion and the term Arab from the state's name, to become, "The Syrian Republic," instead of "The Syrian Arab Republic."
This article was translated and edited by The Syrian Observer. Responsibility for the information and views set out in this article lies entirely with the author.
if you think the article contain wrong information or you have additional details Send Correction