"No more seaside holidays"… Where do Syrians go for holidays?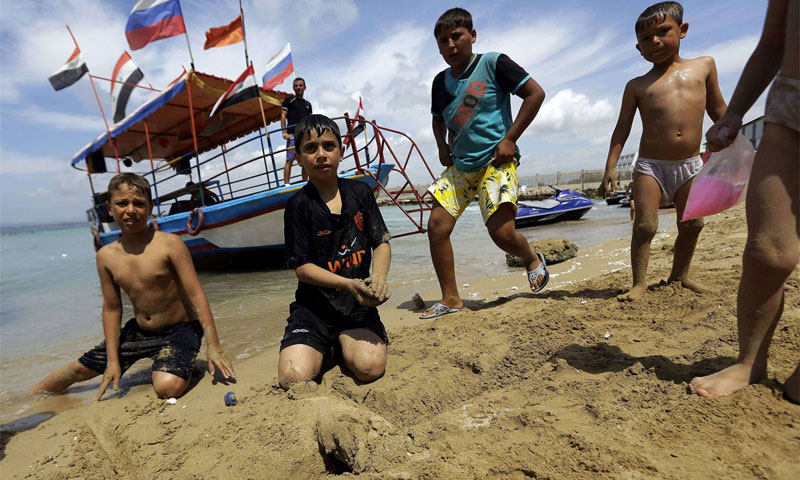 Printed Edition ‖ Society ‖ No.: 234
Heading to cooler areas was a solution Syrians revisited in order to overcome the "unbearable" high temperatures, not to mention the high prices and cutting off water and electricity. What destinations were still available for Syrians for summer holidays? And what are the costs?
Parks: the first popular destination
As a first solution that requires no transportation, families go to nearby parks. Lady Summyah of the city of Damascus says "in the past, we used to go to Ghouta's green fields and parks, but nowadays, we do not have many choices outside of Damascus, in addition to the higher expenses of Rabwa parks and others. Therefore, parks are the only free destination (to breathe some fresh air)."
Since these parks are the only free destination, they tend to be dramatically overcrowded with people, beginning from the afternoon till late at night. Summyah says "you have to go there early in order to reserve a spot for the family, and I don't mean to be able to get a bench, but rather to find a green spot to sit on. I went to Nerabeen Park last week at 10 PM, and I could not find a single spot to sit on."
No Parks in Homs
Parks in Damascus have a role due to their abundance, something that is missing in other provinces like Homs. Reem, an employee at a private company, says "when we go to Damascus, we are surprised to see the difference between it and Homs, green spaces almost disappeared from Homs, war actually destroyed the few parks that we originally had. Staying up late in gardens is something we are not familiar with."
In Hama, the situation is different, since people there avoid going to the parks as they are known to be a resort for Shabiha (those who intimidate using violence in favor of the regime) and security men. Waleed, a teacher in the city of Hama, says "we avoid going to the parks because of the many immoral scenes there, and out of fear for our sisters of being sexually harassed and fear for ourselves of being detained. Thus, despite the suffocating heat in Hama and the high humidity, we lock ourselves in our houses for fear of Shabiha."
Swimming pools: Second destination
Swimming pools make a good destination to ease the heat for those who are not willing to leave the city, however, can everyone go there? The answer is "definitely not". According to engineer Walaa in Damascus, "fees of pools entry are very expensive. Owners of such places are well aware of people's need to go there in light of the heat and the difficulty of leaving Damascus, not to mention the electricity cut off, so they know well how to exploit this need."
Walaa refers to the fact that high prices does not necessarily mean clean water and a good quality facility; "the cheapest fee for a swimming pool is 1200 Syrian pound per person, and here the cleanliness level is low and the water is murky, just like Barada swimming pool where the fees are a 1500 Syrian pound, but the water is neither filtered nor chlorinated. A number of visitors of that pool came down with eyes and skin infections."
Swimming pools fees' entry largely differ from one to the other, but they are mostly not within people's financial affordability. Walaa says "you have to pay something like 3000 Syrian pound to go to Sheraton's swimming pool. For me, I paid a monthly subscription of a 5000 Syrian pound to swim for two hours, 3 days a week. It is a relatively lower price compared to the rest, yet, it is still not affordable by many."
Heading to the seaside: only for certain people
The attempts of the Ministry of Tourism to stimulate tourism for the coast side and the festivals they have promoted for every now and then only attracted a slight category. According to teacher Waleed from Hama, "before the revolution, we were united throughout Syria, we would be welcomed anywhere we would go to, but nowadays we fear going to the regime's supporters area, especially that our identities reveal our opposing roots and our hatred for the regime. The seaside is no longer for us these days."
Reem backs up Waleed's opinion, as she believes her veil and commitment to Islam will not have a presence at the seaside, adding "before, we used to get down to the sea wearing our veils and swimming just like everyone, today, as some of my friends and relatives tell me, the beach is a place for immoral acts and nakedness. I won't be able to go there wearing my veil because that would make me look very strange. The seaside in Syria is only for a special category."
A common chalet for 15 thousands Syrian pound
The feeling of alienation at the seaside areas is not that of belonging only, it is also a financial one, something clarified by Summayah from Damascus "the problem in the first place is in the prices, we asked about the rent fees for chalets and found out that the common ones, that are not even rated by the Ministry of Tourism, starts at 15 thousands Syrian pound per night."
According to Reem, prices may go as high as 40 thousands for a one-bedroom chalet. Prices even double up with better chalets, especially if it had a generator, she explains "having a generator is a necessity given the load shedding in Lattakia, which is unbearable with the humidity of the sea…in summary, a summer holiday at the seaside is limited to the cream of the crop these days, since what Syrian family is capable of allocating a 150 thousands Syrian pound for three days that does not include food and transportation?."
Expensive and dangerous…"Let's stay where we are"
Nabeel and Nour are newlywed in Hama, who decided to cut short the costs of a wedding party in order to go on a honeymoon for one week, but they were eventually forced to stay in Hama. Nabeel says "I choose Mashta Helou area to go to because it is a beautiful and cool area. I contacted one of the hotels that we used to go to years ago, but I was shocked to learn that the fees of one night is 25 thousands Syrian pound including breakfast only, which means I'll have to pay around 40 thousands Syrian pound a day for accommodation and food."
The expensive prices have not changed Nabeel's mind of spending a "honeymoon week" with his bride, however the dangers of the road is what prevented him "most drivers I know refused to drive us to Mashta due to the dangers of the road; in every station there is an armed group of men who revenge the death of their relatives in the regime's army on passing cars. There are also a lot of kidnap cases on that road, which made me eventually change my mind and we spent our honeymoon in Hama contrary to all our previous plans."
What about private farms?
Six years after staying at home in Homs, Mrs. Um Ammar decided to search for a safe solution in order to refresh herself and her family; "my husband and I searched for the possibility of having a holiday within the province of Homs, out of fear of the dangers of the road for the kids. The most convenient decision was to rent a private farm that has a swimming pool."
After the search, they found what they were looking for in a farm that is only half an hour away from the center of Homs "even though the rent was expensive, we agreed to it. The owner asked for 30 thousands Syrian pound for one day. So we decided to go only for one day. The day in total, along with renting a car and lunch, cost us 50 thousands, but we do not regret it at all, what is important was seeing the happiness in my children's faces."
Um Ammar believes that resorting to such solution, despite how expensive they are, is no longer a luxury, "it has become an urgent need in order to be able to catch our breath and carry on with our lives and difficult circumstances."
if you think the article contain wrong information or you have additional details Send Correction