Turkish-backed rebels seize towns from Kurdish-led SDF as fighting intensifies between various groups in north Aleppo countryside
FSA Takes 5 Villages from Syrian Democratic Forces Near Jarablus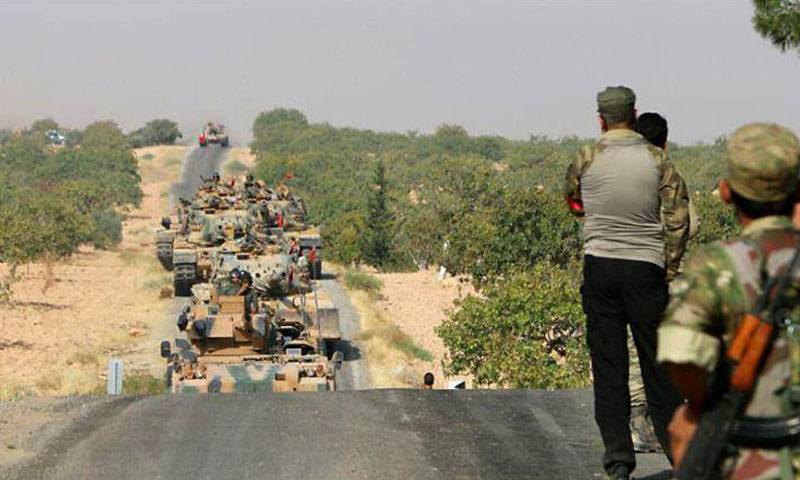 Free Syrian Army groups participating in the "Euphrates Shield" operation took control of five villages which were under the control of the Kurdish-led Syrian Democratic Forces in the Jarablus countryside northeast of Aleppo.
Groups participating in the operation supported by Turkey confirmed they had taken control of the town of al-Amaraneh, and the villages of Dabbes, Ain al-Bayda, Balaban and Ber Kousa south and southwest of Jarablus on Sunday morning, August 28.
The Free Syrian Army had taken control of the Youssef Bek village in the southwestern Jarablus countryside Saturday and took two Syrian Democratic Forces fighters prisoner, according to a video recording.
Meanwhile the Free Syrian Army operation east of Jarablus expanded to seize control of the villages of Tarakheim and Bir al-Fouqani and Bit al-Tahtani after expelling the Islamic State group from the area.
The Syrian Democratic Forces, which include both Kurdish and Arab groups, most prominently the Kurdish People's Protection Units, repulsed an attempt to advance in the south of Jarablus yesterday, destroying Turkish vehicles, according to its official media. Ankara confirmed one of its soldiers had been killed in the operation.
The Euphrates Shield operation began on August 24. In its first days it achieved a notable advance in taking control of the city of Jarablus, one of the most important centers for the Islamic State group in eastern Aleppo.
This article was translated and edited by The Syrian Observer. Responsibility for the information and views set out in this article lies entirely with the author.
if you think the article contain wrong information or you have additional details Send Correction