Regime advancing on area near the railroad tracks surrounding Daraya's residential buildings from the southern and western sides, rebel spokesman says
Daraya: Assad Forces Continue to Gnaw off FSA 'Closed' Circle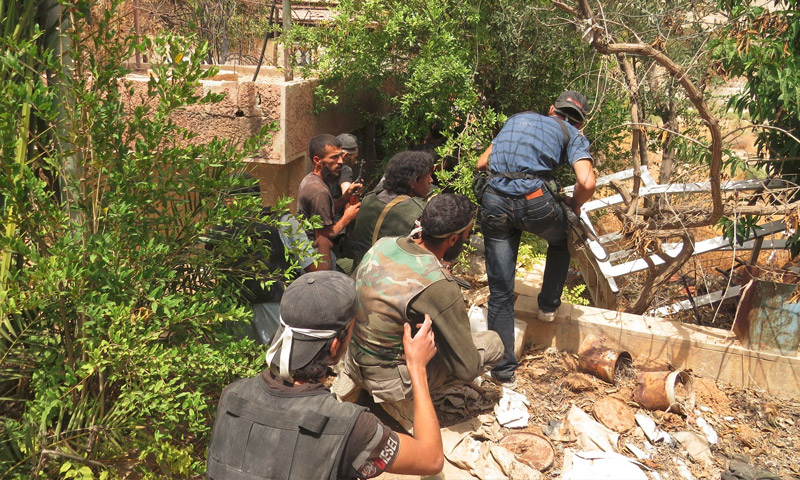 The enclosed area which is controlled by the Free Syrian Army in southern Daraya continues to recede day after day as Assad's forces and allied militias advance in a battle which has lasted weeks on the western and southern sides of the city.
Since last July, Assad's forces have burned swathes of farmland on the western and southwestern axes, and have continued to advance to push FSA fighters outside the agricultural areas and enter into battle in the western residential districts.
Tamam Abou al-Khair, a spokesman for the FSA-affiliated Shuhada Islam (Islam Martyrs) Brigade which is working in the city, told Enab Baladi that days ago, Assad's forces had reached an area near the railroad tracks, which surrounded Daraya's residential buildings from the southern and western sides.
Abou al-Khair did not specify the extent of the forces' approach from the railroad track, but he described the situation in Daraya as "very bad," noting that they had been hit by barrel bombs, "napalm," and mortars at a rate of two mortars per minute.
Still, the FSA factions fighting in the city are still resisting Assad's forces, and have repulsed daily attempts which aim to reach deep into the city.
Enab Baladi's correspondent reported that Assad's forces were striking every there was movement, adding that there was no safe districts inside the city or any place away from the shelling as people were displaced from one house to another.
The correspondent said that three civilians had been wounded by shelling at the time of this report's preparation.
The local council in the city documented more than eight barrel bombs containing "napalm," which led to fires breaking out in residential buildings, in addition to about 16 barrel bombs and dozens of mortar shells.
With the approach of Assad's forces from the railroad, and its bombardment at the same time, the residents of Daraya are afraid the Jameeat area will fall out of control of the FSA, which took control of it after entering into the "Flames of Daraya" battle in August 2015.
This article was translated and edited by The Syrian Observer. Responsibility for the information and views set out in this article lies entirely with the author.
if you think the article contain wrong information or you have additional details Send Correction