The local council and Madaya activists issued calls on August 9 to evacuate Ghani from the city and treat her, but have not received any affirmative responses from the United Nations or its agencies
Child in Madaya Wounded by Hezbollah's Bullets, and UN Refrains from Treating Her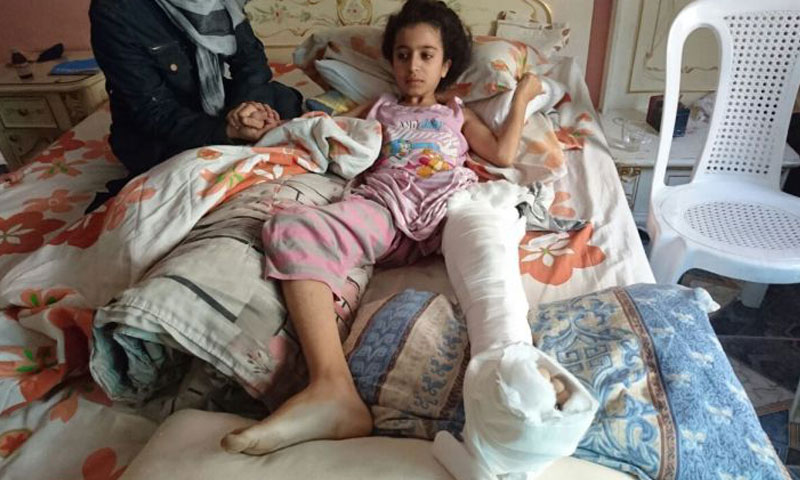 Three days have passed since the child Ghani Quider began pleading to no avail for the United Nations to evacuate her from the besieged city of Madaya in the western Damascus countryside and treat her after she was struck by bullets fired by Lebanese Hezbollah's snipers.
Ghani, a 9-year old child, suffers from fractures along her thigh, and is in urgent need of surgery, given the inability of the medical agency in the town to treat her, which has increased her suffering.
On August 2, Ghani and her sister Nagham were shot by a Hezbollah sniper with live bullets, breaking her thigh and wounding Nagham in the shoulder.
The local council and Madaya activists issued calls on August 9 to evacuate Ghani from the city and treat her, but have not received any affirmative responses from the United Nations or its agencies.
The city of Madaya, home to about 40,000 residents and displaced people, has been under complete siege for about a year by Assad's forces and Hezbollah. The last aid convoy entered around 100 days ago.
The city's activists and its medical and aid agencies have called for the evacuation of dozens of wounded and sick people, and have accused the United Nations and international aid agencies of collusion with and bias toward the Syrian regime.
This article was translated and edited by The Syrian Observer. Responsibility for the information and views set out in this article lies entirely with the author.
if you think the article contain wrong information or you have additional details Send Correction