Abou al-Nasr survives attempt by armed group to storm a meeting between leaders of Al-Rahman and the Army of Islam east of the capital
Al-Rahman Leader Escapes Assassination Attempt in Eastern Ghouta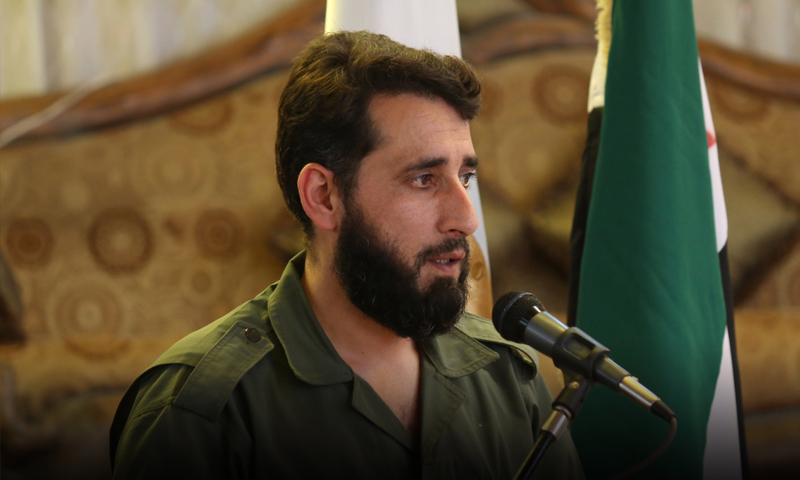 The leader of the Free Syrian Army's Al-Rahman Legion, Colonel Abdel Nasser Shamir, escaped an assassination attempt in Eastern Ghouta on Monday, August 8.
Enab Baladi's correspondent reported that Shamir, also known as Abou al-Nasr, faced an assassination attempt after a meeting between the Legion and leaders of the Army of Islam group about the "one army" project.
The correspondent quoted one of the Legion's leaders (who asked not to be named) as saying that minutes after the meeting ended and the leadership left, an armed group surrounded the base and began to open fire in an attempt to storm it. He said that the clashes continued with light arms between the group and legion leaders, most prominently Shamir.
Two Al-Rahman Legion commanders were wounded, while the assembled people left through an underground emergency exit, the leader said. He said that investigations were still ongoing and that a number of culprits had been arrested.
The association of journalists in the eastern Ghouta organized a conference on Tuesday, August 2, to publicize the "one army" initiative, with the attendance of a number of institutions, civilian actors, and an Army of Islam commander, Essam Bouidani.
The association called for the formation of a single army "to be able to plan, lead, and carry out assigned military operations, achieve victory, and resolve the battle by entering and achieving the revolution's aim of toppling the Assad regime."
This article was translated and edited by The Syrian Observer. Responsibility for the information and views set out in this article lies entirely with the author.
if you think the article contain wrong information or you have additional details Send Correction