"Reunion" of wives… a new obstacle for Syrian refugees in Kurdistan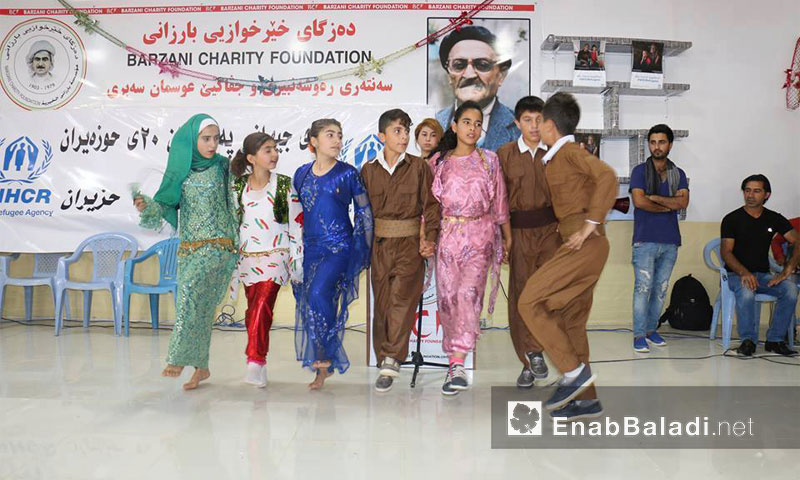 Printed Edition ‖ Society ‖ No.: 231
Enab Baladi – Hasaka
"I go with my dad on a daily basis and over two months to the associations affiliated to the Self-Management, in order to get an approval of entering Kurdistan, and have my wedding party there," says Noura Al-Sheikh Ahmad of Al-Darbasiyah area, who is engaged to her cousin residing in the region of Kurdistan, yet her request is being rejected time after time by the immigration department, "the employee told me that marriage applications are being cancelled by the administration's decision, even though I have provided all identification papers."
The Syrian refugee in the region of Kurdistan faces obstacles in bringing his wife to Kurdistan, in case he married a Syrian living in northeastern of Syria, due to the Self-Management's, supervised by the Democratic Union Party, rejection of wives' "reunion" applications.
In turn, Walaat Amouke, a refugee in Dar Shokran camp, pointed that he is unable to bring his fiancée residing in the city of Derek to the region in a legal way, simply because the Self-Management prevents that.
In an interview to Enab Baladi, he adds that he is incapable of going back to his city either, since he is within the legal age of mandatory service, announced by the Management of the Democratic Union Party in the areas of Kurdish majorities in Syria, "once I go back, I would be arrested and thrown in the wars led by the Party against his rivals."
With the beginning of 2012, thousands of Syrian Kurds migrated to Kurdistan region of Iraq, which continued to happen in light of declining security conditions in the Syrian island. Five camps have been established for these migrants, distributed over the region's cities.
Latest statistics show the number of Syrian refugees in the region of Kurdistan to have reached around 50 thousands refugees, distributed over camps, the largest of which is "Dumez" camp, according to Hawker Mousa, one of the supervisors of "Qushtaba" camp for Syrian refugees, in his interview to Enab Baladi.
Smuggling as a resort
The strict procedures forced the Syrian refugee to look for alternative methods in order to reunite with his family and relatives, smuggling became the only available method.
The fiancée of the Syrian refugee in "Kourkousk" camp, Joudi Souliman, entered, along with her mom and sister, the region about a week earlier through smuggling. Souliman said they had to pay a sum of 1500$ to the smuggler, in order to secure their entry from Syria to the city of Dohuk.
Souliman pointed that a number of Syrians enter the region illegally on a daily basis, bearing the hardship of the road, as well as, financial burdens.
Exchanging accusations
Each of Self-Management and the Government of Kurdistan region has exchanged accusations in regards to preventing Syrians that wish to visit their relatives.
Jandy Shoresh, employee of "Simalka" crossing management on the Kurdistan region side, told Enab Baladi, that the region "has warned the Management of the Democratic Union Party repeatedly to facilitate and not obstruct those wishing to visit their families. They have also demanded them to cancel the imposed customs on goods, but in vain."
An employee at the immigration Commission, affiliate of the Self-Management, preferred to stay unnamed, asserted that the decision of preventing visits to the region of Kurdistan, with only medical exceptions, is supported by "people who do not care about the citizen's condition in the region, and despite the resentment of some officials by those decisions, yet such security decisions are always carried out to the letter and are not to be bypassed."
Upon fleeing to "Dumez" camp in Kurdistan, the Syrian refugee, Summaya Nuri, expected the Syrian revolution to end within months, just like Tunisian and Egyptian revolutions, adding to Enab Baladi, refugees have adapted to the situation, and dozens of marriages have been recorded among them monthly.
ع ع ع
if you think the article contain wrong information or you have additional details Send Correction