Head of the opposition's negotiating team at Geneva tells Italian foreign minister that the HNC will return to talks only with conditions, adding there will be no political solution without the "regime leadership disappearing"
Hijab to Gentiloni: No Solution Without Removal of Regime Leadership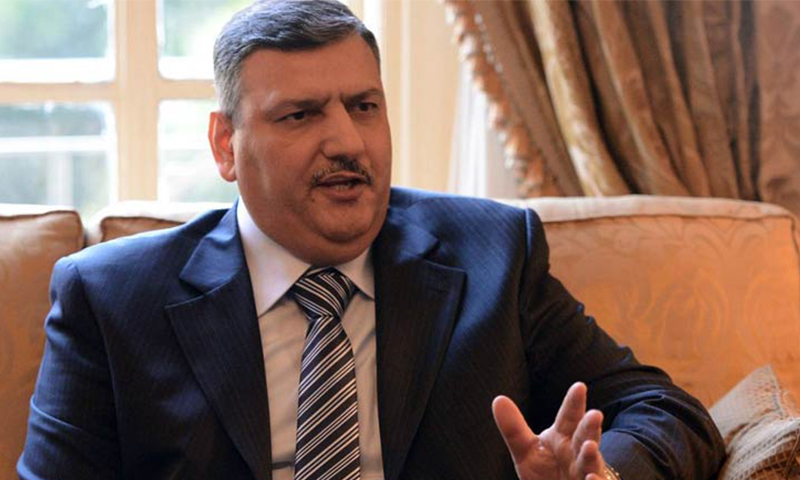 The General Coordinator for the opposition High Negotiations Committee to Geneva, Riyad Hijab, renewed the position of the committee on the political transition process in Syria, blaming the regime for the flood of refugees to Europe.
During a press conference held with the Italian Foreign Minister Paolo Gentiloni in Rome on Tuesday, July 11, Hijab said: "We want to go back to the negotiating table, and we will not impose preconditions," however, he added: "This return requires an implementation of the legitimate international resolutions," according to the Italian news agency AKI.
Hijab said that "the return to negotiations demands an agenda which is very clear in the political transition process, starting with the Geneva 1 declaration." He added that: "It is impossible to adopt any solution into consideration after all that Bashar al-Assad's regime has done… and it is impossible for any political solution to be adopted without the disappearance of this regime's leadership, whose hands are stained with blood."
The general coordinator blamed the Syrian regime for the flood of refugees into Europe, saying: "The refugee crisis in Europe is also a result of the terrorism created by the regime in Syria." He added that: "The flood of migrants to Europe will not stop as long as the killing of civilians through bombardment in Syria continues."
Hijab, who resigned from the Syrian premiership four years ago, said that: "The regime has produced terrorism and is using it as a pretext to prolong the conflict." He added: "For this reason, we must put an end to this regime in order to defeat terrorism."
Hijab called on the Italian government to "play a role in calling for the respect of resolutions and supporting the political process." He said that "Italy and the European partners can play a large role in stopping the bloodshed of the Syrian people. There is no role for criminals in the political process."
The last round of Syrian negotiations in Geneva was in April and May this year, and the opposition accused the Syrian regime of diluting international resolutions and not abiding by them, while talks are currently underway on the subject of reviving the negotiations once more.
This article was translated and edited by The Syrian Observer. Responsibility for the information and views set out in this article lies entirely with the author.
if you think the article contain wrong information or you have additional details Send Correction