Escaping shelling… A basement for Eid games in Eastern Ghouta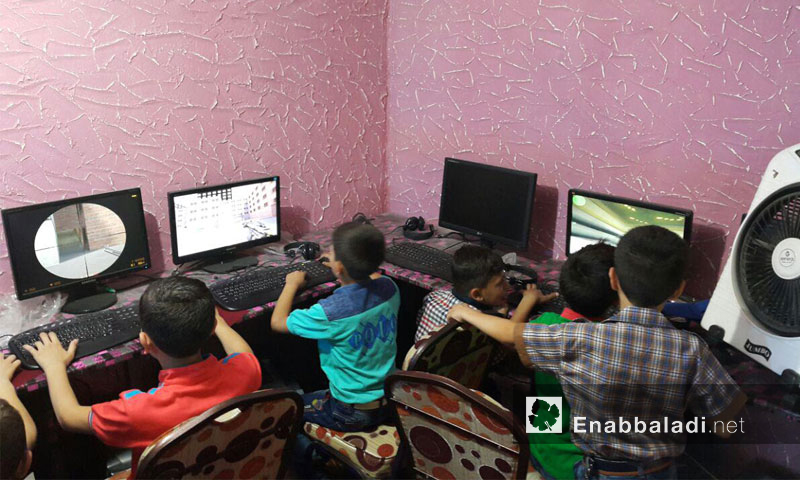 Printed Edition ‖ Activities ‖ No.: 229
The two kids, Abdullah Mari (a hand amputee child) and Rahaf Issa, visited "Toyor Al-Jannah" hall for entertainment games, sponsored by the Local Council in the city of Douma in eastern Ghouta, in cooperation with "Ghouta Appeal" Gathering, during Eid al-Fitr days, which includes various games inside a wide basement, to continue working in it during the coming period.
"My mom brought here to play because we cannot celebrate Eid due to the shelling" Mari says, while Issa expressed her happiness with the Eid atmosphere in her hometown Douma, and told Enab Baladi "My mom brought me and my brothers here… I am very happy with the games and we are not scared of the aircraft."
Enab Baladi spoke to a member of "Ghouta Appeal" in Douma, Omran Bayswani, who said that the hall includes dozens of various games, which kids play with at discount prices, explaining "the Gathering and the Local Council pay 75 Syrian pounds out of the 100 pounds, which is the price of one game ticket for a child, while the children's parents pay the 25 Syrian pounds of the ticket's price."
The shelling forced those in charge of the project to establish it inside a basement, according to Bayswani, describing the basement as "wide", pointing that it helps avoiding the crowds outside the basement, while the Gathering specified the numbers of kids inside the basement to be maximum of 300 kids "out of fear of crowding the kids, and having bad consequences."
Ahmad Jalal, a father of three, praised the efforts of workers in the hall, considering that it has allowed a lot of kids to play safely, away from horror caused by continuous shelling that targets kids' gatherings, as well as outside playing areas.
The basement includes a section for women, who wait for their children inside. There are two separate entries for women and men. It also includes washbasins, sinks and bathrooms "so that no one would have to go outside, in case shelling started while they are at the basement", according to Bayswani.
The Local Council invested the hall and the games that were manufactured inside Ghouta, while the Local Council named it "Eid Hall", according to its managing engineer, Agyad Othman, who told Enab Baladi they will continue to offer these services over the next two years from today, through cooperation with Institutions and Organizations concerned with children in Ghouta.
if you think the article contain wrong information or you have additional details Send Correction