Abou Mohamed shuffled by weakly after 600 days of the siege, holding in his right hand some grass, which the people of the camp had begun to gather to eat
'Abou Mohamed' Rebels Faintly Against Death in Yarmouk Camp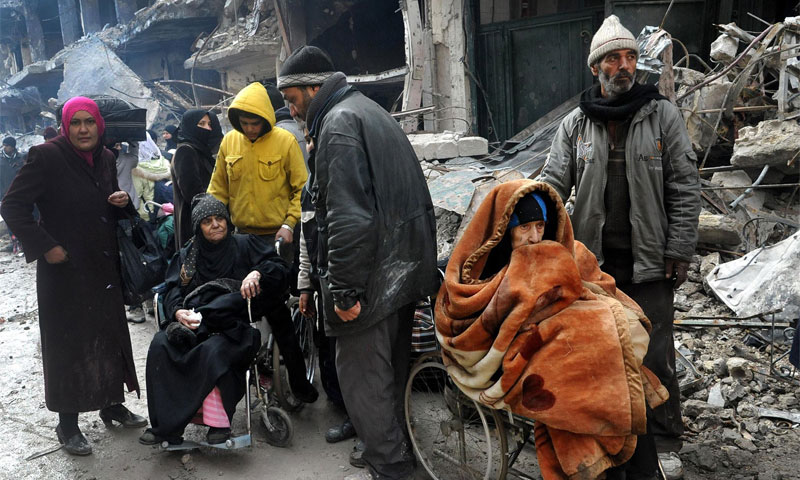 When the protest movement started in Syria the people of Yarmouk Palestinian refugee camp in Damascus observed events cautiously, until it became impossible to remain passive out of outrage against the Assad regime, which did not hesitate to bombard the camp with all kinds of weapons, forcing many to flee leaving behind their homes and some of their relatives, who decided to stay, refusing to go out to witness a siege more severe than death itself.
"Abou Mohamed," like all residents of the camp, had put aside some supplies and was receiving some money from his son every so often. As the siege dragged on life became very hard for the people of the camp. But Abou Mohamed had a great deal of hope and optimism and was always saying, "Things will improve, and right will prevail in the end."
"Abou Maher," a close neighbor of Abou Mohamed, described him as shuffling by weakly after 600 days of the siege, holding in his right hand some grass, which the people of the camp had begun to gather. He added, "Abou Mohamed was saying that the camp is his nation, and that he would not be displaced another time, as his ancestors were displaced from Palestine, and so he stayed and suffered the siege like the others, but without grumbling or making any complaints at all."
Abou Mohamed came from a Palestinian family which settled in Damascus in the Yarmouk camp for refugees. He married and had children; a boy and a girl. He worked as a physics teacher in secondary school. After about nine years of marriage, his wife died of a heart attack.
The neighbor said: "Abou Mohamed took on the responsibility of raising and educating the children until they grew up and got married. His son moved with his wife out of the camp, while his daughter stayed with her husband and refused to leave at the start of the revolution. But Abou Mohamed convinced her to leave with her husband and her infant child, and so he remained by himself, struggling against siege and starvation."
The man knew altruism, kindness and helping people around him, and would often educate their children free of charge. He believed that children had no relation at all to the war and that education was their legitimate right. "We were surprised to see him gathering the neighborhood children to give them lessons in mathematics, physics and Arabic," the neighbor said.
The schools were closed at that time in the camp, after its streets turned into a true theater of war, isolated completely from the outside world, without electricity, water, food or assistance.
The weight of the siege increased and it became prolonged. Also, hunger increased, which devoured the bodies of the people inside the camp. The people began to search for anything to feed themselves, and push away the lurking causes of death.
Abou Mohamed, like the rest of the people in Yarmouk, was trying to remain steadfast in confronting the hunger sweeping the camp, and like others he grew used to gathering and eating grass or sometimes buying things like radish sprouts and lettuce, or 'sparrow's leg,' which is an unpleasant smelling grass.
The fragile body rose from the early morning, searching for some of the grass which has come to feed the people of the camp, and despite everything that was happening, he passed some of it to his neighbors, including those with small children, "Noting that many people were forced to eat food, if they found any, in hiding, as if they were committing a crime," according to Abou Maher.
"In the last months that we saw him, Abou Mohamed was walking with a slouch, carrying some grass in his hand that he had just collected, when suddenly he fell on the ground, losing consciousness. Some of his neighbors helped him until he came to," the neighbor said.
Some people lose consciousness several times a day as a result of the hunger and dehydration. The neighbor concluded, saying: "Abou Mohamed's body collapsed. He managed to struggle against some ailments, like Hepatitis C and dehydration, and fight off death. We saw him dragging his feet and carrying some grass, trying to stay strong, until his neighbors noticed him missing after a period, and broke open the door of his house to find his swollen body, which rats had begun to eat."
This article was translated and edited by The Syrian Observer. Responsibility for the information and views set out in this article lies entirely with the author.
if you think the article contain wrong information or you have additional details Send Correction